In what has become a very familiar story since this Spring, regional aircraft lessor Nordic Aviation Capital (NAC) has also seen its positive results in the first part of the year being wiped out by the effects of Covid-19. NAC recorded a $ -639.1 million net loss for its fiscal year 2019-2020, which ended on June 30. This compares to a $ 143.2 million profit in the previous year.
Total revenues were down to $861.2 million from 912.2 million, although lease revenues were up by two percent to $760 million. NAC earned $17 million with the gain of aircraft.
All looked well after the strongest first six months in the history of the Limerick-based lessor until the pandemic struck and lessees sought assistance and payment deferrals. NAC has entered into agreements with seven customers for short-term payment deferrals, but more customers are in trouble: "Many of our customers are in arrears on their payment obligations and, consequently, trade receivables and expected credit losses thereon have increased. The cash collection rate on revenue during the financial year was 77 percent", the annual report says.
Material impairments of goodwill, intangible assets, and costs related to Covid-19 together produced the net loss mention before.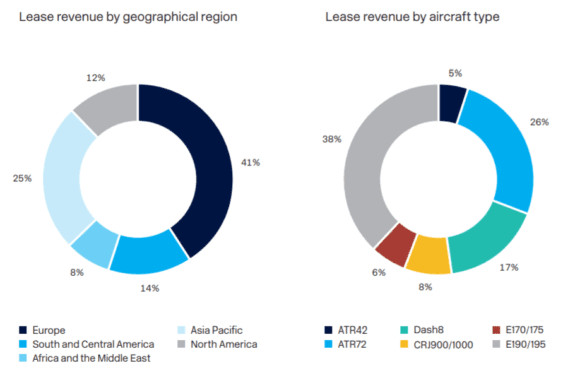 In response, NAC has raised $1.3 billion in liquidity of which $1.1 billion is unsecured. Just before the pandemic hit, the lessor raised $859 million through a private placement in February while in July its shareholders provided $ 60 million in fresh equity. NAC has an agreement with lenders to defer debt obligations for a six to twelve-month period.
On June 30, NAC's aircraft portfolio consisted of 483 owned and seven managed aircraft. Of these, 291 or 59 percent are turboprops including 37 ATR 42s and 164 72s plus 90 De Havilland Dash 8. There are 199 or 41 regional jets in the fleet, including 16 Mitsubishi/Bombardier CRJ900/1000, 27 Embraer E170/175s, 149 E190/195s, and seven Airbus A220s. They represent a book value of $6.9 billion.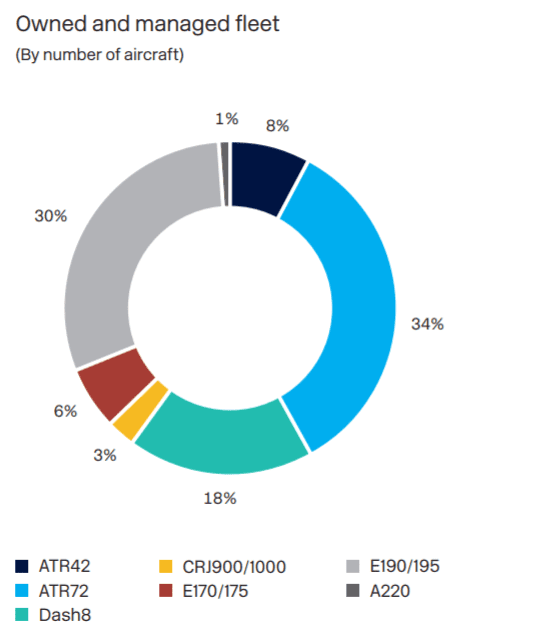 Order book "reprofiled"
NAC says it has commitments for 49 ATR turboprops and 22 jets, including one Embraer E175, one E190, and twenty A220s. At the Paris Airshow in 2019, it ordered 35 ATR 72-600s, with 35 options and 35 purchase rights as well as five A220-100s and fifteen -300s. While the annual report shows seven A220s in the fleet, the Airbus orders and delivery list has all twenty still as undelivered.
Orders will bring NAC's portfolio to 561 aircraft. Due to the uncertainties of Covid-19, NAC has "reprofiled" its order book without disclosing the extent of delivery deferrals.
In the past fiscal year, it sold fifteen E190s to start-up Breeze, sold seven CRJ900s to Delta, and placed four ATRs with new customer Loganair.
Despite the uncertainties of the extent and effects of the pandemic on air travel, NAC is quite optimistic about its prospects for the near and medium-term future: "As the pandemic wanes, the regional sector is well placed to recover at a faster pace. Due to the expected lower level of passenger demand in the coming years and a renewed focus on reducing costs, we expect more regional aircraft will be deployed on routes previously operated by larger aircraft types. As the largest lessor of regional aircraft, NAC is particularly well placed to take advantage of such changes in demand", the annual report says.
It adds: "In addition, liquidity constraints and pressure on airlines' Capex budgets may also increase the likelihood of leasing being seen as an effective way for airlines to finance their growth. We are seeing signs of these trends currently, with one of the world's leading global airlines announcing that it will finance future aircraft deliveries via the leasing market over the coming years to conserve cash flow to pay down debts." This seems to be a reference to Lufthansa Group.
With a new fiscal year just started, NAC has seen a change at its top-level management: after eight years as CEO, Soren Overgaard has stepped down and will join founder Martin Moller's office. He is succeeded by a familiar name in the industry: Patrick de Castelbajac, who most recently has been Airbus Asia-Pacific President but from 2014 to 2016 was CEO at ATR.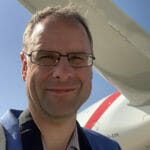 Active as a journalist since 1987, with a background in newspapers, magazines, and a regional news station, Richard has been covering commercial aviation on a freelance basis since late 2016.
Richard is contributing to AirInsight since December 2018. He also writes for Airliner World, Aviation News, Piloot & Vliegtuig, and Luchtvaartnieuws Magazine. Twitter: @rschuur_aero.