Emirates is set to announce a revision of its Boeing 777X order as it prefers to have more 787-9s over 777-9s. In an interview with Arabian Business on August 21, Chief Operating Officer Adel Al Redha confirmed that the composition of the revised order has been finalized but that details will be announced later.
This is the fourth fleet review by Emirates since late 2017.
Emirates originally ordered 150 777X ats the 2013 Dubai Air Show: 115 777-9s and 35 -8s. Another six were added as orders for the 777-300ERs were converted to -9s, bringing total commitments to 156.
At the 2019 Dubai Air Show, the airline converted 30 777X into 30 787-9s. It also confirmed that eleven 777X orders were still up for confirmation, meaning the actual order book showed 115 of them.
At the time, Emirates was unwilling to disclose the number of -9s and -8s it intended to have. Sir Tim Clark said in September 2019 he still had an appetite for the smaller version but had to read in the press that Boeing had postponed development until further notice. The status of this type is still unknown.
The first 777-9 was originally due in 2020, but this had already slipped by a year after issues with the General Electric GE9X had delayed the flight test and certification program. Only last July, Boeing confirmed the first -9s were now set for delivery in 2022.
Emirates' 2019 fleet review came on the back of two previous ones. The first was in 2017 and resulted in an order for forty Boeing 787-10s, announced at that year's Dubai Air Show. However, the order was never confirmed with Boeing as a second review resulted in a preference for more smaller widebodies. As part of this review, Emirates reduced its orders for Airbus A380s by 29 to 123 in February 2019 and placed an MoU for forty A330-900s instead.
Come November's home-town airshow, and the plan was revised again with the A330neo's deleted from the wish list and a firm order placed for fifty A350-900s, just as thirty 787-9s were preferred over the forty -10s.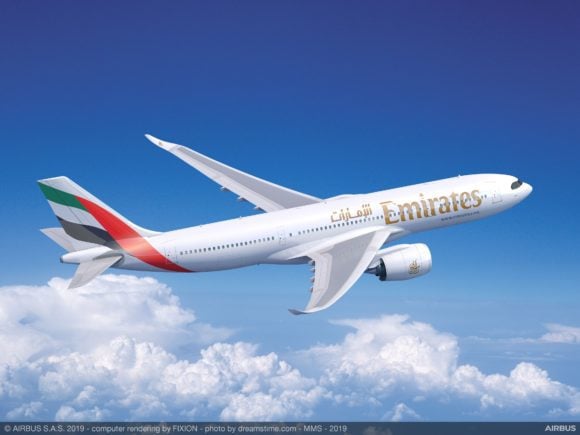 The order that never was: the Emirates Airbus A330-900 remains just an artist impression. (Airbus) 
Revision number four
Now we are at the fourth fleet revision where a whole new factor has entered the stage: Covid-19. As the world's biggest long-haul carrier, Emirates is dependent on a traffic segment that has been hit the hardest by the pandemic and which is expected to remain weak for the next three to four years.
Its 114-stong fleet of A380s (the first has been retired) has been kept on the ground from March 24 until July 15, when services resumed to London Heathrow and Paris. From August 1, Amsterdam also saw the A380 again but only for two weeks until August 16, when the 777 returned as the double-decker was too big to justify demand on the route.
Cairo (daily), Toronto (6x per week), and Guangzhou (1x week on Saturdays) are the only destinations served by the A380, with Heathrow having a second rotation since August 1.
Sir Tim Clark and Al Redha have expressed their optimism that the A380 fleet will return to service in 2022, although expect some end of leases before that. Three brand new aircraft are to be delivered this year. Reports that Emirates wishes to cancel the last five remain unconfirmed. These aircraft are already in various stages of final assembly.
Pandemic confirms over-dependence on big widebodies
More than ever before, the pandemic has highlighted Emirates' dependence on big jets since it has retired its 777-200s and A330s a few years ago. With even a 777-300ER too big for low demand, the airline is in urgent need of more fleet flexibility. The first 787-9s are due in May 2023, but Al Redha acknowledged he would like to have them sooner rather than later as their size and economies are exactly what Emirates needs right now.
Al Redha told Arabian Business that the delivery schedule is still subject of discussions with Boeing, which rather would prefer to have the first 777-9 delivered to Emirates ahead of the first 787-9. This seems like a strange motivation, as Boeing must be eager to sell and deliver as many as widebodies sooner rather than later. It's a fair guess that Boeing must be considering what to do with the Dreamliner production if a new order from Emirates comes along. CEO David Calhoun announced a revised production rate on July 29 from seven to six per month from 2021 while at the same time starting to review consolidation of Dreamliner production at either Everett or North Charleston.
At lower rates, the 787 production line will be fully booked, although the cancelation by Norwegian of five Dreamliners opens up opportunities to Emirates.
It's not known if Emirates is also looking to bring forward deliveries of its A350s, of which the first is due in May 2023. Airbus will reduce production from six to five per month from 2021 and been in talks with all customers about deferrals and revised delivery schemes, which include Qatar Airways, Cathay, ALC, and Air France amongst others.
The 777X order book is not only at risk from Emirates. Officially it still stands at 309, but that still includes twenty for Etihad whereas the airline has said earlier it will reduce this to six. ANA, Qatar, Cathay, Singapore Airlines, and likely British Airways have been seeking delivery deferrals but Lufthansa remains committed to receiving the first aircraft in 2022.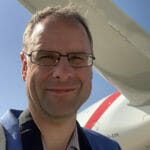 Active as a journalist since 1987, with a background in newspapers, magazines, and a regional news station, Richard has been covering commercial aviation on a freelance basis since late 2016.
Richard is contributing to AirInsight since December 2018. He also writes for Airliner World, Aviation News, Piloot & Vliegtuig, and Luchtvaartnieuws Magazine. Twitter: @rschuur_aero.