The worldwide Covid-19 crisis will have a profound and lasting effect on the future of the airline industry. Most likely  the sector will shrink and leave space for only much smaller airline groups, Lufthansa CEO Carsten Spohr has warned on March 19 during the FY19 results presentation. Because of Covid, the presentation was streamed live on the internet instead of a meeting in Frankfurt.
As reported elsewhere, Lufthansa Group has responded to the almost total drop in demand (- 67 percent in week 11) with drastic capacity cuts. Austrian Airlines has suspended all services from today until March 28, like Lufthansa-feeder airline Air Dolomiti since Wednesday. Brussels Airlines will follow from March 21 until April 19.
Lufthansa and SWISS are reducing capacity by 95 percent and only operate to a minimum schedule with 5 percent capacity. Long-haul services have been cut to a limited number of routes out of Frankfurt and Zurich, with Munich only offering short-haul services by Lufthansa CityLine. Capacity is now predominantly used for repatriation flights, resulting in the unusual sight of seven Lufthansa 747s at Barbados last night.
Current reductions are planned until April 19, but even if the worst of the crisis is over by then Spohr thinks it will take deep into the summer period before the situation is back to normal. On an ordinary day, Lufthansa welcomes 280 passengers each minute and generates EUR 3 billion in revenues each month.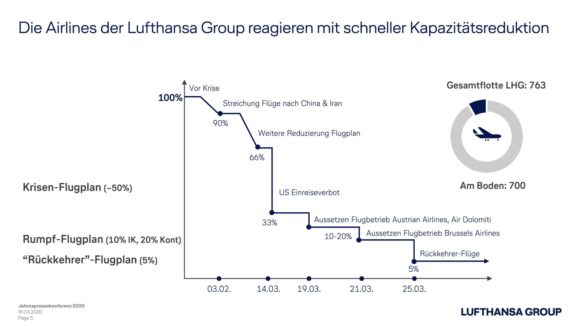 Slide from Lufthansa presentation showing how capacity has been reduced since Covid-19 hit China and Iran in February. Only 5 percent capacity remains for repatriation flights, 
No state aid needed – yet
Lufthansa has been in talks with the government and KFW development bank about support and restructuring of debts, but for the moment the airline group hasn't asked for state aid, CFO Ulrik Svenson said.
It's all about reducing costs and keeping cash. Lufthansa will reduce fixed costs of EUR 8 billion by one-third by short time work for most of its staff, although discussions with unions still have to be completed. Reduction of over hours and enforcing unpaid leave are other measures to be applied. Overhead costs are also brought down and all non-safety relevant projects canceled. The airline has also terminated all wet-lease contracts.
Lufthansa increased its net-cash position to EUR 5.1 billion, of which 800 million is still unused, Svenson said. More funding is being sought and one option is using the owned fleet as security to banks and investors. Its fleet is 87 percent unencumbered at a EUR 10 billion book value. Selling aircraft and repurchasing them through sale and leaseback is not planned.
Order cancelations and deferrals likely
Spohr confirmed that Lufthansa "like all airlines" is in discussion with Airbus and Boeing about deferring and or canceling orders. The Group had 198 aircraft on order and 102 on option by January 1 and has cancelled two aircraft in March. "We used to need one new aircraft every ten days. Right now, we don't need none."
The 2019 annual report shows that the order for 30 A350s has been stretched in time until 2027 compared to 2023 announced in the 2018 report. Between 2020-2025, it planned to take delivery of 82 Airbus A320neo-family aircraft.
The March-May period will be unprecedented, Spohr said, but what about the situation after that? "I am certainly not a pessimist, but rest assured this crisis will have a lasting impact on the world economy. We will see a smaller Lufthansa Group. We must think about this now. You see airlines in Asia that have got state support, Alitalia has been saved with state aid, US airlines have asked for state support. This will change the landscape."
Spohr has no doubts that Lufthansa will survive this crisis: "We can survive this, as our position is stronger. If one is prepared for a change, it is Lufthansa, as we have all components: a low-cost airline, premium, cargo."
FY19: Adjusted EBIT 2.026 billion
Lufthansa's presentation was meant to be about its FY19 results. The Group recorded a net profit of EUR 1.213 billion compared to 2.163 billion in 2018. Adjusted EBIT was EUR 2.026 billion versus 2.836 billion. Group revenues increased to EUR 36.424 billion, up from 35.542 billion.
Network airlines Lufthansa, SWISS, and Austrian recorded a combined Adjusted EBIT of EUR 1.805 billion, down 26 percent. Eurowings' turnaround showed the first succes as Adjusted EBIT improved 28 percent to EUR -166 million. This includes a -44 million loss for the long-haul network and Brussels Airlines.
Cargo booked a result of just EUR 1 million, reflecting the downfall in demand over the last months. Lufthansa Technik had a strong year with Adjusted EBIT of EUR 493 million, 11 percent higher. Caterer LSG Group's result was EUR 128 million, plus 11 percent. Lufthansa will continue the sale of LSG.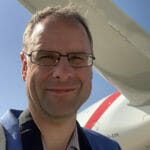 Active as a journalist since 1987, with a background in newspapers, magazines, and a regional news station, Richard has been covering commercial aviation on a freelance basis since late 2016.
Richard is contributing to AirInsight since December 2018. He also writes for Airliner World, Aviation News, Piloot & Vliegtuig, and Luchtvaartnieuws Magazine. Twitter: @rschuur_aero.