If bookings continue to drop in the coming weeks, Lufthansa Group will reduce capacity by 50 percent, the airline said on March 6. Following the outbreak of Covid-19, the German giant has seen a massive drop in traffic in all regions including its domestic network. Stringent measures should reduce the financial consequences of the crisis.
At Tuesday's Airlines 4 Europe Aviation Summit in Brussels, CEO Carsten Spohr was unwilling to discuss his plans. He referred to last Friday's announcement that 13 to 23 long-haul aircraft had been grounded and short-haul capacity was to be reduced by 25 percent.
A day later on March 4, Lufthansa announced it would ground 125 short-haul and 25 long-haul aircraft with Lufthansa, Austrian Airlines, SWISS, Eurowings, and Brussels Airlines. This would impact capacity by 20 percent in March and April.
Now, more drastic measures are considered. No formal decision has been taken but part of the plan is grounding all 14 Airbus A380s based at Frankfurt and Munich. The type used to operate to China, but these routes have been suspended until April 24 since the coronavirus outbreak in China and Asia intensified. The US is now the most important market for the A380 but demand has dropped.
Operating one A380 for a month requires 400 cockpit and cabin crew, so grounding the entire fleet will have a drastic effect.
Lufthansa Group already asked staff to take up voluntary unpaid leave or bringing forward annual leave. It is in discussions with unions to implement measures that prevent dismissal of staff, including part-time. Recruitment and training of staff have been frozen. Administrative functions will be reduced by ten percent, it was announced late February.
In Europe, Lufthansa so far is the one that has announced the deepest capacity cuts due to Covid-19. International Airlines Group (IAG) said last week it had reduced capacity to China/Asia and redeployed more capacity to other routes but hasn't updated this with the latest situation in Europe.
Air France-KLM have also been wary of communicating adjustments in Europe, although La Tribune has quoted Anne Rigail as saying that capacity to Italy will be down 30 percent in March.
Ryanair will temporarily reduce capacity by 25 percent between March 17 and April 8 but expects the crisis to be short. Norwegian said on March 5 it has already reduced capacity by 15 percent this year. Wizz has reduced capacity on affected routes to Northern Italy by 60 to 100 percent between March 11 and April 2.
Outside Europe, airlines in Asia have been hit hard by Covid-19. Chinese airlines have grounded most of their fleets, while Cathay Pacific has parked 120 aircraft at its Hong Kong-base.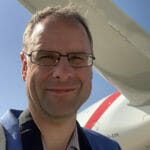 Active as a journalist since 1987, with a background in newspapers, magazines, and a regional news station, Richard has been covering commercial aviation on a freelance basis since late 2016.
Richard is contributing to AirInsight since December 2018. He also writes for Airliner World, Aviation News, Piloot & Vliegtuig, and Luchtvaartnieuws Magazine. Twitter: @rschuur_aero.