Lufthansa Group confirmed its position as Europe's leading airlines group by carrying a record number of 142.3m passengers in 2018, it announced on January 10. This is a 10% increase over 2017 and 9.4m passengers more than its next competitor in pax numbers, Irish LCC Ryanair at 132.9m.
Combined network airlines increased Revenue Passenger Kilometers by 9% to 284.561m on a capacity increase (Available Passenger Kilometers) of 8.2% to 349.489m. Load factors were up 0.5% to 81.4%. Network traffic grew most on European routes (+8.2%), followed by the Americas, Middle East/Africa and Asia/Pacific.
Lufthansa increased passenger numbers by 6.5% to 70.1m and RPK by 4.5% to 160.074m on a 4.8% capacity increase, but load factors were slightly down by 0.2% to 81.4%. The German home carrier performed very strong in Munich, to were transferring part of the Airbus A380 fleet partly explains an 11.8% higher ATK. Some 25m passengers flew through the Bavarian hub, or 9.3%. That's still some way off the 43m passengers that Lufthansa processed in Frankfurt, which saw a 4.7% growth on 2% more capacity.
The strongest growth of all network airlines was generated by SWISS and its partner airlines Edelweiss, which increased pax number by 9.5% to 20.4m. Without Edelweiss traffic at SWISS grew by 6.2% to 17.9m passengers. RPK jumped 5.4% to, capacity (ATK) by 4.1% thanks to fleet renewal by introducing more Boeing 777s and Airbus A220s. Load factor was 83.4%, higher than the group's average.
Lufthansa Group's Austrian partner Austrian Airlines also performed well with 8.5% more passengers to 13.9m, RPKs +9.7% to 21.966m on a capacity increase of 6.2%. Load factors were 2.5% higher at 79.3%. While Lufthansa had to fight competition from Ryanair in Frankfurt, Austrian was attacked by easyjet, Wizz, Ryanair and LaudaMotion at its Vienna hub.
Low-cost airlines Eurowings (including Germanwings) and Brussels Airlines generated the biggest growth, with 18% more passengers to 38.4m. RPK jumped 23.4% to 52.609m at ATK by 21.3% to 64.7m. Load factors were up 1.4% to 81.3%. Long-haul traffic grew most by 25.6% compared to +17.4% of Eurowings' short-haul routes. We have to wait for the full year financial results to see how much Eurowings contributed to Lufthansa Group's profit.
Lufthansa Cargo and the other network airlines increased capacity by 4.3%, but Revenue Cargo tonne-Kilometers improved by only +0.8% to 10.907m on a 2.3% lower load factor (66.4). The weakest markets were Europe and Middle-East/Africa, the Americas the strongest.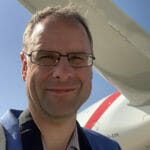 Active as a journalist since 1987, with a background in newspapers, magazines, and a regional news station, Richard has been covering commercial aviation on a freelance basis since late 2016.
Richard is contributing to AirInsight since December 2018. He also writes for Airliner World, Aviation News, Piloot & Vliegtuig, and Luchtvaartnieuws Magazine. Twitter: @rschuur_aero.