Cessna Denali
Textron announced at EBACE that it is nearing completion of the Cessna Denali prototype as well as the first two flight test and first three ground test aircraft.  "The result of the work we are doing now in design, production and testing is going to provide a mature configuration that will help us move through certification and flight testing, ultimately bringing a proven aircraft to the market," said Chris Hearne, senior vice president, Engineering. "The Denali is being designed and built to outperform the competition in capability, pilot interface, cabin experience and total ownership costs."

In preparation for first flight, the company also recently completed component integration for the Denali iron bird, a full systems simulator test rig laid out in the configuration and size of the Denali. Leveraging unique Textron Aviation engineering and manufacturing techniques, the test rig incorporates the design of the aircraft's avionics, electrical and engine control systems, then positions them in a framework that makes the systems easy to access during testing. The iron bird will play an important role in testing the Denali's Full Authority Digital Engine Control (FADEC), which controls both engine power and propeller pitch with a single lever.
The clean-sheet Cessna Denali features the GE Catalyst engine that leverages additive manufacturing to provide improved performance and lower costs.  
GE Aviation announced it has successfully achieved full power and max RPM with the new 1300 shp Catalyst engine and the state-of-the-art 105-inch, McCauley composite propeller at its facility in Prague – where it has completed more than 1,000 hours of testing on three test articles.  The engine and propeller demonstrated the full range of pitch using a FADEC with integrated propeller control. Initial altitude chamber testing was completed this month validating the engine performance.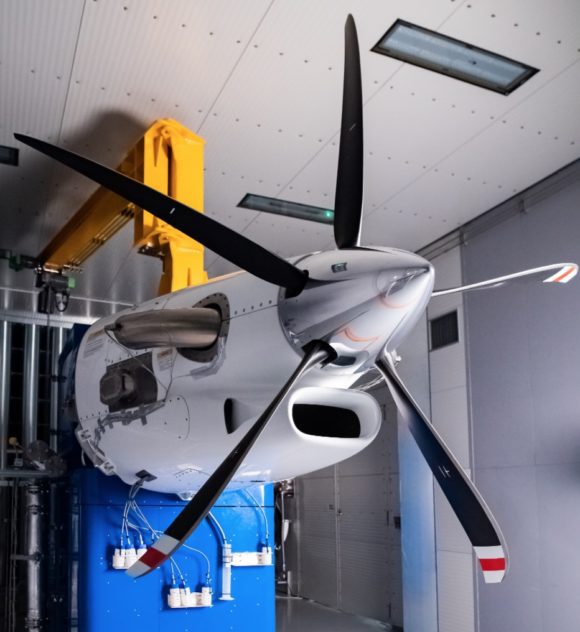 "This new turboprop engine design will give the Denali a number of key advantages over other aircraft in this class and we are pleased to say that test engine performance is meeting or exceeding performance expectations" Hearne said. "New technology allows for a much longer time between overhaul, quieter operation and because of the first-ever digital engine and propeller control, it will reduce pilot workload and have greater fuel efficiency than similar aircraft in its class."
Cessna Sky Courier
Cessna is also developing the first Sky Courier, with assembly underway for the prototype and five test aircraft. "When we began designing and developing the Cessna SkyCourier, we engaged a number of mission-centric customers for technical input to best meet their unique needs in one platform," said Chris Hearne, senior vice president, Engineering. "We are building this aircraft with the flexibility and reliability needed for a variety of high-utilization operations including cargo, passenger or special missions and we are excited that the customers and the market are responding positively to its capabilities."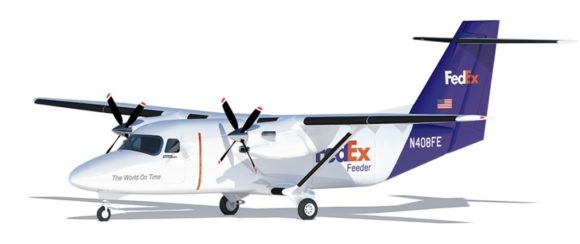 Endurance and functional testing for the new McCauley 110-inch propeller consists of nearly 150 hours of operation and includes a variety of simulated flight profiles. The propeller is mated with the proven PWC PT6A-65B, 1100-shp engine, mounted on a test stand. Simultaneously, assembly of the fuel system test article and nose landing gear drop test article is underway, with testing to start later this month.
The Cessna SkyCourier will be offered in cargo, passenger or combi configurations, all based on a common platform.  The cargo configuration is designed to accommodate three standard air cargo containers (LD3) with a payload of up to 6,000 pounds while the passenger version carries up to 19 passengers.
FedEx is the launch customer for the aircraft, with an initial order for 50 and options for an additional 50 aircraft.