Not just the motorracing community but the aviation world as well is mourning the passing of Niki Lauda, who died on May 20 at the age of 70 after months of detioriating health after a lung transplant.
Lauda is famous for his accident at 'the Green Hell' Nürburgring race track in August 1976, when his Ferrari crashed into flames that left life-long scars. He claimed three Formula 1 world titles in 1975, 77 and 84.
But he is remembered too for his aviation career. He got addicted to flying in 1974 and acquired his first private aircraft in 1975. After he announced his first retirement from racing in 1979, as he was no longer having pleasure of driving around in circles, he went straight from Montreal to Long Beach to look at buying a McDonnell-Douglas DC-10 for his airline Lauda Air.
The timing was not right.  The airline went bankrupt three years later after operating charters with Fokker Friendships, forcing 'King Rat' to return to racing to earn money lost on his airline business and win his fourth title in 1984.
After he retired for good in 1985, he focused on making Lauda Air profitable and grew it with a fleet of Boeing 737s and 767s, later adding 777s as well.
While many remember him for his crash, Niki Lauda many times said that the fatal accident of Lauda Air 004 from Bangkok to Vienna on May 26, 1991 was his worst nightmare.  He said he would never forgive himself and close his airline immediately if he was to blame for the loss of 223 lives but later found proof that the thrust-reverser on one of the P&W-engines was the actual cause.
Niki continued at the helm of Lauda Air until 2002, five years after Austrian Airlines and Lufthansa bought a minority stake that was later increased. As he liked running the airline to his strict orders and discipline, Lauda had difficulty dealing with a dissident culture imposed by trade unions.
A year later in 2003, Lauda bought Aero Lloyd and renamed it Niki. He joined forces with Air Berlin early 2004. Fly Niki outlived its German partner as it went broke late 2017 but stopped operating itself just a few weeks later.
In an unexpected and clever move, Niki Lauda and Ryanair's Michael O'Leary arranged a joint bid to take over Fly Niki and continue it as LaudaMotion. Before 2018 was done, Lauda had sold all his shares to Ryanair.
By that time he already was no longer involved after a severe pneumonia left him to need a complex lung transplant. His lung problems were a long overdue problem resulting from his 1976 crash when he was exposed to toxic fumes.  He also had to step down from his role as joint team-owner of the Mercedes F1 team that has dominated the racing circuits since 2014.
The impact of Lauda Air, Fly Niki and LaudaMotion to the airline business must be seen as limited, although Lauda Air broke the monopoly endured by Austrian until then. He surprised his customers with high-quality service and food (from Do&Co), while at the same time introducing lower fares.
Above all, Niki Lauda will be remembered for his dedication, no-bullshit and straight business approach. In his vocabulary the phrase 'not possible' did not exist.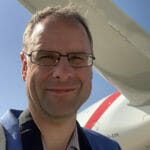 Active as a journalist since 1987, with a background in newspapers, magazines, and a regional news station, Richard has been covering commercial aviation on a freelance basis since late 2016.
Richard is contributing to AirInsight since December 2018. He also writes for Airliner World, Aviation News, Piloot & Vliegtuig, and Luchtvaartnieuws Magazine. Twitter: @rschuur_aero.