Norwegian confirmed a change to its fleet plans on February 7, at the same time announcing a 1.451bln kroner net loss for its fiscal year 2018. This actually is an improvement over its 1.783bln kroner loss over 2017.
The Norwegian airline blamed high fuel prices and tough competition for its full-year loss, as well as extensive capital expenditure on its fleet. Additional costs to cover replacement of its Rolls-Royce Trent 1000-powered Boeing 787s also severely affected operations, with Norwegian forced to lease extra aircraft. Following an agreement with Rolls-Royce for compensation, and the installation of updated engines, Norwegian says its Dreamliner operations is now running smoothly.
On another positive, revenues increased 30% to 40.2bln kroner, but yields were down 2%. Passenger numbers increased 13% to 37.3mln, RPK's by 34% to 85.124mln and capacity (ASK) by 37% to 99.220mln. Overall load factor was 85.8% or 1.7% lower than the previous year. Ancillary revenues grew 15% to 168mln. Where Ryanair blames lower fares for its Q3 loss, Norwegian reports an increase.
Norwegian also disclosed changes to its fleet plans, which we discussed already last week. In order to reduce CapEx, Norwegian through its subsidiary Arctic Aviation Assets has deferred delivery of 12 Boeing MAX8s from 2020 to 2023/24. This should have significant beneficial effects. Also deferred are four Airbus A321LRs from this year to 2020. Arctic will also sell two A320neo's with a net liquidity effect of $26mln. Both aircraft were leased out and didn't fly with Norwegian.
In 2019 Norwegian will receive 5 Boeing 787-9s and 16 MAX 8s, while continue divesting 737-800s.
As reported, Norwegian has secured a fully underwritten rights issue for 3bln kroner to increase its financial flexibility and cash position, as well as expecting to generate 2bln kroner in cost reductions through its Focus2019 reduction program. Its 2019 guidance sees a net profit reduction by 520-580mln kroner.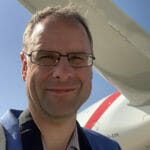 Active as a journalist since 1987, with a background in newspapers, magazines, and a regional news station, Richard has been covering commercial aviation on a freelance basis since late 2016.
Richard is contributing to AirInsight since December 2018. He also writes for Airliner World, Aviation News, Piloot & Vliegtuig, and Luchtvaartnieuws Magazine. Twitter: @rschuur_aero.