Easyjet has ended HY1 2019 with a headline loss before tax of £-275mln, compared to -18mln the previous year. Total loss before tax is -272mln (-68mln). Still, the airline said on May 17 it has delivered in line with expectations.
Total revenues for the 6-month period grew from £2.183bln to 2.343bln, a plus op 7.3 percent. Passenger numbers were up almost five million to 41.6 million, an increase of 13.3 percent. This was mainly thanks to the 14.5 percent year-on-year addition of capacity, of which 7.5 percent was coming from its Berlin Tegel operations that were in the start-up phase in 2018 and have now been fully integrated without extra charges needed. As capacity grew faster than traffic, the load factor dropped by one percent to 90.1.
While staying focussed on costs, easyjet was unable to factor them out as fuel costs were up and so were airport charges. Also affecting HY1 were IFRS 16 accounting rules that have come into effect on January 1. And not to forget the drone issues at London Gatwick last December that closed down the airport and thus easyjet's major hub for over a day, costing the airline £10mln.
On the positive side are the better economies of operating 26 Airbus A320/A321neo fleet compared to the smaller A319ceo's, although they could have even been better if deliveries had not been delayed. Easyjet has also benefitted from a strong Euro against the Pound Sterling.
In April, easyjet opened a six hub in France in Nantes and should improve its market share. The demise of Germania opened up extra parking slots at Berlin Tegel, making operations more efficiënt as fewer aircraft have to be kept at costly outstations.
Bookings for the Q3 summer months are behind schedule and so will be revenues per seat, but easyjet has kept its guidance for FY2019 unchanged. HY2 capacity will be up 7 percent, but for the full year should grow by 10 percent.
The orange and white airline targets improved ancillary revenues and yields by developing new data sets and algorithms for ticket and ancillary products.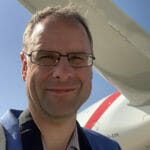 Active as a journalist since 1987, with a background in newspapers, magazines, and a regional news station, Richard has been covering commercial aviation on a freelance basis since late 2016.
Richard is contributing to AirInsight since December 2018. He also writes for Airliner World, Aviation News, Piloot & Vliegtuig, and Luchtvaartnieuws Magazine. Twitter: @rschuur_aero.