The second quarter is almost halfway through but Air France-KLM already knows enough: as lockdowns and restrictions continue, Q2 is no better than Q1. The operating result will be almost identical to that of the first quarter. This wasn't good, as the group reported a net loss of EUR -1.482 billion compared to EUR-1.803 billion in the same period last year.
The operating loss was even worse at EUR -1.186 billion versus EUR -861 million. EBITDA ended at EUR -627 million versus -61 million. Total revenues collapsed by 56.9 percent to EUR 2.161 billion.
The number of passengers carried was down by 71.7 percent to 4.4 million, of which Air France carried three million and KLM the remainder. Capacity was at only 48 percent of 2019 levels. Traffic to North and Latin America, and to Asia suffered most.
By airline, the net loss of Air France and its subsidiaries was EUR -840 million, down from -536 million last year. KLM's net loss was EUR -337 million versus -275 million.
Despite a reduction in capacity of 15.8 percent, cargo revenues were up by 80 percent to EUR 839 million and tons by some ten percent. KLM/Martinair ferried more cargo than its French counterpart. Losses at Maintenance deepened from EUR -5 to -9 million as third-party work was almost halved and maintenance on the group's fleet delayed.
Transavia operated at just 20 percent capacity

Low-cost airlines Transavia and Transavia France suffered from continued restrictions to popular leisure destinations in Europe and North Africa and carried 85 percent fewer passengers or 352.000. This is reflected in lower revenues of just EUR 37 million and a net loss of EUR -120 million compared to EUR -82 million last year. The capacity was just twenty percent of last year's.
Transavia France benefitted from additional traffic from its domestic network, which has become active in Q4 last year. The French carrier added eight Boeing 737-800s to its fleet, which brings it to 48. This is a direct effect of the new strategy that allows the fleet to grow above the previous limit of forty aircraft and that got union approval in 2019.
Air France-KLM further reduced its combined staff in Q1 by 400 FTE to 75.000. Unit costs were up by 20.7 percent. The group continues to reduce headcount costs and other expenditures, with capital expenditures limited to EUR 2.0 billion for this year, mainly on fleet renewal and cabin updates. The Group ended the quarter with EUR 8.5 billion in liquidity. Adjusted free cash flow was EUR -1.344 billion, -519 million worse and partly offset by reductions in net investments. Net debt EUR 12.5 billion, up by 1.5 billion.
New equity plans announced at upcoming AGM
As mentioned, Air France-KLM has seen no improvement in the current second quarter. Capacity has gone slightly up to 50 percent but this won't make a major difference to the operating result/EBITDA, which should remain flat around the EUR -627 million in Q1. The group hopes to grow capacity to 55-65 percent in Q3 compared to 2019 levels. Transavia is hoping for the recovery of the leisure market this summer, "being a major opportunity to regain competitiveness."
Although Air France in early April has benefitted from a combined EUR 4 billion capital increase/loan conversion supported by the French government and as a resulted net cash by EUR 1 billion, 'extraordinary measures' of equity or quasi-equity instruments will be presented to the upcoming annual general meeting om May 26.
That one will be the last of current Chief Financial Officer Frederic Cagey (64), who after sixteen years with the group's airlines has announced his retirement from July 1. He will be succeeded by Dutchman Steven Zaat (49), who is CFO at Air France since 2019 and has a twenty-year-long career within KLM and the group.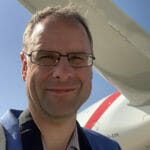 Active as a journalist since 1987, with a background in newspapers, magazines, and a regional news station, Richard has been covering commercial aviation on a freelance basis since late 2016.
Richard is contributing to AirInsight since December 2018. He also writes for Airliner World, Aviation News, Piloot & Vliegtuig, and Luchtvaartnieuws Magazine. Twitter: @rschuur_aero.