Qantas expects to resume international services in October now instead of in July as previously stated. The four-month delay aligns better with the completion of the Australian Covid-19 vaccination strategy, the airline said at the presentation of its half-year 1-results on February 25.
The new date confirms that Qantas has been backtracking from earlier plans in February when it announced it would be selling international tickets for services from July. This raised lots of criticism in Australia as the country is still in the early stages of vaccination. The first vaccines arrived in the country only in mid-February. Qantas now says it will remain in close consultancy with the federal government around the reopening of international traffic, which could slip even more if required. The full recovery of international services to 2019 levels is not expected until 2024.
If it gets the go-ahead, Qantas will resume services to 22 destinations including Los Angeles, London, Singapore, and Johannesburg from October 31. New York, Osaka, and Santiago de Chile will follow later. Subsidiary Jetstar will resume services to all its thirteen international services from late October. Both airlines will return to New Zealand from July 1.
Qantas reported an Underlying loss before tax of AUS$ -1.03 billion (AUS$ 771 million the previous year) and a Statutory loss before tax of AUS$ -1.47 billion for the June-December period of the fiscal year 2021. The airline took S284 million charge on redundancy and restructuring costs and a $ 71 million write-down on its Airbus A380-fleet in line with the Australian dollar market value, which is in deep storage in Los Angeles and Victorville. Revenues dropped to AUS$ 2.330 billion from 9.464 billion, which reflects the extended lockdown of Victoria state and nationwide border closures.
While seventy percent of the Domestic network stopped, Qantas and Jetstar managed to generate positive cash flow in these segments with an EBITDA of AUS$ 71 million but after depreciation and amortization translating into an AUS$ -407 million loss. Both airlines reported "extreme strong leisure demand" when travel restrictions were relaxed, with Jetstar bookings soaring by 300 percent in November. The airline will take over six Airbus A320s from Jetstar Asia, which has suffered from low demand in the region.
Domestic is expected to recover to sixty percent capacity in the third quarter of the calendar year 2021 and to eighty percent in Q4.
International ended the first six months with an AUS$ -86 million EBITDA or AUS$ -549 million after depreciation and amortization. The business segment has operated at only eight percent capacity. Results were partly offset by higher cargo volumes and yields despite a significant drop in the available capacity as most of the long-haul fleet was parked. Some A330s and 787s were used on cargo-only flights. Qantas Freight extensively used all its nineteen aircraft, which included the first of three Airbus A321P2Fs which joined the fleet in October.
By the end of December, Qantas had AUS$ 2.6 billion in cash available plus $1.6 billion in undrawn facilities and $2.5 billion in unencumbered assets. The Group's net debt stood at $6.05 billion.
Qantas says it is on track to generate $600 million in permanent savings this financial year, with a significant part coming from the reduction of 8.500 jobs. Some 5.000 employees have already left, with 11.000 stood down and 14.500 employees currently on active duty. In 2023, the airline wants to have cut permanent costs by one billion.
On the fleet plan, Qantas confirmed it will continue to defer deliveries of Airbus A321neo's and Boeing 787-9s, with decisions on aircraft replacements and confirmation of the order for the A350-1000 for Project Sunrise deferred until further notice.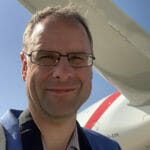 Active as a journalist since 1987, with a background in newspapers, magazines, and a regional news station, Richard has been covering commercial aviation on a freelance basis since late 2016.
Richard is contributing to AirInsight since December 2018. He also writes for Airliner World, Aviation News, Piloot & Vliegtuig, and Luchtvaartnieuws Magazine. Twitter: @rschuur_aero.