Qantas expects to see the first signs of financial recovery during the second half of its financial year 2021 (FY21), which runs from January until June. While the statutory loss will still be significant, the underlying EBITDA should be close to break-even this HY1 and maybe become positive in HY2.
The Australian airline group provided a market update on December 3, expressing some optimism about recovery from what has been the biggest crisis in the airline's 100 years. Last August, Qantas reported an AUS$ 124 million underlying profit before tax, but an AUS$ -2.7 billion statutory loss that included many non-cash items like aircraft impairments. Following the collapse of its international network and prolonged domestic border closures within Australia, the group suffered an AUS$ 3.7 billion drop in revenues to AUS$ 14.257 billion.
Domestic borders reopen
With states opening up for traffic, the domestic situation has improved for Qantas and its subsidiaries QantasLink and Jetstar. This week, the group said that since reopening the Sydney-Brisbane and Melbourne-Brisbane routes are back in the top three of busiest routes within the network, operating 420 flights per week to 19 routes in and out of Queensland. Borders had been closed since August.
Western Australia has also opened up, allowing Qantas and Jetstar to operate 65 flights to Perth out of Sydney and Melbourne from December 14. Tasmania has been reconnected to the mainland from December 4, when flights from Hobart to Brisbane and Canberra were offered.
Without new border closures, Qantas expects to have a strong recovery in HY2. Capacity should increase from 68 percent this quarter to nearly 80 percent in Q3 (January-March), with a market share of 70 percent to be maintained thanks to large corporate customers moving to Qantas. Undeniably, this will have to do with the situation at its main rival Virgin Australia.
Only very limited international operations until late June
The international network is expected to remain almost non-existent until the end of June, as previously announced. Qantas will operate its Boeing 787-9s to Paris and Frankfurt on repatriation flights by mid-December to get Australians home for Christmas. Outbound flights to Europe were sold-out within hours. Except for some flying to New Zealand, the international fleet remains grounded for most of HY2. After that, Qantas hopes to open up new routes into Asia to generate additional traffic and revenues.
Cargo is also performing well and brings in much-needed yields, benefitting from higher cargo fees as total capacity is still much lower compared to pre-Covid levels. Qantas Freight operates additional services in Los Angeles, Sydney, and Hong Kong, using passenger jets for cargo-only flights.
Qantas is preparing for the transport of millions of anti-Covid vaccines. Remarks by CEO Alan Joyce last week that Qantas will only allow passengers on board who have been vaccinated have caused much debate within the industry, with other airlines, airports, and IATA unwilling to make this a mandatory procedure.
While the return to service to Queensland provides job opportunities to some 1.200 staff, still a vast number of employees are on stand down. Staff employed has recovered from 9.000 in October to 11.500 in December and should increase to 14.000 in Q3. Currently, 13.500 employees remain stood down. Some 8.500 staff have lost their jobs. In late November, Qantas said it will outsource activities at ten Australian airports, affecting 2.000 employees.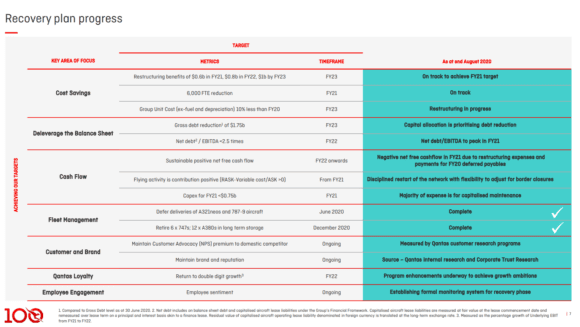 Sheet explaining Qantas' restructuring plan, with status update in August. 
On the financial side, Qantas expects to be cash positive again in HY2 and from FY22 onwards. It has AUS$ 3.6 billion in liquidity, including one billion in an undrawn revolving credit facility. Liquidity is set to be bolstered before the end of 2020 by another AUS$500 million. Net debt has risen from $4.7 to 5.9 billion by the end of November, but gross debt should be reduced by 1.75 billion in 2023. The restructuring plan to save AUS$600 million in FY21 is on track, with total savings by FY23 targeted at AUS$1 billion.
In a separate press release, Qantas responded to claims made by the Transport Workers Union on the state of recovery. This release was deleted from the website a day later.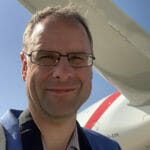 Active as a journalist since 1987, with a background in newspapers, magazines, and a regional news station, Richard has been covering commercial aviation on a freelance basis since late 2016.
Richard is contributing to AirInsight since December 2018. He also writes for Airliner World, Aviation News, Piloot & Vliegtuig, and Luchtvaartnieuws Magazine. Twitter: @rschuur_aero.