Singapore Airlines Group has reduced its losses to $409 million during the first quarter of its financial year 2021/22. It is the best result since Q3 of FY2020/21 when it reported a $142 million loss. While the carrier is progressively rebuilding its network, overall capacity remains low at just 33 percent. SIA outlook remains somber despite reduced losses.
The $409 million Q1 loss compares to $-1.123 billion for the same period last year. The operating loss was $274 million versus $1.037 billion. Total revenues were up to $1.295 billion from $851 million, but expenses also increased as SIA Group became more active. Fuel costs more than doubled to $360 million, with a small $13 million fuel hedging gain. During FY2020/21, the airline lost $4.271 billion.
Traffic at Singapore Airlines and Silk Airlines improved as passengers carried went from 34.000 to 312.000, but load factors remained marginal at 15.6 percent. The numbers are still a far cry from the pre-Covid days as border controls and travel restrictions remained largely in place in Singapore, the Asia-Pacific market, and on the international network. Capacity grew to 28 percent of Q1 2019-levels and is expected to grow to 33 percent in Q2. SIA reinstated services to Cape Town, Manchester, and Rome.
At low-cost subsidiary Scoot, passengers carried grew from 4.000 to 50.000 and a load factor of 8.9 percent. Scoot has returned to Sydney, Athens, Cebu, Clark, Kuala Lumpur, Macau, and Manado. It will restart its route to Berlin via Athens, teasing travelers with very low ticket prices. The passenger network has grown by three destinations to 63.
Cargo revenues were up by 32.4 percent
Cargo remains key in Singapore's current business model. In the April to June quarter, cargo and mail carried grew by 78.3 percent to 243 million kilograms. Revenues increased by 32.4 percent to $214 million. More cargo was carried on passenger flights again as the network reopened, which has translated into a dampening effect on cargo yields. The cargo network included 76 destinations, four more than at the end of March.
SIA Group continues to invest in newer and more efficient aircraft to reduce its carbon footprint. During the first quarter, Singapore Airlines took delivery of three more Airbus A350s and returned two A330s to the lessor. Scoot received three A321neo's and returned one A320ceo.
At the end of June, the Group had a strong liquidity position with $23.1 billion in shareholder's equity, $6.4 billion more compared to late March. Cash and bank balances grew by $5.9 billion to $13.7 billion thanks to the issuance of convertible bonds. SIA's net debt grew by $0.7 billion to $15.1 billion.
SIA outlook remains somber despite reducing its losses in Q1. The carrier's hopes are pinned on the rapid vaccination across countries in its network so that international traffic can resume. The prospect of a quick recovery depends on how Covid-mutations are kept under control. Until it sees a real recovery, the airline maintains strict cost discipline.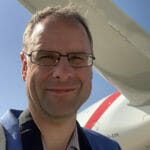 Active as a journalist since 1987, with a background in newspapers, magazines, and a regional news station, Richard has been covering commercial aviation on a freelance basis since late 2016.
Richard is contributing to AirInsight since December 2018. He also writes for Airliner World, Aviation News, Piloot & Vliegtuig, and Luchtvaartnieuws Magazine. Twitter: @rschuur_aero.