Airbus officially launches the A350 Freighter. The Board of Directors has approved the new model during a meeting in Amsterdam this week, CEO Guillaume Faury announced at the presentation of the HY1 results. Airbus reported a €2.231 billion Group profit.
The freighter will be "enhancing our product line" and is "responding to customer feedback for increased competition and efficiency in this market segment." Faury said the new version "is based on existing building blocks of the A350 to a very large extent. It is a light derivative, but it is predominantly coming from the A350-1000." Faury wasn't willing to share the development costs, while production rates will be depending on the commercial success at a later stage.
The A350 Freighter will have a capacity of 90+ metric tons, said Faury. This compares to 65-70 tons for the existing A330-200F. The new model will enter service in 2025. This fits in nicely within the expected wave for freighter replacements in the second half of this decade as cargo operators seek to replace older aircraft. Also, in 2028, new ICAO regulations come into effect to introduce new limits to aircraft emissions. As Boeing's David Calhoun said yesterday, Boeing too will have to respond to these new regulations and is planning a freighter version of the 777X.
While Airbus has officially launched the A350 Freighter, Faury was not ready to make commercial announcements yet as the program is at an early stage. More updates will be coming from Chief Commercial Officer Christian Scherer at a later date. However, Faury confirmed that the A350 Freighter will complement the existing A330-200F, of which sales are dwarfed compared to Boeing's 767-300ERF and 777F. There are no plans to develop a freighter version of the A330neo.
During a product update in June, Chief Commercial Officer Christian Scherer said customers were pushing Airbus to launch the freighter: "Others, and often the same have said 'Look, do you realize you have a really good platform with the A350 to turn this aircraft into a freighter? Its range capability, its volume, its operating costs, its structural capability, and some of the technological choices you have made to find the right balance between metallic structural parts and carbon parts, give you a platform that would be a fabulous freighter.'
Return to strong profit for HY1
Airbus reported strong results for the first six months for all divisions as commercial aircraft deliveries pushed revenues up and Helicopters, as well as Defence and Space, performed well. The Group's profit of €2.231 billion compares to a €1.919 billion net loss in HY1 2020. EBIT Reported was €2.727 billion compared to €-1.559 billion, EBIT Adjusted €2.703 billion versus €-945 million. It includes €170 million adjustments on pre-delivery payments and balance sheet evaluation. Also included is a €145 million adjustment related to the A380 program mainly for a provision release on the former A380 Lagardère facility in Toulouse. This will be prepared for A320/A321neo assembly.  
Group revenues improved to €24.637 billion, up from €18.948 billion last year, of which €3.911 billion is from Defence activities. Airbus produced positive free cash flow before mergers and acquisitions and customer financing of €2.051 billion versus €-12.440 billion in the first six months of 2020. Net cash €6.485 billion, liquidity €33.1 billion.
Q2 Group results are a €1.869 billion profit compared to €-1.438 billion in the same period last year. EBIT Adjusted was €2.009 billion (-1.226 billion), revenues €14.177 billion (8.317 billion). The total workforce was reduced by four percent to 126.050.
Looking at Commercial Aircraft, revenues improved to €17.813 billion from €12.533 billion thanks to 297 deliveries, up from 196 last year. EBIT Reported was €2.387 billion compared to €-1.808 billion, EBIT Adjusted €2.291 billion versus €-1.307 billion. A major difference is the much lower order intake: gross orders were 165, but net orders were just 38 compared to 298 million between January and June 2020. Faury put this into perspective and said that the first quarter of last year had been exceptionally strong. This year will not be a very strong year on orders.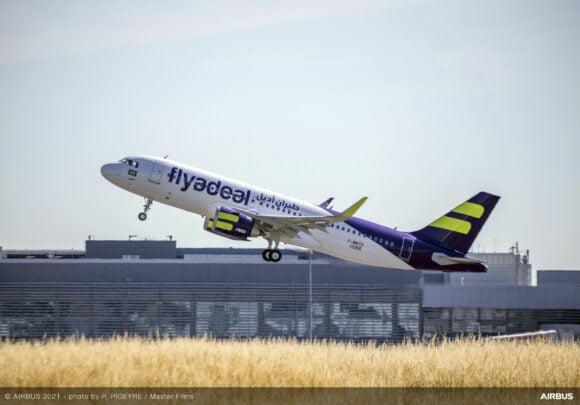 Saudi Arabian low-cost airline flyadeal took delivery of its first of 30 A320neo's in July. (Airbus)
Focus on production ramp-up of A320-family
The focus of Airbus is now very much on a successful ramp-up of the A320neo-family production. Rates will increase this Q3 to 43 and to 45 in Q4 and to 64 in Q2 2023. In June, Executive Vice President Programmes and Services, Philippe Mhun, confirmed that suppliers have responded positively to the ramp-up until 2023. Discussions are ongoing about a rate of 70/month for Q1 2024 and 75/month in 2025, although suppliers seem to be more skeptical about these numbers.  
Faury confirmed that rates for the A220 will increase from five to six per month in 2022 and for the A350 from five to six by fall 2022.
Another focus is that on "transforming the industrial value chain", which includes the restructuring of the aerostructure business in Germany and France and bringing them back within the company for better efficiency. Discussions are ongoing about the aerostructure activities in Spain, but Faury said Airbus intends to keep this infrastructure and consolidate activities at the Cadiz site.
The solid results of the first half-year have allowed Airbus to revise its guidance for the rest of the year. It now expects to deliver 600 aircraft, up from the 2020 level of 560-566 that was announced in the previous guidance. This will still be a challenge. "The first 300 have been done, now we have to do the other 300", said Faury.
EBIT Adjusted will be around €4 billion and free cash flow before mergers and acquisitions and customer financing around €2 billion. However, deferred pre-delivery payments after order deferrals from last year will be causing headwinds for cash flow in HY2.
While spending on Research & Development was ten percent lower in HY1 to €1.262 billion, Chief Financial Officer Dominik Assam said they will return to 2020 levels again. Faury said that good progress is made on the ZEROe program to develop a net-zero aircraft based on hydrogen by 2035.   
Faury said that the Covid-19 crisis is not behind us. China and US Domestic are very strong, but the recovery of international long-haul travel will take more time. Notably, the Delta variant is the reason for concern.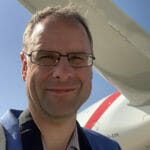 Active as a journalist since 1987, with a background in newspapers, magazines, and a regional news station, Richard has been covering commercial aviation on a freelance basis since late 2016.
Richard is contributing to AirInsight since December 2018. He also writes for Airliner World, Aviation News, Piloot & Vliegtuig, and Luchtvaartnieuws Magazine. Twitter: @rschuur_aero.