It has taken them a couple of years to decide, but Southwest Airlines has finally made up its mind about its long-term fleet plan and with what to replace its 462 Boeing 737-700s. The US low-cost had taken a serious look at the Airbus A220-300, but in the end, has decided to stick to its trusted one-model concept and ordered more MAX instead. In a March 29 statement, Southwest confirms it has signed a firm order for 100 additional aircraft plus 155 options.
The firm order is for 100 MAX 7s, the smallest version of the MAX that is in the certification phase but still needs final approval. This brings total firm orders from Southwest to 349 MAX. Before the deal was disclosed, Southwest had firm orders for 219 MAX 8s and thirty -7s, but it has converted seventy  -8s into -7s to bring the mix to 200 -7s and 149 -8s.
The airline had 115 MAX options, but they have been upped to 270. Southwest has the flexibility to chose whether these will be -7s or -8s. First deliveries of the MAX 7s will happen in 2022 and all firm orders will run through 2029. The options originally matured through 2026, but the new batch extends this by five years through 2031. This brings total MAX commitments to 619.
This year, Southwest expects to take delivery of 28 MAX 8s, including nineteen directly from Boeing and nine from lessors, bringing the MAX fleet to 69 by the end of 2021. As they will replace seventeen 737-700s, the total fleet count will be 729 by the end of December.
During this year through 2026, Southwest will take delivery of 135 MAX -7s and 34 -8s. This results in contractual capital expenditures of some $5.1 billion, most from 2023-2026. Fleet Capex for 2021 is around $500 million and $700 million in 2022.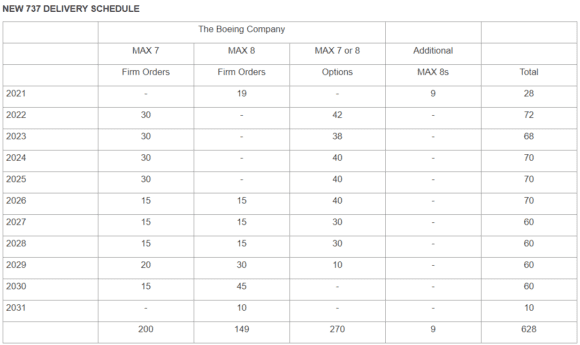 Last week, Airinsight's analysis on the A220-300 suggested the Airbus would be a compelling choice for Southwest to go for. But after what it describes as "a multi-year evaluation", it has decided to stick with Boeing. ""Southwest Airlines has been operating the Boeing 737 series for nearly fifty years, and the aircraft has made significant contributions to our unparalleled success", CEO Gary Kelly said in a media statement. "Today's commitment to the 737 MAX solidifies our continued appreciation for the aircraft and confirms our plans to offer the Boeing 737 series of aircraft to our Employees and Customers for years to come. (…) We are proud to continue our tradition of being the world's largest operator of an all-Boeing fleet."
As CFO Tammy Romo added: "Our refreshed order book with Boeing allows Southwest to preserve the low-cost advantages of a single fleet type, and the balance of firm orders and options—along with flexibility with 737-700 retirement plans—allows the opportunity to manage our fleet needs over the next decade."
While sad news for the sales team in Toulouse under Christian Scherer, unsurprisingly Boeing is most happy with the fresh order. Stan Deal, Boeing Commercial Airplanes President and CEO, said: "We are deeply honored by Southwest's continuing trust in Boeing and the 737. Their fleet decision today brings more stability for our biggest commercial program and will ensure that our entire 737 family will be building new airplanes for Southwest for years to come."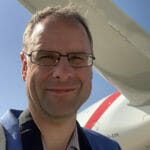 Active as a journalist since 1987, with a background in newspapers, magazines, and a regional news station, Richard has been covering commercial aviation on a freelance basis since late 2016.
Richard is contributing to AirInsight since December 2018. He also writes for Airliner World, Aviation News, Piloot & Vliegtuig, and Luchtvaartnieuws Magazine. Twitter: @rschuur_aero.