Production hick-ups on the MAX assembly line due to supply chain issues are also affecting Spirit AeroSystems' deliveries to Boeing. As part shortages result in production disruptions in Renton, Spirit's inventory of MAX fuselages is stacking up. But it isn't too worried about that. Spirit's MAX inventory grows as Boeing suffers hiccups.
CEO Tom Gentile told the UBS Global Industrials and Transportation Conference on June 8 that he has currently 85 to 90 completed frames in inventory at the Wichita plant as Spirit adjusts deliveries to Renton. Growing the inventory doesn't worry Gentile, especially as Boeing pays for it. "As long as we produce at the same rate, it is going to plateau there. But when we go to higher rates next year, we will burn down inventory over the course of 2023 to twenty units." This has been the number that Spirit communicated earlier as a permanent buffer that will act as a cushion for Boeing.
As Spirit said in its Q1 earnings call on May 4, the decision of Boeing to stabilize MAX production for the time being at 31 aircraft per month has forced the Tier 1 supplier to amend its own production plans. "Our internal assumptions were that we would go to rate 31 in May and then have another rate increase in September or October. That would have cost our total production for the year at 350 units. Boeing subsequently came ahead and said they wouldn't go above 31, so we revised our forecast down to 315 for this year", Gentile said.
The lower rates of the MAX, the continued 787 pauses, utility costs, and Covid-related costs result in a negative forecast loss of $-175 to $-225 million for the full year. This predominantly comes from the first quarter, but Gentile expects Spirit to be positive in the other quarters of the year. Increasing the MAX rates from 21 last year to 31 now already has produced much better unit costs. "In Q3, when we will have the full benefit of the 31, you will see a more pronounced impact." Later on, when the rate would go to 42 per month, Spirit would get to profit margins of sixteen percent, which it already achieved in 2016.
Airbus builds up buffer towards rate 75
Deliveries of A320neo wing leading and trailing edge shipsets to Airbus continue at an unabated pace. Although the OEM is delivering fewer completed aircraft, Spirit still produces at high rates. "Airbus is building up its own buffer. They know they are heading toward a difficult time, they want to go to rate 75 in 2024. They are taking up the opportunity now to take up some of their buffers. They are puling from us, but they are all storing them at their sites."
Gentile revealed a few new details on the production quality issues with the 787. It's known that there has been a problem with shimming in which shims between aft fuselage sections were of an incorrect size. "They discovered in some cases that too much pull-up force was used to join structures. Instead of using pull-up force, they should have used shims to close the gap. In the meantime, what happened is that non-conformances existed in how the plane was compared to the engineering specifications."
In the nose Section 41 produced by Spirit, there are three or four areas that need rework before the aircraft can be delivered. Gentile said they are halfway through this rework now. The analyses of the production problem have been done and turned over to the FAA for review, but the agency is taking time to do this. Spirit will not produce more than twenty 787 units this year, Gentile said, with a return to pre-Covid levels of fourteen per month unlikely for the foreseeable future.
Spirit is protected from inflation costs by the long-term contracts, which in the case of Boeing runs through 2033. Raw materials are sourced by Boeing and Airbus consortia, so this mitigates the effects on the Wichita company. It feels pressure from labor costs and utilities, but leaner production will limit these.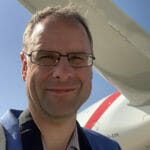 Active as a journalist since 1987, with a background in newspapers, magazines, and a regional news station, Richard has been covering commercial aviation on a freelance basis since late 2016.
Richard is contributing to AirInsight since December 2018. He also writes for Airliner World, Aviation News, Piloot & Vliegtuig, and Luchtvaartnieuws Magazine. Twitter: @rschuur_aero.