A320
Air India took delivery of its first of 14 A320neos leased from Kuwait-based ALAFCO. Air India is the first CFM powered A320neo operator in India. This delivery is the first A320neo for ALAFCO from an order for 85. The A320neo is now part of Air India's fleet of 66 A320s.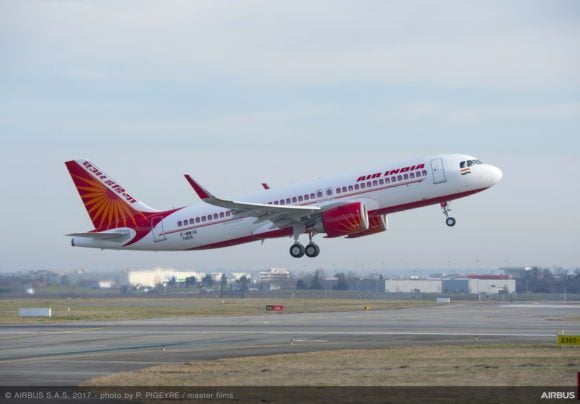 Continue reading →
Most airline delays occur on the ground. Ground operations have long been static because the fundamentals of aircraft pushback and taxiing have not changed much. Nevertheless, there seem to be some real opportunities to save time, especially by reducing a common source of ground delays: tugs and ground crews.
An innovative solution, advanced at one time or another by companies such as Crane, L-3, Airbus, Lufthansa, and a Safran / Honeywell joint venture (EGTS), is to provide the aircraft with an on-board drive – motorized wheels that are powered by the onboard APU.
WheelTug, the smallest of the innovators in this space, has received FAA approval of its certification plan. Interestingly, it is also the only company left that is known to be actively working on what is more popularly called "E-Taxi." WheelTug also chose a different technical solution than the other players by putting the motors in… Continue reading →
The huge backlogs Airbus and Boeing have for single aisle aircraft are well known. Both firms have backlogs of about seven years at current production levels. Both firms are talking about and planning to increase their production rates to bring down the backlogs. We think this bubble keeps building.
As readers know, we have been of the view that an order bubble exists and we are not alone in this view. But this view is not held by the two big OEMs; they are confident that ordered aircraft will be delivered and production increases are justified.
What evidence can we offer to support our bubble thesis? Take a look at the next two charts. Start with the blue lines showing deliveries and then consider the orange lines showing retirements. You would likely agree; retirements are relatively low compared to deliveries. Continue reading →
The two big engine makers in the single aisle market now are more easily compared as more data emerges. Both firms have to file documents with the US FAA. This information provides an insight we have not seen to date. The CFM LEAP data can be seen here (E00089EN_Rev_1) and the P&W GTF data can be seen here (E00087EN_Rev2). For data on the CFM56 look here (E37NE_Rev_13) and the on the V2550 look here (E40NE_Rev_10). The documents make interesting reading.
The table summarizes some key numbers. Continue reading →
Airbus announced their 2016 pricing and they added a 1.1% increase across the line. So what does this look like? After all, no customer pays retail.
Since each customer deal will see prices vary by many factors, we will stick to the retail prices to illustrate our points. Let's start with single aisle aircraft pricing since 2010. Continue reading →