Despite numerous uncertainties in the market, TAP Portugal is cautiously optimistic that positive demand for travel combined with the fruits of restructuring will steer the airline in the right direction again. TAP has started implementing the plan that was announced back in June 2020 since the start of the year. It should make it leaner and more cost-competitive. TAP Portugal goes full swing into restructuring mode.
TAP Portugal announced a €1.599 billion net loss for 2021 on April 11, worse than the €-1.230 billion in 2020 but better than the €1.75 billion projected in its restructuring plan. The result includes a €1.0 billion recognition in non-recurring costs for the closure of TAP M&E Brasil. The maintenance, repair, and overhaul unit has been loss-making for years, with numerous attempts to address the situation and find a buyer having been unsuccessful. That's why the business unit will now be closed, in line with the restructuring plan to divest non-core assets.
The carrier's operating result was €-1.478 billion compared to €-964.8 million in 2020, but the recurring EBITDA of €11.7 million versus €-273.7 million reflects a significant recovery in the second half of the year that more than offset losses in HY1 caused by Covid lockdowns and travel restrictions. As a result, TAP was able to restart its international services only in Q4, mainly to the US and Brazil. The carrier operated at -48.8 percent capacity compared to 2019, with revenue passenger kilometers (RPK), down by 58.4 percent over 2019. It carried 5.8 million passengers versus 4.7 million in 2020.
Total revenues increased to €1.389 billion from €1.060 billion in the previous year. Of this, €1.067 billion was from passengers and €236.2 million from cargo and mail, up from €125.7 million. Cargo yields were up 25 percent from the previous year. Operating costs were up 42.1 percent to €2.877 billion, with fuel costs up 30.7 percent to €340.5 million.
The restructuring plan must be successful
TAP's priority lies in making a success of its restructuring plan, which includes a €2.2 billion capital increase by the Portuguese government for a fifty percent share and Covid aid that was approved by the European Commission last December. Another €990 million in state aid is still pending. Once approved, the airline will have received €2.554 billion in rescue loans/restructuring aid and €640 million in Covid aid. The approval from Brussels dictates that TAP surrenders eighteen slots at its Lisbon hub from the coming 2022-2023 winter season onwards, with Ryanair keen to get a hand on them for some time.
The management of the restructured TAP SA under CEO Christine Ourmieres-Widener targets a return to sustained profitability from 2025, thanks to the cost reductions from revised contracts with lessors and suppliers, labor flexibility and lower salaries, improved productivity, increased revenues from ancillaries and cargo, improved network planning, and not to forget an improved customer experience.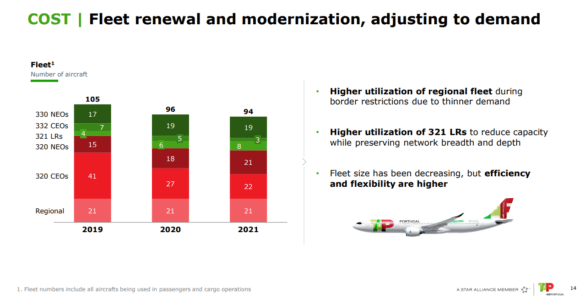 TAP reduces its fleet in 2021 to 94 aircraft, with 66 percent of them Airbus A320-family aircraft. (TAP Portugal)
As TAP explained before in its restructuring plan, it will resize its fleet but continues fleet modernization. From 105 aircraft in 2019, it is down now to 94, including almost as many Airbus A320ceo-family and neo-family: 22 versus 21. It has now eight A321LRs, which are part of its revised strategy to serve long-haul routes when load factors are lower. TAP operates the type now to the US and Canada, benefitting from its geographical position closer to the North American continent, but even operates the LR to Brazil and into Africa.
Already in April last year, the airline said that it had deferred deliveries of fifteen A320neo-family aircraft from 2021-2022 to 2025-2027. Two A330-900s have also been deferred from 2022 to 2024. The airline is one of the biggest operators of the A330-900, with a fleet of nineteen. It has three A330-200s, of which two have been converted into full freighters. The thirteen Embraer and eight ATR on the regional fleet have helped TAP weather the crisis when demand was low.
Breathing space for recovery
Thanks to the capital increase, TAP bolstered its liquidity position to €813 million from €550 million in 2020. Debt maturities are only starting to take serious form in 2024 when €481 million in bank loans and bonds are due. Finance leases will increase from 2026 and push debt maturities to €511 million. This gives the carrier some breathing space as it tries to recover.
The outlook for this year is positive, which TAP adding significant capacity this quarter when it is almost back at 2019 levels before taking a slower approach to the summer despite the resumption of various seasonal routes but recovering again to almost around ninety percent in Q4. But demand is volatile and with uncertainties around like the economy, inflation, fuel prices (despite hedging 49 percent this Q2), the war in Ukraine, and intense competition at its Lisbon hub (from Ryanair…), nothing is guaranteed for TAP Portugal in 2022.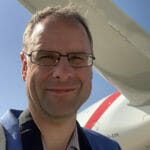 Active as a journalist since 1987, with a background in newspapers, magazines, and a regional news station, Richard has been covering commercial aviation on a freelance basis since late 2016.
Richard is contributing to AirInsight since December 2018. He also writes for Airliner World, Aviation News, Piloot & Vliegtuig, and Luchtvaartnieuws Magazine. Twitter: @rschuur_aero.