Yesterday, United Airlines took delivery of the first of 50 Boeing 787s it has on order, and the first of five expected to be delivered in 2012. United is the first US airline to operate the Boeing Dreamliner, and takes its first delivery nearly a year after the first 787 was delivered to Japan's All Nippon Airlines.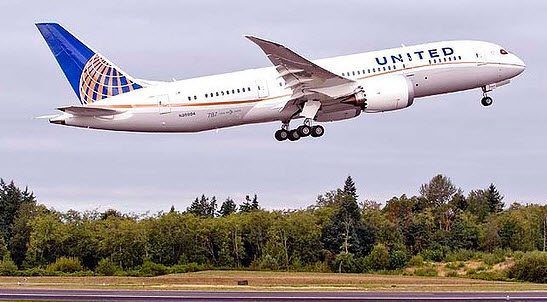 The 787 aircraft to be delivered in 2012 will be initially based in Houston for training purposes and will be first deployed domestically on services between the airline hubs at Chicago O'Hare, Houston, San Francisco Newark, Cleveland, Denver and Washington Dulles.  It is expected that after the introductory period, the aircraft will be re-deployed on international routes. 787 routes are already listed on United's reservation system, with flights from Houston to Chicago beginning in November.
United will configure its 787s with 36 First -Business class seats, 72 Premium Economy, and 111 Economy class seats, for a total of 219 seats.  These aircraft will replace older Boeing 757 and 767 aircraft in the fleet that are being retired.   United has chosen GEnx engines for its Dreamliners, which are being modified after 3 recent incidents with new engines and a mandatory FAA inspection every 90 days.  GE has already modified the coating for an engine shaft suspected to be the problem, and we expect those engines to perform well once initial issues are sorted out.
We look forward to the Dreamliner in domestic service, and the opportunity to provide a first-hand report on the aircraft in the near future.