Looking at the latest data from China and the US, here's how we ended May 2021.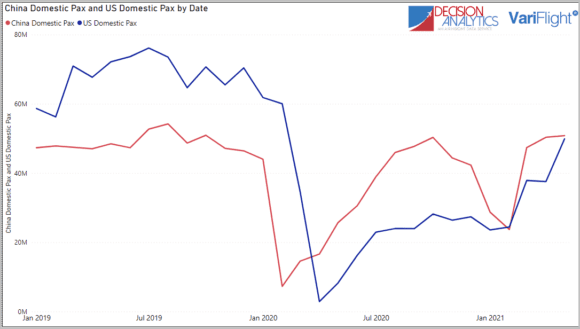 A month ago it did not look like the US was going to catch up with China. But as we can see the data shows that by the end of May, the US was only 952,116 behind China for the month.  That difference is about 50% of what the US is now seeing in daily air travel. It is an impressive growth over April. 
What might explain the change?  It could be vaccination rates as the chart illustrates.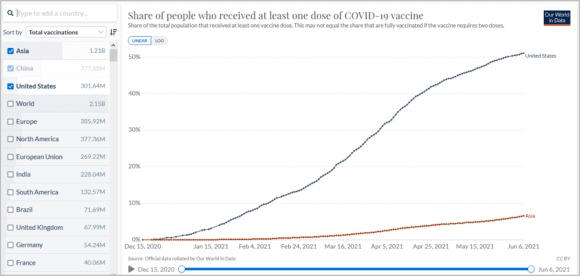 Readers will notice that China is listed on the left at 777.88m vaccinations but does not show up on the chart. It appears that China has vaccinated about 55.6% of its population and the US is at 51.08%.  So that should make them about equal.
In fact, one might have expected China to have an advantage.  After all, a Chinese military scientist filed a patent for a covid vaccine soon after China revealed Covid-19 details in 2020, which opens a whole separate series of questions. For instance, this was before Covid-19 was declared a pandemic. However. it seems the Chinese vaccine may not be as effective as initially thought. The BBC reports that researchers in Brazil initially said it was 78% effective in their clinical trials, but in January 2021 revised that figure to 50.4% after including more data in their calculations. 
It could be that the US is seeing better results from its vaccination campaign and travel consumers are exercising their pent-up demand for travel.  If June continues to show the US' present strength in air travel numbers, the US could once again become the largest air travel market.  For the first six days in June, the US average daily number was 1.77m people per day.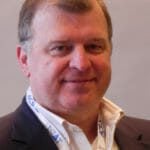 Co-Founder AirInsight. My previous life includes stints at Shell South Africa, CIC Research, and PA Consulting. Got bitten by the aviation bug and ended up an Avgeek. Then the data bug got me, making me a curious Avgeek seeking data-driven logic. Also, I appreciate conversations with smart people from whom I learn so much. Summary: I am very fortunate to work with and converse with great people.