The settlement between the US Department of Justice and Boeing to resolve the investigation and prosecution into the MAX saga has been met with quite a few raised eyebrows. How is it that possible that Boeing evades criminal prosecution and has to pay only a $243.6 million penalty?
The settlement, which was announced on January 7 but filed the day before in the Northern District of Texas, includes a Deferred Prosecution Agreement (DPA) that resolves the Department's investigation into Boeing's conduct regarding the evaluation of the MAX by the Federal Aviation Administration Aircraft Evaluation Group (FAA AEG). Boeing had admitted before that it had deceived the FAA group about the peculiarities of the Maneuvering Characteristics Augmentation System (MCAS), which played a major contribution in the two fatal MAX crashes in October 2018 (Lion Air) and March 2019 (Ethiopian). Boeing had withheld details of the system from the FAA since 2016. Without proper knowledge about MCAS, the agency deleting all MCAS-related information in the MAX Flight Standardization Board report and subsequently aircraft and pilot training manuals. Pilots were allowed to fly an aircraft untrained for MCAS, with devastating effects.
Total settlement for $2.51 billion
While perceived by the DoJ as a criminal act that required prosecution, the DPA now resolves Boeing. This is conditional to Boeing paying the $243.6 million penalty to the DoJ, pay MAX customers $1.77 billion in compensation, and establish a $500 million fund for additional compensation of the heirs, relatives, and beneficiaries of the 346 victims of the two crashes. In total, Boeing has to pay $2.51 billion, offset by payments already made. The compensation to MAX customers has already been reserved in previous quarters, Boeing says, with $743.6 million charged to its Q4 2020 earnings.
Except for the payments, Boeing also has to continue to cooperate with the Fraud Section of the DoJ in any ongoing or future investigations and prosecutions: " As part of its cooperation, Boeing is required to report any evidence or allegation of a violation of US fraud laws committed by Boeing's employees or agents upon any domestic or foreign government agency (including the FAA), regulator, or any of Boeing's airline customers." The company also has agreed to strengthen its compliance program and to enhanced compliance program reporting requirements, "which require Boeing to meet with the Fraud Section at least quarterly and to submit yearly reports to the Fraud Section regarding the status of its remediation efforts, the results of its testing of its compliance program, and its proposals to ensure that its compliance program is reasonably designed, implemented, and enforced so that it is effective at deterring and detecting violations of U.S. fraud laws in connection with interactions with any domestic or foreign government agency (including the FAA), regulator, or any of its airline customers." Charges against Boeing will be dismissed after three years if it has complied with these conditions.
Boeing held accountable for lack of candor
The Department's statement says: "Today's deferred prosecution agreement holds Boeing and its employees accountable for their lack of candor with the FAA regarding MCAS," said Special Agent in Charge Emmerson Buie Jr. of the FBI's Chicago Field Office. "The substantial penalties and compensation Boeing will pay, demonstrate the consequences of failing to be fully transparent with government regulators. The public should be confident that government regulators are effectively doing their job, and those they regulate are being truthful and transparent."
In a statement to Boeing staff, CEO David Calhoun says: "This is a substantial settlement of a very serious matter, and I firmly believe that entering into this resolution is the right thing to do for us – a step that appropriately acknowledges how we fell short of our values and expectations. This resolution is a serious reminder to all of us of how critical our duty of transparency with our regulators is and the consequences our company can face if any one of us falls short of these expectations."
Boeing versus Airbus bribery settlement
Yet, various industry observers think Boeing has come away too easily with this. They refer to the €3.6 billion/$4.2 billion Airbus agreed to a year ago with authorities in France, Britain, and the US in the bribery case, in which Airbus was accused of fraud and bribery concerning commercial and military aircraft orders between 2008 and 2015. As part of this DPA, Airbus had to pay the US Department of Justice €526 million and €9 million to the Department of State. Airbus never has admitted liability. While serious, this case did not result in the loss of lives nor did it affect the most essential part of aviation: safety. Still, the penalty for Airbus had to pay to the DoJ is more than double of that Boeing has to pay now in the MAX settlement.
Also: while Boeing cooperated with the Fraud Section's investigation, the statement by the DoJ points out that the company only did so after the first six months of the investigation, "during which time Boeing's response frustrated the Fraud Section's investigation." This behavior seems to have been mitigated by Boeing's subsequent behavior that includes the creation of a permanent aerospace safety committee under the Board of Directors, plus the creation of a Product and Services Safety Organization to strengthen the safety culture across the company. The reorganization of the engineering department and Flight Technical Team and the change of leadership have also played into Boeing's hands to avert prosecution.
Interestingly, the DoJ says that an independent compliance monitor "was unnecessary based on the following factors, among others: (i) the misconduct was neither pervasive across the organization, nor undertaken by a large number of employees, nor facilitated by senior management; (ii) although two of Boeing's 737 MAX Flight Technical Pilots deceived the FAA AEG about MCAS by way of misleading statements, half-truths, and omissions, others in Boeing disclosed MCAS's expanded operational scope to different FAA personnel who were responsible for determining whether the 737 MAX met US federal airworthiness standards; (iii) the state of Boeing's remedial improvements to its compliance program and internal controls; and (iv) Boeing's agreement to enhanced compliance program reporting requirements, as described above."
Families of the victims of the Ethiopian MAX-crash have announced they will continue with civil litigation against Boeing despite the settlement.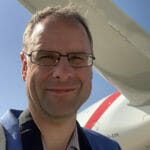 Active as a journalist since 1987, with a background in newspapers, magazines, and a regional news station, Richard has been covering commercial aviation on a freelance basis since late 2016.
Richard is contributing to AirInsight since December 2018. He also writes for Airliner World, Aviation News, Piloot & Vliegtuig, and Luchtvaartnieuws Magazine. Twitter: @rschuur_aero.