Amidst the uncertainty of the return to service of its Boeing MAX 8-fleet Norwegian has decided to cut its transatlantic network out of Ireland from mid-September. The low-cost airline will discontinue six routes to Dublin out of Providence and New York Stewart in the US on September 14/15 and from Hamilton/Toronto (Canada) on September 13.
Norwegian's single-aisle transatlantic network was already compromised in March following the grounding of the MAX, with services re-routed from Cork and Shannon to Dublin. The airline operated 737-800s instead. Although we don't know the exact numbers, wet-leasing the less efficient and more expensive NG over the MAX did ruin Norwegian's calculations.
The airline hoped to have the MAX back in action in October but with Boeing yet to file the final software update to the regulatory agencies any date is speculative. This would mean that Norwegian would have to continue using NGs during the less profitable Autumn/Winter-period.
"As the airline moves from growth to profitability, we have conducted a comprehensive review of our transatlantic operations between North America and Ireland and concluded that these routes are no longer commercially viable considering the circumstances. Compounded by the global grounding of the Boeing 737 MAX aircraft and the continued uncertainty of its return to service, this has led us to make the difficult decision to discontinue all six routes from U.S. and Canada to Dublin, Cork and Shannon from September 16," said Matthew Wood, senior vice-president commercial long-haul and new markets in a press release.
While costing the airline potential revenues, discontinuing the Ireland-North America routes will eventually save Norwegian on expenditures. If the airline will resume those routes once the MAX is back in service remains to be seen.
Norwegian stresses it will continue to operate nonstop transcontinental routes between Europe and North America, using its Boeing 787-fleet. The airline will take delivery of its first four Airbus A321LRs next year.
Mounting MAX-losses for TUI
The MAX groundings also continue to hurt Europe's leisure group TUI. Its combined Q2 and Q3  grounding cost have risen to EUR 144 million. with TUI expecting cumulative costs of 300 million for FY19. The company's airlines division lost 115 million in Q3.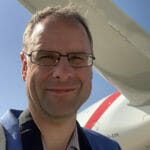 Active as a journalist since 1987, with a background in newspapers, magazines, and a regional news station, Richard has been covering commercial aviation on a freelance basis since late 2016.
Richard is contributing to AirInsight since December 2018. He also writes for Airliner World, Aviation News, Piloot & Vliegtuig, and Luchtvaartnieuws Magazine. Twitter: @rschuur_aero.