Wizz Air is exploring options to establish a new subsidiary airline in Saudi Arabia. The ultra-low-cost airline has signed a Memorandum of Understanding with the country's Ministry of Investment to "explore market development opportunities" in de Kingdom of Saudi Arabia, it announced on May 10. Wizz Air explores options for subsidiary in Saudi Arabia.
The announcement comes on the occasion of the first Future Aviation Forum in Riyadh on May 9-10, at which the future of the aviation sector in Saudi Arabia is discussed. As part of the country's Vision 2030, Saudi Arabia wants to transform its transport and logistics sector and aims to generate SAR 356 billion (around $100 billion) in investment from the aviation sector by 2030 "to make Saudi Arabia a global aviation hub."
The expansion of national carrier Saudia and low-cost airlines Flyadeal and Flynas is part of this strategy, as AirInsight discussed in November at the Dubai Airshow. Plans for a second national airline haven't been confirmed. Flynas announced recently that it plans to grow its fleet to 250 aircraft by 2030.
Into this picture now enters Wizz Air, which already has a presence in the region with Wizz Air Abu Dhabi, a joint-venture with the government of Abu Dhabi. The ULCC got off to a slow start because of the pandemic but will expand rapidly this year to become an established carrier in the region.
In a brief media statement, Wizz Air says on the MoU with Saudi Arabia: "The parties will work together to enable potential investment and operating models to benefit and add to the Saudi Arabian aviation ecosystem, boosting its tourism industry and significantly increasing its connectivity." No detailed timeline has been included, but both Wizz Air and the Saudi government are known to be able to act swiftly, so expect the next steps well before 2030.
The release adds: "The MoU reflects a shared vision between the parties on the potential Wizz Air could bring to the Kingdom to stimulate new demand, thereby making a significant contribution to Saudi Arabia's planned growth." The MoU with the Ministry of Investment is supported by the Saudi National Air Connectivity Program, an initiative of the Ministry of Tourism to support the development of the Saudi Tourism Sector.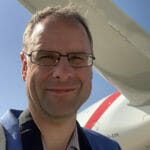 Active as a journalist since 1987, with a background in newspapers, magazines, and a regional news station, Richard has been covering commercial aviation on a freelance basis since late 2016.
Richard is contributing to AirInsight since December 2018. He also writes for Airliner World, Aviation News, Piloot & Vliegtuig, and Luchtvaartnieuws Magazine. Twitter: @rschuur_aero.