Sukhoi Civil Aircraft Company and SuperJet International (a joint venture between Leonardo-Finmeccanica Company and Sukhoi Holding) celebrated the delivery of the first Sukhoi Superjet 100 (SSJ100) to CityJet, which becomes the first European SSJ100 customer. The Irish airline will lease 15 SSJ100 aircraft with an option for additional 16.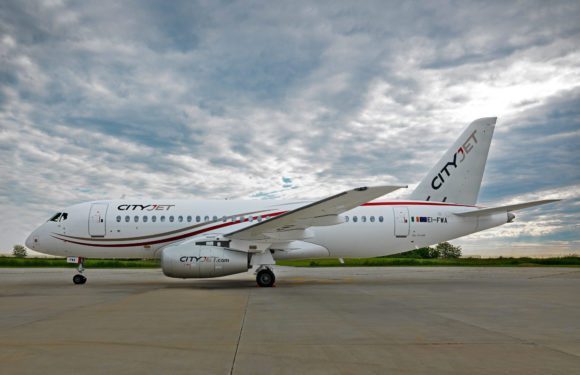 The airline will receive three three aircraft in 2016, with the remainder from 2017. The SSJ 100 achieved EASA certification in 2012.  This was a crucial win, and now delivery, for the SSJ.  The company recently lost an EU customer in VLM.  CityJet's use of the aircraft in Europe will ensure other airlines get to see it perform. If the aircraft performs as well as it has in Mexico, other airlines are likely to step up for it too.  It is an attractive sized trunk airliner and priced well, too.
In a quiet affair (no media) Embraer undertook its first flight for the E-190 E2 yesterday.  The flight was originally scheduled to take place during the second half of this year.  The first flight took 3 hours and 20 minutes.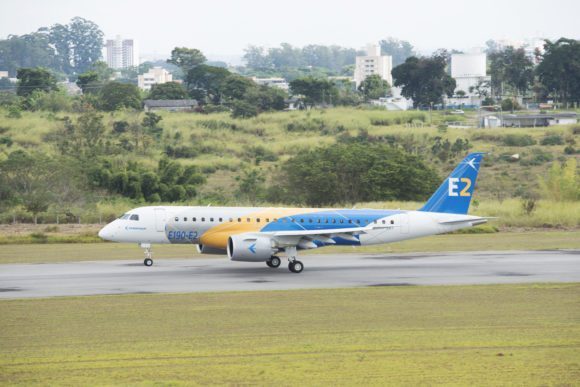 Understandably, there was a lot of excitement. "What a first flight! Today, all of us at Embraer should be proud and thrilled of this remarkable achievement. Watching the first E190-E2 take to the skies means we are paving the way for a bright future in commercial aviation. I'm certain that the market will show even greater interest not only for E190-E2, but also for the other E2s as well," said Paulo Cesar Silva, President & CEO, Embraer Commercial Aviation.
The aircraft that flew today is the first of four prototypes that will be used in the E190-E2 certification program. Two additional aircraft will be assigned for… Continue reading →
Pratt & Whitney Canada (PW&C) is in the final stages of development of an new oil debris monitoring technology, which it is rolling out in customer trials. The technology has the potential to significantly enable proactive maintenance and provide increased aircraft availability.
We spoke with Timothy Swail, VP Customer Programs, P&WC about this new program.  He explained that the company is always looking for new ideas to evolve engineering and services.  About six years ago, P&WC engineers began a new program which involved analyzing engine oil to get insight into engine wear. Much the way a doctor takes a blood sample to get an idea of what ails a human.
The idea is to analyze an oil sample and engine wear information  – debris found in the oil provides an excellent means of understanding what the engine is doing.  Mr. Swail said: "Our oil analysis technology… Continue reading →
Pratt & Whitney Canada is starting to push its new PurePower PW800 engine.  The PW800 fits into PW&C's business aircraft category and operates in the 10,000 lbs thrust and higher class.  This engine shares a common core with the P&W geared turbofan (PW1000G).
Currently the PW800 powers the Gulfstream G500 and G600.  This was a major coup for P&WC, as they displaced long time engine supplier Rolls-Royce for the new Gulfstream jets.
Gogo announced it has partnered with aerospace software specialist PACE to connect PACEs' Pacelab Flight Profile Optimizer – a leading flight optimization application. Pacelab Flight Profile Optimizer is a decision support tool developed for electronic flight bags (EFB) designed to continuously evaluate numerous flight data metrics. This allows a crew to optimize flight paths for maximum efficiency.
Under the partnership, the Pacelab Flight Profile Optimizer application will be connected in real time using Gogo connectivity, so pilots will be able to adapt to changing conditions while in-flight, reducing fuel burn and improving on-time performance.
"By partnering with PACE, we established a direct relationship to help market and integrate with each others products while accelerating speed to market and providing a clear path for adoption of this valuable fuel savings tool into airline operations," said Andrew Kemmetmueller, Gogo's VP of connected aircraft services. "Gogo continues to move beyond the passenger connectivity… Continue reading →
It appears the commercial aerospace world has coalesced into two camps.  We have called these the big and small duopolies.  However the line between these two is growing blurry.  This was something we first heard from Embraer's John Slattery in February, when he described a world that was more nuanced than a split market might indicate.
What do these two segments look like?
As of 1Q16, there were 31,068 commercial aircraft in service.  The next chart lays out the share between the biggest players.  The "Other" category includes the OEMs in the smaller chart.  The big four account for 85% of the market. Continue reading →
The huge backlogs Airbus and Boeing have for single aisle aircraft are well known.  Both firms have backlogs of about seven years at current production levels.  Both firms are talking about and planning to increase their production rates to bring down the backlogs. We think this bubble keeps building.
As readers know, we have been of the view that an order bubble exists and we are not alone in this view.  But this view is not held by the two big OEMs; they are confident that ordered aircraft will be delivered and production increases are justified.
What evidence can we offer to support our bubble thesis?  Take a look at the next two charts.  Start with the blue lines showing deliveries and then consider the orange lines showing retirements.  You would likely agree; retirements are relatively low compared to deliveries. Continue reading →
In Part 3 of our series on Aircraft List Prices, we focus on the market over 200 seats.  This is not as large a market as that viewed in Part 2, but this market is for the very expensive "big iron".  This is the flagships sector. Continue reading →