At the recent Farnborough show there was a lot of attention on Airbus and Boeing as the biggest news makers.  With these two firms having the largest volume sales in order size and value, this is to be expected.  But, arguably, the market around 100 seats is far more vibrant and a lot more competitive.
For a start there are more players: Bombardier, Embraer, Mitsubishi, SuperJet and AVIC.  This makes for a much more cut-throat environment.  Bombardier and Embraer are market defenders in the segment, while SuperJet, Mitsubishi and AVIC are segment disruptors.
Bombardier has two options in the 100 seat segment, the CRJ1000 and the CS100 on offer.  The CRJ1000 may be one of those aircraft that became a stretch too far, much like the A340-600.  It has not seen great sales, especially when compared with the similarly  sized CRJ900.  Bombardier… Continue reading →
At the Farnborough Air Show, Boeing announced it had finalized its design for the 737 MAX 7, adding two rows of seats and utilizing the same wing as the 737 MAX 8.  This should both simplify production of the two aircraft while providing additional seats for more competitive seat-mile costs against new technology competition from Bombardier and Embraer, and a competitor closer in size to the A320 rather than A319.
The initial MAX7 could not compete well against the CS300 and E-195 E2, and even after gaining an additional 9.5% in seat-mile economics with additional seats cannot match the new technology competition.  In addition, Boeing was competing hard on price with its MAX8 against A320neo, and now has a betteroginal  alternative to enable the MAX 8 to capitalize on its 12 seat advantage and maintain better margins in narrow-body competitions.
The new MAX 7 will seat approximately… Continue reading →
David Joyce and his executive team from GE Aviation briefing at 2016 Farnborough Air Show follows. GE and CFM International received orders for new engines of $25 billion at the show.  Those deals include 393 LEAP engines from CFM, an agreement with COMAC for 180 CF-34 engines for its ARJ-21 aircraft, and additional large engines and service agreements making up the total.
Wizz Air selected the Pratt & Whitney Geared Turbofan Engines for its order of 110 Airbus A321 aircraft, with purchase rights for 90 more, announced July 13 at the Farnborough Air Show.  Wizz Air, low cost carriers in Central and Eastern Europe, currently operates a fleet of 70 Airbus A320 and A321 aircraft connecting 124 destinations in 39 countries.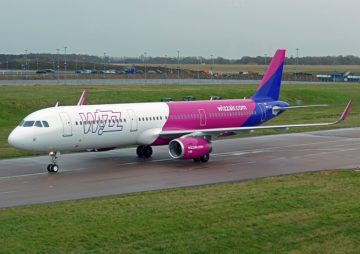 The selection of the GTF was economically driven, according to President and CEO Joseph Váradi. "Following a detailed review process, we concluded that the Geared Turbofan engine delivers the best value proposition as well as maximum fuel and operational efficiency. While we already have a very low cost base, our focus is to be ever more efficient to offer the lowest fares for our customers while driving strong returns for our shareholders."
The P&W GTF engine is demonstrating dispatch reliability levels of approximately 99.8% (which is typical for mature programs)… Continue reading →