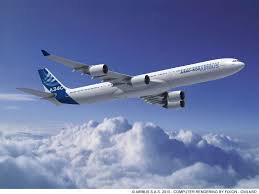 Airbus and Rolls-Royce have combined on a program to enhance the residual values and market viability of the A340-500 and -600, which have been removed from many airline fleets due to unfavorable economics.  Rolls-Royce has stepped up with a "four for the price of two" program in which they will guarantee engine maintenance costs at the same level for maintaining two GE90s on a Boeing 777-300ER.  This will help bring the economics of the A340-500/600, which suffers from unfavorable engine maintenance costs, in line with two-engined competitors.
In addition, Airbus is certifying the A340-600 to a maximum of 475 seats in all economy seating, in an effort to become a viable replacement for the 747-400 for many carriers currently operating that type, making the aircraft more attractive to ULCC and charter operators. Continue reading →
There has been much talk about how Airbus needs to respond to the 787.  Earlier this week, speaking on one of our podcasts, Boeing's Randy Tinseth said Boeing has the A350 bracketed.  Airbus has said they don't need to respond to the 787 because the A330 can accomplish this.  When Airbus' Chris Emerson spoke with us on his podcast, he highlighted the A330′s lighter weight and low costs as compelling for airlines – reflecting Airbus' continued confidence in the A330.
Airlines looking at the middle twin segment have, in other words, appear to have a choice between: Airbus' lower entry costs, combined with a well established delivery schedule and consequent low risk.  Or Boeing's lower fuel burn and the promise of better economics going forward, albeit with a less consistent delivery schedule and operational glitches carrying more risk.  Continue reading →