Bombardier
Just three days ago a report surfaced that Bombardier's plans for a Russian production facility are being delayed.  Now it seems that a year delay might be a fading dream.
This morning another report from Russia tells a new story.  If the Russian Deputy Prime Minister is to be taken seriously, Bombardier's plans might get delayed a lot longer than one year.
The Il-114 is a 64-seater turboprop.  It has modern engines from PWC (similar to those on the ATR) and Rockwell Collins gear on the flight deck.  While the aircraft looks to be a reasonable project, only 20 were built.
The Il-114 may be a "good enough" replacement for the Q400 in the Russian market.  Had the Il-114 been a much better aircraft it would have sold more than 20.  But given the turmoil in Russia's economy and the downstream impact on… Continue reading →
The CSeries returned to flying yesterday, September 7th, with FTV2 making a short flight at Mirabel with the modified engines from Pratt & Whitney installed.  The flight was routine and uneventful.  The photo below from Bombardier shows FTV2 flying yesterday.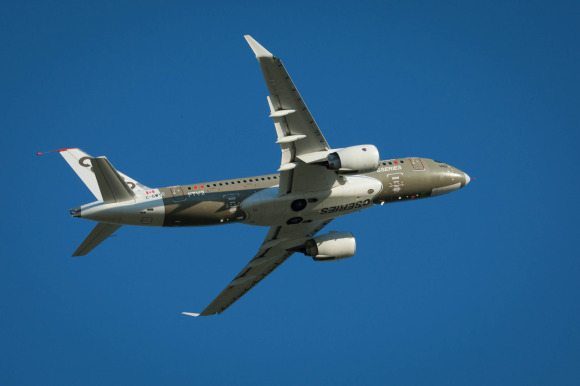 Now that the aircraft has resumed test flying, that should provide additional confidence for prospective customers that the program is back on track.  Two key questions about the program emerge.  First, can Bombardier quickly ramp-up test flying to achieve the 1.6 hours per plane per day needed to conclude the 2,400 hour program by next summer, for second half 2015 entry into service?  Second, will the resumption in flying result in additional customers who may have wanted to announce at Farnborough, but were skittish about ordering an airplane that was unable to fly at the time, and the optics it may have had with shareholders… Continue reading →
Bombardier today announced that the CSeries engine modifications have been approved by Transport Canada, been re-delivered by Pratt & Whitney, and installed on FTV2, which means an imminent return to flight testing.  From what we hear, that could occur this Sunday or early next week, depending on weather.  An update with Rob Dewar from Bombardier and Graham Webb from Pratt & Whitney can be found here.  FTV2, FTV4, FTV3 and FTV1 will be the sequence for return to flight testing.  Ground testing runs are already underway this morning, and while Bombardier PR has indicated sometime in September for the return to flight testing, we expect it to take place very quickly, as early as Sunday, weather permitting at Mirabel.
In the meantime, FTV1, which experienced the engine incident in May, has now been repaired, as shown in the photo below taken during the… Continue reading →

Recently CityJet's new owners (INTRO Aviation) attracted attention when they mentioned the airline's re-fleeting was considering the CSeries and Superjet.  The backdrop here is that CityJet has struggled under ownership by Air France/KLM.  Even though it operates out of London City, a potentially high yield market.
We asked INTRO's Managing Director Peter Oncken a few questions.
We understand that INTRO is focusing on LCY as part of a re-fleet decision process.  Can you explain this thinking please?
The present setup of Cityjet has been the main reason why we got involved with Cityjet in the first place. LCY is a rather secluded market as the positioning is strategically interesting for point to point business traffic and provides dominantly high yield traffic due to limited competition from LCC. The reason is that the airport cannot be served by aircraft which are not certified for this… Continue reading →