Airbus
Last year the first Airbus Market Survey in Latin America provided valuable insights on how airline executives in the region perceive market evolutions and fleet requirements.  Airbus has just launched their 2014 Airbus Market Survey in Latin America.
In the 2013 results Airbus discovered that:
Intra-regional connections was the top long term network development opportunity
The market has a "very optimistic near-term outlook"
Criteria for new aircraft is driven by fuel burn, revenue generation ability and fleet rationalization
Airlines need to see savings of 15% to transition to same generation and 25% to transition to next generation
Best age to replace aircraft is between 8-12 years or a 15-20% cost improvement
With that backdrop, let's look at this market.  The table shows the regional fleet earlier this year.  Over 77% of the fleet is narrow body (single aisle).  This is why the intra-regional market shows up… Continue reading →
In the business of buying airplanes, an airline will always seek the lowest cost.  Just as they do with every other production input – lowest cost wins every time.   So how is it that with the pending Azul order, "Boeing has not been given the opportunity to present a proposal for single-aisle airplanes"?
On the face of it, this looks like a selection that could not secure the lowest costs for Azul.  How does this make sense? As an Azul shareholder you would want to be certain your company secured the lowest cost option. Let's go through some data points and thoughts to see if a pattern emerges.
Airbus wins the deal:
Creative marketing on the side of Airbus.

Driven by the fact the airline already committed to A330 and A350-900s

Which offers common flight-deck ratings
And, lets say it again, creative marketing. Volume… Continue reading
Airbus did something every aviation geek enjoys – they celebrated the end of their A350XWB flight test program with a special event.  A formation flight by the program's test aircraft. Spectacular and wonderful.
Airbus has received EASA certification for the A350, which is now approved for flight.  The first delivery to Qatar Airways is scheduled for the fourth quarter of this year.  The A350 program had a much smoother development process than 787 or A380, and it appears that Airbus has learned from the experiences from previous programs in delivering the aircraft on schedule.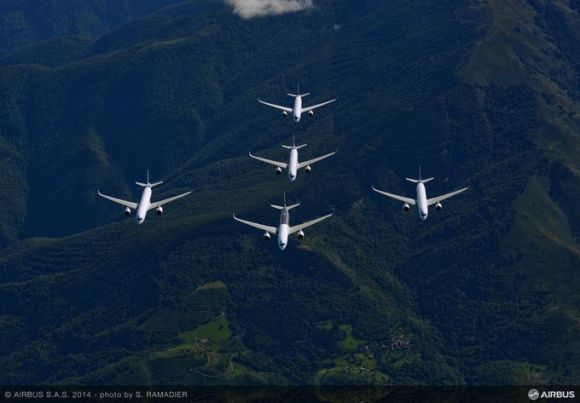 Although it is a boost for CEO Fabrice Bregier, we think it is an even prouder moment for program chief Didier Evrard .  Look at the delays of recent new aircraft programs, and it is clear that Airbus' team did exceptionally well to have so few delays. The program looks to be the best EIS of any current development program. Remember this is a clean sheet design, not a derivative.
The program was managed by Evrard – and he managed it differently by taking a delay… Continue reading →