Airbus
ATR, the world's largest maker of commercial turboprops, is trying to reenter the North American market.  This past week the company has been showing off its latest iteration, the ATR72-600 in Canada.  This is part of a two week sales tour of North America.

The aircraft outsells the competing Bombardier Q400 everywhere, except North America.  Consequently the company is bringing their aircraft to the market for a "show & tell".  Next week the airplane goes to the Regional Airlines Association annual conference, where both trade press and airlines will get a chance for a first hand look.
ATR didn't shrink back from showing their aircraft right in Bombardier's backyard.  Hope may spring eternal, but the ATR is cheaper than the Q400 and for virtually every airline, that is all that matters.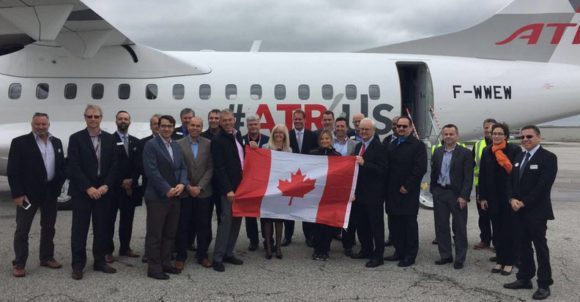 North American airlines, like WestJet, we understand, selected the Q400 over the ATR because… Continue reading →
The next generation engines are rapidly approaching competitive flight operations – what's the engine score?  The Pratt & Whitney GTF is already flying for Lufthansa and IndiGo on their A320neos.   The CFM LEAP is rapidly building hours on the Airbus neo fleet and will soon also be operating in customer fleets – the first two operational engines were delivered to Airbus two days ahead of schedule.  The Boeing MAX flight test program is rumored to be running ahead of schedule and should be in service no later than early next year.
These two engine programs may be the largest seen to date in the industry.  Production ramp up is going to be tough for both engine OEMs.  Take a look at the current score. Continue reading →
Today Reuters published a story about Airbus' 2016 order projections to reach 700.   This is a huge drop (-32%) from last year's 1,034.  Looking at Airbus' order history since 2010 we see the following: Continue reading →