Airbus
Delta Air Lines seems to be ending three routes to Tokyo's Narita. Since Tokyo is a major market, the changes must be really noteworthy.  Delta's Japanese hub was created by Northwest Airlines.  Recent changes to the US-Japan bilateral herald important developments.
The US and Japan agreed earlier this year to open Tokyo's second airport, Haneda, to more US service.  Since Haneda is closer to the city, it is popular with people who want to visit Tokyo, rather than transition to another Asian city.   Delta has already presaged its Asia network changes by building Seattle as a hub.  Delta has said it will stop JFK-Narita this fall and it also plans to stop service between Narita-Osaka and Narita-Bangkok.  Delta is waiting for the DoT 's approval for two new routes: MSP and LAX to Haneda.
What do all these network changes mean for Delta?… Continue reading →
The A380 has recently been described as having a limited future. After the Farnborough show, Airbus cut back production.  Then came news that Qantas will not take another eight it has on order.   All bad news for the program one might think.
Meanwhile, the most successful A380 operator keeps growing its reach using the aircraft.  On August 8th, Emirates announced new A380 service to Manchester in the UK from January 2017.  That is in addition to two A380s per day between Dubai and Manchester already in operation!  Emirates says it will break the million passenger mark on this route during this financial year. So much for the argument that the A380 can only be used between hubs on long, thick routes.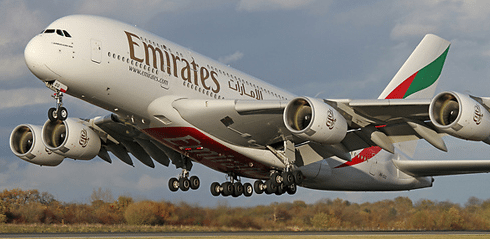 Then on August 9th, Emirates announced it was swapping its two class 777-300ER on the Dubai-Guangzhou market for a… Continue reading →
First it was Airbus, then it was Embraer and Bombardier. Then came ATR, Boeing and now its Mitsubishi.  Iran has now been speaking with or has deals with every western OEM.  This is what we have suggested is going to happen all along.
It is fair to say Iran's aviation needs are so large that it is likely to need everyone's production capacity to rebuild its fleets.  But it is more obvious that Iran will spread its requirements far and wide to ensure any new sanctions are vastly more complex to enforce.  With every OEM, and therefore the world's aerospace supply chains invested, new sanctions become very tough to implement.  New sanctions would simply hurt too many economies.
What is very interesting though is that announcements are almost always from Iran first.  Embraer notified us denying they had consummated any… Continue reading →
It is a subject we hear about all the time.  Traffic is fracturing so airlines need to focus on frequency rather than up-size.  Or fuel prices have gone up, so airlines need to up-size gauge.  It can be rather confusing.  The debate between the 787 and A380 is an obvious one.
The 787 vs. A380 debate has always been about what the market needs more – frequency (787) or capacity (A380).   In truth both arguments are correct.  But both arguments are limited and therefore neither is a panacea.
Starting with the big picture, we can see that air traffic growth is in a faster curve than stage length.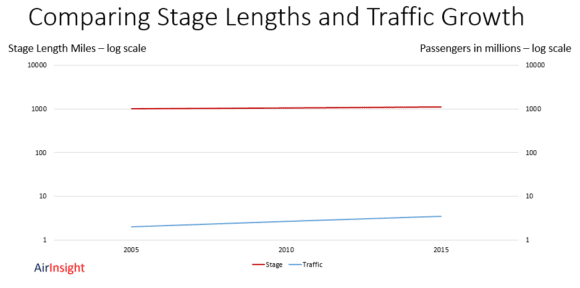 The number of people taking to the skies is growing fast. The typical metric is that traffic doubles every 15 years.  What is equally interesting is to see that stage lengths of flights, on… Continue reading →