Airbus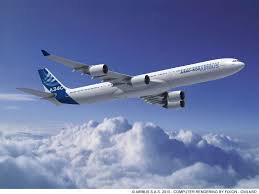 Airbus and Rolls-Royce have combined on a program to enhance the residual values and market viability of the A340-500 and -600, which have been removed from many airline fleets due to unfavorable economics.  Rolls-Royce has stepped up with a "four for the price of two" program in which they will guarantee engine maintenance costs at the same level for maintaining two GE90s on a Boeing 777-300ER.  This will help bring the economics of the A340-500/600, which suffers from unfavorable engine maintenance costs, in line with two-engined competitors.
In addition, Airbus is certifying the A340-600 to a maximum of 475 seats in all economy seating, in an effort to become a viable replacement for the 747-400 for many carriers currently operating that type, making the aircraft more attractive to ULCC and charter operators. Continue reading →
There has been much talk about how Airbus needs to respond to the 787.  Earlier this week, speaking on one of our podcasts, Boeing's Randy Tinseth said Boeing has the A350 bracketed.  Airbus has said they don't need to respond to the 787 because the A330 can accomplish this.  When Airbus' Chris Emerson spoke with us on his podcast, he highlighted the A330′s lighter weight and low costs as compelling for airlines – reflecting Airbus' continued confidence in the A330.
Airlines looking at the middle twin segment have, in other words, appear to have a choice between: Airbus' lower entry costs, combined with a well established delivery schedule and consequent low risk.  Or Boeing's lower fuel burn and the promise of better economics going forward, albeit with a less consistent delivery schedule and operational glitches carrying more risk.  Continue reading →
The news about Iran's interest in buying new aircraft seems to have struck a chord. Here's a look at Iran's fleet of commercial aircraft to see what they have available. The chart below lists the fleet by airline and type.  The newest aircraft in the fleet is an ATR 72-200 with an original delivery date of November 1, 2002. Continue reading →
Iran has been under sanctions on commercial aviation since 1995.  Its airlines fly old aircraft and safety has been compromised frequently.  The national fleet averages 22 years old.  One report suggests that 100 grounded aircraft could come back into service once parts can be bought.
For the fleet still operational, Iran has had to suffer service disruptions of all sorts. In the EU, fuel supply has been a frequent problem.  During sanctions an estimated 1,700 people have died in Iranian aircraft crashes.
Take a look at this 727 doing an emergency landing in 2011 without an operational nose wheel. It is a remarkable flying skill that nobody got hurt – there were 94 passengers and 19 crew on this flight. Continue reading →
Boeing had an excellent show in Dubai.  The company sold 225 777X models plus 30 787-10s and 90 737s.  All told, at retail,  this amounts to over $100bn.  Great numbers, but also a bit wobbly.
These orders essentially come from three airlines.  These are strong airlines with impressive growth tracks.  Bear in mind these same three airlines also ordered well over $20bn worth of aircraft from Airbus.  It was a blowout spending spree, for which these airlines are now well known.
Let's get to the wobbly bit.  For Boeing there is a growing dependency on these three airlines. (Its even worse for Airbus' A380 program) Take a look at these charts. Continue reading →