Airbus
The third in our series of airlines fleets is United Airlines. United has the smallest fleet of the three mega-carriers. The table below lists the airline's current fleet.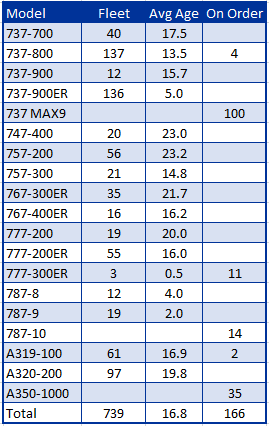 Continue reading →
If we look at the active fleet in the middle of the market category – aircraft between 180 and 250 seats with moderate range capabilities, the story is quite striking, as shown in the diagram below. Boeing's position in that market, initially staked out by the 757 and 767, has not grown, and from 2014-2015 actually declined. The 737-900ER has not been able to keep pace with retirements, and the 737 MAX9 and potential MAX10 appear to be too little too late to effectively compete as a 757 replacement. The average age of the Boeing fleet remains quite high, reflecting the recent market capture by Airbus as 757/767 replacements.
American Airlines is the second in our airline fleet reviews. The airline today has a fleet based on various mergers, the most recent being US Airways (which had previously merged with America West). This followed a wave of airline consolidation that started some years ago with Delta and Northwest.
The US airline consolidation that took place over the the past decade saw the creation of "mega-carriers": American Airlines and US Airways, United and Continental Airlines, and Delta-Northwest. At the end of 2016 another merger occurred between Alaska and jetBlue. The outcome of this is that there are now ten large US carriers from 18 a decade ago. With the latest merger the industry now sees four carriers with over 80% of domestic capacity. There are three network carriers (American, United, Delta) plus one formerly 'low cost', carrier (Southwest).
Of the mega-carriers, all US-based, American has the largest fleet. The airline… Continue reading →
Delta Air Lines is now one the world's largest airlines. It serves over 180m passengers per year, has 80,000 employees and serves 323 destinations. The following table lists the current fleet and what is on order. Note the age of some of these aircraft – Delta is well known for its appreciation of low cost second hand aircraft it can secure. Continue reading →
We undertook a review of A320neo flight operations. There were 71 A320neo aircraft in operation at the end of February. An analysis of the 28,105 flights scheduled provides some interesting insights. With recent news reports suggesting difficulties with engines, we decided to look through the data to determine how severe any problems are.
The vast majority of fights were completed as scheduled, with 134 cancellations. That amounts to 0.5%, with a 99.5% completion rate. In the databases available to us, there is no explanation for why a flight was cancelled but simply that it was. The cause of a cancellation could be due to weather, or due to a mechanical malfunction.
Of the 134 canceled flights, 100 were on P&W powered aircraft and 34 were on CFM powered aircraft. The P&W powered aircraft had a 0.543% cancellation rate and the CFM powered aircraft had a 0.35% cancellation rate. The Pratt… Continue reading →