Airbus
The A320neo has been a very popular aircraft program. Airbus has won 3,626 A320neo orders (over 5,000 neo models ordered) for the program since it was first offered. How has the aircraft been doing in US service so far? We looked at data on the US fleet.
Here is what we know about the number of flight hours of the nine US-based A320neos flying through January 25th 2017.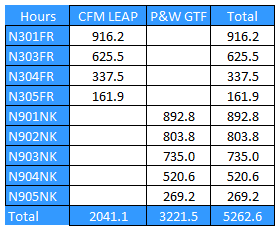 Continue reading →
[Update: Each MAX seat will have both AC power (with an international outlet) as well as USB. No news on neo fleet yet]
American Airlines will not install seat-back IFE screens on its 737 MAX fleet. The first four MAXs are due later in 2017. The airline plans to offer free entertainment via Wi-Fi (powered by ViaSat) which will enables passenger personal device connectivity. American will provide access to its movies and TV show libraries and live TV. Not all the content access will be free, but some will be.
"We know in-flight entertainment is important to our customers, which is why we've committed to offering free, streaming high-quality movies and music, and to investing in fast satellite-based Internet access and power at every seat across our domestic fleet," the airline said in an employee statement. They went on to say: "More than 90 percent of our passengers already bring… Continue reading →
Recently we posted a premium article on single aisle backlogs that elicited some debate. This is welcomed because the subject is important and views will vary.
The essence of our view is that we find the OEM target of a rate of 60 single aisles each per month difficult to comprehend. The view is primarily based on oil prices. The next chart illustrates the influence oil prices have played on single aisle fleet decisions. The oil price spikes clearly impacted decisions. It is during this period that we saw the arrival of the CSeries (initially pitched as a fuel saver) and then came the fuel saving A320neo and 737 MAX. High oil made airlines and lessors jump at fuel saving aircraft. Continue reading →
On January 13 Airbus announced that its teams created the first-ever single-piece composite center wing box. This represents an important evolution of a key structural component and provides support and rigidity for an aircraft's wings.
Continue reading →