Airbus
Air India took delivery of its first of 14 A320neos leased from Kuwait-based ALAFCO. Air India is the first CFM powered A320neo operator in India. This delivery is the first A320neo for ALAFCO from an order for 85. The A320neo is now part of Air India's fleet of 66 A320s.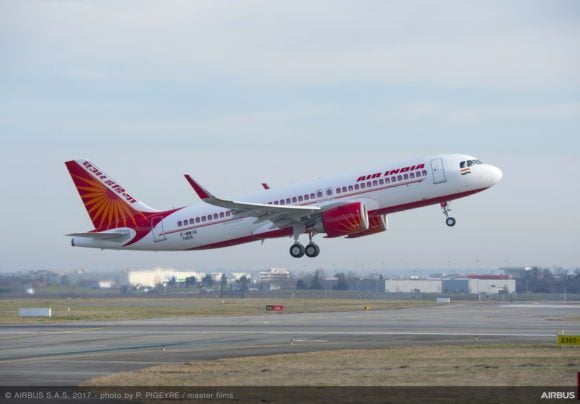 Continue reading →
News from Bloomberg suggests that AerLingus is about to announce a decision to select the Airbus A321LR to replace its Boeing 757s. These 757s are primarily used to connect Ireland and US east coast cities. The Boeing 757 is a remarkable aircraft that enjoyed great popularity long after Boeing stopped making them. But the existing airframes are ageing and its obsolesce is a factor.
AerLingus has four 757s, and the report says the airline is looking at seven A321LRs. This might indicate a decision by AerLingus to increase its trans-Atlantic routes from Dublin. Are all going to fly west to the US? Perhaps, but perhaps not. The advantage of aircraft with long range is that they offer potential to be flexible and experiment with new markets. The following map shows markets that are within reach.
The map shows the ranges for the 757, A321LR and MAX8. We include the MAX8… Continue reading →
Boeing has an $16.6bn deal with Iran for 80 aircraft. Many in the industry were wary of the deal's next steps after the change of government in Washington, DC. President Trump imposed a temporary travel restriction that included Iran. Then news emerged that Iran had test fired a ballistic missile last Thursday, which was seen by Washington as a provocation. On Friday, following a missile test masquerading as an orbital test flight, the US imposed new economic sanctions against several Iranian officials and entities involved in Tehran's missile testing program. On Sunday, Iran fired another missile. Continue reading →
Airbus Final Assembly Co., Ltd. in Tianjin, China, starts assembly of its first A320neo in July and plans to deliver it to an Asian customer in September 2017. The Chinese plant, a joint venture between Airbus and Chinese partners based in the Tianjin Free Trade zone, has delivered more than 300 A320 aircraft since it went into operation in 2008.
Last year Airbus delivered 153 aircraft to Chinese operators, making this its seventh consecutive year of over 100 annual deliveries. The 2016 deliveries included 141 aircraft in the A320 family and 12 of the A330 family. In 2017, Airbus' Tianjin plant plans to assemble four A320neo aircraft per month.
AIR (AirInsightResearch) released its new forecast of the commercial aviation market to 2030. This analysis consists of a 32 page document with 37 charts highlighting the current and forecast market for the major aircraft OEMs (Airbus, ATR, Boeing, Bombardier, COMAC, EMBRAER, Mitsubishi, UAC). Continue reading →