Boeing
First it was Airbus, then it was Embraer and Bombardier. Then came ATR, Boeing and now its Mitsubishi.  Iran has now been speaking with or has deals with every western OEM.  This is what we have suggested is going to happen all along.
It is fair to say Iran's aviation needs are so large that it is likely to need everyone's production capacity to rebuild its fleets.  But it is more obvious that Iran will spread its requirements far and wide to ensure any new sanctions are vastly more complex to enforce.  With every OEM, and therefore the world's aerospace supply chains invested, new sanctions become very tough to implement.  New sanctions would simply hurt too many economies.
What is very interesting though is that announcements are almost always from Iran first.  Embraer notified us denying they had consummated any… Continue reading →
It is a subject we hear about all the time.  Traffic is fracturing so airlines need to focus on frequency rather than up-size.  Or fuel prices have gone up, so airlines need to up-size gauge.  It can be rather confusing.  The debate between the 787 and A380 is an obvious one.
The 787 vs. A380 debate has always been about what the market needs more – frequency (787) or capacity (A380).   In truth both arguments are correct.  But both arguments are limited and therefore neither is a panacea.
Starting with the big picture, we can see that air traffic growth is in a faster curve than stage length.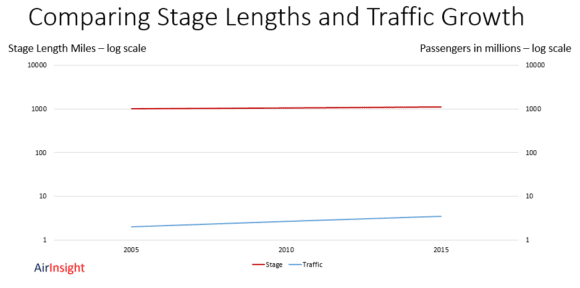 The number of people taking to the skies is growing fast. The typical metric is that traffic doubles every 15 years.  What is equally interesting is to see that stage lengths of flights, on… Continue reading →
The wave of orders for wide-body aircraft has slowed to a trickle in 2016.  Why has this happened, and when will the market turn around?  There are a number of reasons that order books have not been particularly robust in 2016, including low fuel prices that keep older aircraft economically viable, a lack of economic growth in North America and Western Europe, and a slowing of growth rates in China and Asian from phenomenal to normal levels.
How have wide-body orders and deliveries fared in recent years?  Orders have outpaced deliveries by a considerable margin, as airlines ordered new technology 787 and A350 aircraft in record numbers.  The chart below shows net orders (including cancellations) and deliveries by year from 2000 through the second quarter of 2016.  While orders have jumped considerably, production has not kept the same pace. Continue reading →