Boeing
Boeing announced its results this week and its quarterly profit beat analyst estimates. Boeing predicts it should do well in 2015 by converting more of its order backlog into deliveries. One of the key items everyone is watching for in this regard is 787 deliveries, and the long road back to profitability for a program that began with multiple disasters.
But the story at Boeing is more than about 787 deliveries. If one looks at the portfolio of Boeing's Commercial Aircraft Division, it is clear the rise in profitability is driven by more than 787.   Since 2000, Boeing's big story has been 737. In 2012, the 737 (131-200 seats) peaked at 90% of annual orders, largely because of the successful introduction of the MAX that year. By 2014 737 orders declined back to a more normal mix of 65% of annual orders.  The recent strong growth in… Continue reading →
Observers have been saying for some time that single aisle aircraft buyers like to order the smallest model and then when the time comes, convert the initial order to a larger variant.  We asked Boeing about this and they declined to provide us with any data on conversions.
Taking a look at orders and deliveries from 2000 through 2014, we created the following chart.  We color coded the NG (solid) and MAX (pattern) models so readers can follow the sizes.  Of course orders and deliveries don't track year to year.  That said, we can see what airlines and lessors are ordering and what gets delivered. Continue reading →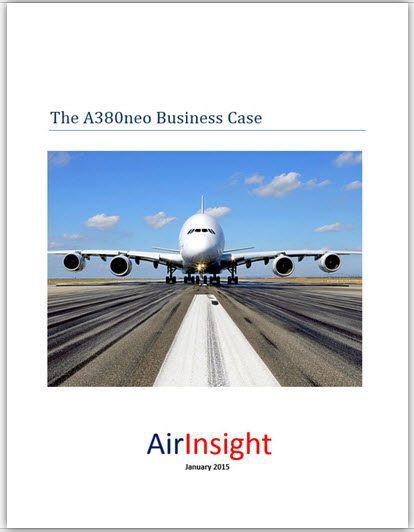 AirInsight's newest report is will be available Friday, January 16th.
The report consists of 46 pages with 23 tables and charts.
The report discusses potential engine options, the market for very large aircraft, frequencies, capacities, and constraints, and competitive economics, in reaching our conclusion regarding the business case for an A380neo.
Our report is available for pre-order at $495.