Boeing
In the business of buying airplanes, an airline will always seek the lowest cost.  Just as they do with every other production input – lowest cost wins every time.   So how is it that with the pending Azul order, "Boeing has not been given the opportunity to present a proposal for single-aisle airplanes"?
On the face of it, this looks like a selection that could not secure the lowest costs for Azul.  How does this make sense? As an Azul shareholder you would want to be certain your company secured the lowest cost option. Let's go through some data points and thoughts to see if a pattern emerges.
Airbus wins the deal:
Creative marketing on the side of Airbus.

Driven by the fact the airline already committed to A330 and A350-900s

Which offers common flight-deck ratings
And, lets say it again, creative marketing. Volume… Continue reading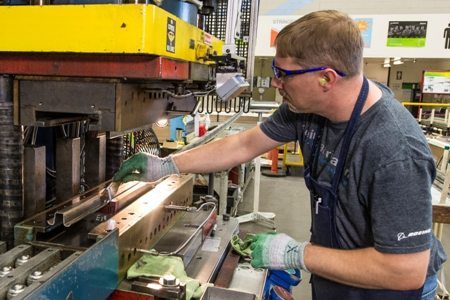 A Boeing Joggle Press operator prepares the first 737 MAX fuselage stringer for the press by brushing on lubricant.  And with this the process starts the production of the first 737 MAX fuselage stringers at Boeing Fabrication Integrated AeroStructures in Auburn, Washington.   The MAX will be the fourth generation of the 737.
After forming, Boeing will send the stringers to Spirit Aerosystems in Wichita for incorporation into the first 737 MAX fuselage. From there the fuselage is shipped to Boeing's Renton facility where employees assemble and build the 737 MAX.
The program is on track to begin final assembly of the first 737 MAX in 2015. The airplane will be part of the flight test fleet and is scheduled to fly in 2016.  The process started this week promises a great deal.  Boeing claims the 737 MAX will be 14% more fuel-efficient than today's most… Continue reading →
[UPDATE - images of VT-ANI recent state]
As the 787 starts to settle into operations it is a good idea to get a handle on how it is operating. Judging from the news reports, one is sometimes left with the impression this aircraft has a lot of teething troubles. As is always the case, rather than react to the frequently excited media, take a look at the data.
In developing this story we made extensive use of data from masFlight, the leading airline operations data warehouse.
Look at the first half of 2014.  Data is available for about 70% of scheduled 787 operations (note the caveats below the table). and includes some interesting tidbits, for example, the Finnair flights were a wet lease from LOT.  Airlines are reluctant to share this level of information.  An exception is Japan Airlines; take a look here.