There seems to be no quick fix to the issues that have suspended deliveries of the Boeing 787 since May. According to a Wall Street Journal news report, a difference of opinion within Boeing on the status of the Dreamliner issues has made the FAA decide to block the release of any aircraft for delivery. It could even last until late October before 787 deliveries will resume. 787 delays continue as quality issues divide Boeing.
The WSJ report cites internal sources within Boeing on the difference of opinion between quality-assurance specialists on the production issues of the 787. Reportedly, during an August 2 meeting, one group of specialists said that three recently produced aircraft are representative of some 100 Dreamliners that are in storage since the delivery pause. With this, they hoped to convince the FAA that only limited inspections and/or rework would be needed on the carbon-fiber fuselage.
At least one other Boeing quality engineer that represents the FAA inside Boeing disagreed with his colleagues and called for a more thorough inspection procedure. With these conflicting opinions, the FAA has had no other option than to defer any decision until Boeing has internally agreed on how the inspections should be done. It's not known what progress, if any, has been made since August.
As reported on Airinsight before, the 787 suffers from three quality issues. The first one was discovered in August 2019 and covers incorrect shimming on the aft fuselage sections 47/48. A year later, very small surface irregularities were found in other areas of the aft fuselage as well as on other fuselage sections, including nose section 41. This spring, another shimming issue was found on the forward pressure bulkhead.
The issues have resulted in a thorough engineering and production review within Boeing and all its component suppliers, including Spirit AeroSystems. After the discovery of the first two problems, deliveries were suspended between October 2020 and March this year. The third issue has resulted in the latest delivery pause since May. Both Boeing and Spirit said in July that the affected aircraft required only limited rework, but from the WSJ report, it is clear that there is no uniformity within Boeing on this.
Forward-reaching loss seems inevitable
If deliveries resume only in late October as the newspaper says, it would mean a severe setback to Boeing. Based on the situation in July, CEO David Calhoun said then that he expected to deliver less than half of the Dreamliners in inventory or no more than fifty. This could become only a quarter or even less if deliveries resume by late October and even then would put enormous pressure on the airframer to make up for lost time and revenues. So far, Boeing has only warned twice of taking a reach-forward loss on the program and included all costs in the Q1 and Q2 results. But it seems almost inevitable that Boeing takes on the extra losses in Q3 as deliveries are delayed and the production of new Dreamliners has dropped to below five per month.
As the 787 delays continue as quality issues divide Boeing, they also cause a new problem. With some aircraft over a year late, customers are entitled to cancel the order. Air Lease Corporation (ALC) warned of this in August and according to WSJ, lessor Avolon has already canceled two 787-9s it had on order while American Airlines is said to be looking at its contractual position on the 25 unfilled orders. On July 31, Boeing had a gross backlog of 486 Dreamliners but expected that 65 of them are unlikely to be delivered under ASC 606 adjustments, leaving 421 net orders. Lufthansa CEO Carsten Spohr said in August that he still counts on the arrival of the first 787-9 this year.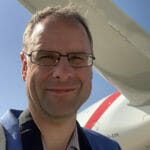 Active as a journalist since 1987, with a background in newspapers, magazines, and a regional news station, Richard has been covering commercial aviation on a freelance basis since late 2016.
Richard is contributing to AirInsight since December 2018. He also writes for Airliner World, Aviation News, Piloot & Vliegtuig, and Luchtvaartnieuws Magazine. Twitter: @rschuur_aero.