Should the European Commission end the waiver on the 80/20-percent slot rule that has been effective in Europe since the start of the pandemic? The topic resulted in some interesting remarks from airline CEOs with totally opposite views during Monday's Paris Air Forum on what would have been the first day of the 2021 Paris Airshow. One opinion: the 80/20 slot waiver favors legacy carriers.
Pre-pandemic, European airlines were forced to use 80 percent of their allocated airport slots or risk losing them. During the pandemic, it was clear that it would be impossible to stick to this rule as airlines were flying much less. In the early weeks of the crisis in 2020, some airlines kept flying empty planes from A to B just to prevent losing precious slots. The European Commission waived the ruling and has extended the waiver since then until the end of this year. It's uncertain if there will be another extension. Commissioner Adina Valean recently said during the Airlines 4 Europe Aviation Summit that she is still reviewing the situation, although she hinted at another extension.
When asked by Reuter's Tim Hepher during the Paris Air Forum, Air France-KLM CEO Ben Smith said that the slot waiver was definitely necessary for airlines to survive. "It was definitely helpful for airlines to survive. As long as it flows as how the market returns, we could agree with that, but it is definitely necessary to help airlines to weather the storm and make sure that not anything worse is happening."
He added: "Of course, with our group at Orly and Schiphol, it was key. We have been running scenarios with two hypotheses: one in which the rules are in place and one where there is some relief and we do that every single month to have an idea of what it is going to take to comply or not comply with these rules. And it is clear that we are still not in a position where operating at 80 percent is optimal to get out of this situation as best as we can. We don't see our industry in a position yet to put that in place."
"Slots should be regarded as public properties"
At the other end of the spectrum is Wizz Air's Jozsef Varadi. He strongly opposes the slot waiver: "There is a principle issue here. I think slots shouldn't be regarded as private properties. I think it is public property and it should be serving the interest of the public and not the parties of interest and airlines. It is the problem of the airlines that they have a certain operating model. It isn't good for the public that airports are blocked because of the slot waiver for protecting some particular airline."
"The practical issue I am having is that if you look at the world today, European airlines are operating at 60-70 percent capacity this year but we as Wizz will be operating at over 100 percent", Varadi said. "How is this going to be recognized against the 80/20 rule? I think this is very discriminating to certain segments of the industry and discrimination in favor of the legacy airlines versus the more efficient up-and-coming carriers like ourselves. Politicians should be aware of the game they are playing."
As a pan-European airline operating under a European Air Operator Certificate (AOC) supervised by EASA, Wizz Air has the flexibility to operate from wherever it likes. This also includes offering flexible working contracts and hiring of furloughing staff as it suits best. Air France-KLM is not in this position, Ben Smith said: "It is not realistic for an airline that is based in France and The Netherlands to have the flexibility Jozsef has. (…)  Our cost model would be very different if we would be based outside these countries, the flexibility to change working hours and lay people off, it's not possible here. We are a responsible group, we take that very seriously, we do 100 percent abide by employment law here."
"Airlines like Wizz can't expect to have open access in France"
And with severe social conditions in France, it would be unwelcome if Wizz could operate there to different standards, thinks Smith: "It would be very short-sighted for the transportation infrastructure in France and The Netherlands to enable carriers that are not fully vested here to take advantage of the situation. To pick and chose bases on opportunistic situations isn't good for neither country nor airline in the medium term. For airlines like Wizz and others to be based outside France and The Netherlands and to expect open access when operating under different environments is completely wrong. It is not a balanced level playing field."
Varadi understands Smith's position from his perspective, but he still thinks that retaining the slot waiver isn't in the interest of the European public: "If we really say that Europe is a domestic market, why should I be treated differently from those carriers that are based in France? Then we are undermining the whole idea of a unified European market. This is the kind of nationalism playing into the game nowadays and one of the other distorting factors. Not only are governments getting on board on the equity side of airlines, but they are also further protecting that kind of investment through various administrative measures like slot rules. There might be some others, like taxations. That is the danger I am seeing."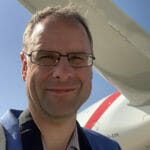 Active as a journalist since 1987, with a background in newspapers, magazines, and a regional news station, Richard has been covering commercial aviation on a freelance basis since late 2016.
Richard is contributing to AirInsight since December 2018. He also writes for Airliner World, Aviation News, Piloot & Vliegtuig, and Luchtvaartnieuws Magazine. Twitter: @rschuur_aero.