UPDATE – Ahead of Monday's meeting of the European Transport ministers in Brussels, lobby organization Airlines 4 Europe (A4E) and IATA are pushing member states to make clear decisions on the industry's sustainability and environmental targets. This includes sustainable aviation fuels (SAF) and the transformation of Europe's air traffic management (ATM). A4E calls on Transport Council to be clear on SAF and SES.
Discussions between the European Commission and European Parliament have been exhaustive since the EC presented its Fit for 55 proposals in the summer of 2021. The package sets new standards for SAF mandates, renewable energy, and emission trading in a quest to reduce carbon emissions by 55 percent by 2030 and get to climate neutrality by 2050.
In an earlier council meeting in June, the Transport Council amended the original proposal to give member states more freedom for individual choices. For example, they should have the possibility to apply the draft regulation to airports below a certain traffic threshold. National flexibilities should give Member States the possibility to increase their sub-mandate of synthetic fuels at the national level, under certain conditions and for a limited period of time.
While the Council's amendments in June should safeguard a level playing field for the air transport sector, A4E is concerned that the EU risks becoming fragmented. It calls on the Transport Council to adopt an orchestrated approach, notably on mandates for SAF. "To ensure the integrity of the EU single market for aviation, we need harmonized mandated blending levels, not diverging national legislation. The absence of a common mandate at the EU level would roll back some of the gains we have achieved with the aviation single market which has been so crucial for integration in the EU and for enabling the freedom of movement across the continent", writes A4E Managing Director, Thomas Reynaert.
Achievable SAF quotas
The amended Fit for 55 packages obliges aircraft fuel suppliers to supply at least two percent of SAF in 2025, increasing this to six instead of five percent in 2030, twenty percent in 2035, and up to 63 percent in 2050. There is also a quota for synthetic fuels. EU airlines are obliged to uplift SAF but only the quantities required to prevent 'tankering', in which more fuel is taken to prevent refueling at destination airports.
In June, the Council also included a transitional period, which allows fuel suppliers to reach the SAF blending mandate as a weighted average of the quantities they have supplied across the EU. This should facilitate the organization of the sector during its creation phase, without affecting the overall level of emissions.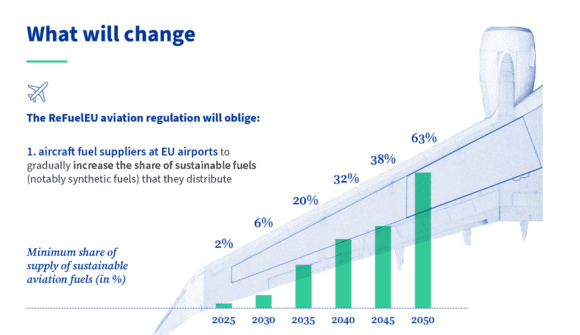 A4E calls for "ambitious but achievable quotas for SAF, as well as pricing mechanisms to close the gap between SAF and fossil fuel." It says that the increases in energy prices since the war in Ukraine have affected the costs of compliance with the ReFuelEU Aviation initiative. Airlines for Europe want the EU to adopt quotas for 2025 and 2030 that are based on up-to-date economic data and a solid analysis of potential impacts.
Price mechanisms between SAF and conventional fuels should be introduced to prevent carbon leakage, as, without them, airlines would be inclined to opt for cheaper kerosene over the more expensive SAF. "Therefore, allowances for SAF uptake through the EU Emission Trading System (ETS) should be a prerequisite to the new Regulation. These allowances should reflect at least the amount of CO2 saved through the future mandate and they should also incentivize operators to go beyond the legislation's targets." Producers should be incentivized to produce more SAF and given more certainty of airlines buying it with the introduction of a book and claim system.
When it comes to ETS, the European airline industry is concerned it will be disadvantaged when it has to comply with the EU ETS scheme on flights within the EU, the UK, and Switzerland, while non-European airlines will not. Add to the taxation of aviation fuels, the higher costs for SAF and European airlines have to charge higher airfares compared to competitors from other rivals. The European offsetting scheme of carbon emission allowances will be gradually phased out until 2027 as Europe aligns with Carbon Offsetting and Reduction Scheme for International Aviation (CORSIA) the scheme confirmed in October at the ICAO Assembly.
A4E supports CORSIA but is less enthusiastic about the EC proposal. Instead, the organization – unsurprisingly – favors the Destination 2050 net zero roadmap. "A4E remains fully committed to this roadmap. We recognize its key role in providing consistency among policies, creating a level playing field, and setting the ground for the necessary regulatory certainty for investment and finance to secure a sustainable future for the air transport sector globally."
Single European Sky
Probably A4E's and IATA's biggest frustration is the consistent lack of progress on the harmonization of Europe's air traffic management system. They once more call on the EU Transport Ministers to finally adopt the Single European Sky (SES) and come to an agreement without delay. SES has been on the agenda in Brussels for over a decade, but initiatives to improve air traffic management procedures have been blocked by individual countries for political reasons. France in particular is often blamed for preventing any harmonization and transformation of the ATM system, which could generate a reduction of carbon emissions by up to ten percent as flights are operated more efficiently. 
Of particular concern to A4E and IATA is that a 2020 proposal from the European Commission, which calls for a fully independent regulator to assess the performance of the various European Air Navigation Service Providers (ANSPs), has been rejected by member states. "The Parliament, in line with the Commission proposal, has pushed for tougher regulation, but airlines fear a last-minute unsatisfactory compromise that will enable states to be judge and jury on the targets for their own ANSPs, how they should be monitored, and what their success will look like," says IATA.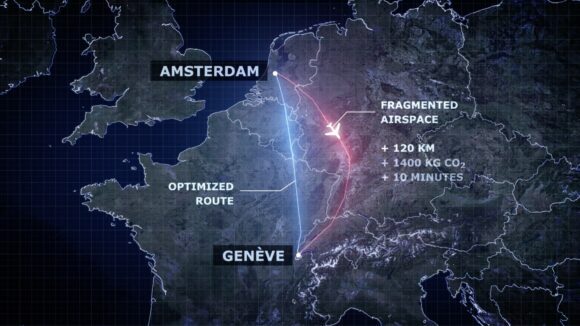 Still from the KLM video explaining the benefits of more direct routes with Single European Sky. (KLM)
Airlines for Europe suggest the EU ministers support a new version of SES, called SES2+. It should include implementing an independent and strong European regulator that is empowered to take action. It should also include a governance structure that allows airlines to guide and monitor the activities from research to decommissioning. A4E also calls for an end to existing monopoly situations by ensuring that Air Navigation Services Providers (ANSPs) work in a competitive environment. Overall, SES2+ must ensure that "performance indicators and ATC charging schemes do contribute towards the implementation of the Single European Sky and decarbonization of the aviation industry."
Ahead of the Transport Council, KLM released a video message on Twitter on December 2, in which pilots of KLM, Transavia, and easyJet explained the negative effects of the current ATM system versus a more efficient SES.
Energy infrastructure
A4E welcomes initiatives for the deployment plan for alternative fuel infrastructures like hydrogen facilities or electric re-charging of aircraft, part of the Alternative Fuel Infrastructure Regulation (AFIR). "Such plans are a fundamental prerequisite for the uptake of new technologies and sustainable fuels as part of long-term decarbonization strategies. However, we would caution against proposals already including targets in AFIR for future technologies such as hydrogen or electric re-charging of aircraft, whose potential market uptake remains to be determined", says Thomas Reynaert.
His organization also calls for exemptions from the obligation to provide electricity supply to stationary aircraft, specifically for small airports with fewer than 10.000 scheduled commercial movements per year.
During the Transport Council, delegations from French, Belgium, Luxemburg, The Netherlands, and Portugal will present initiatives about strengthening the sustainability and fairness of the aviation sector.
A4E disappointed with the outcome
UPDATE December 7 – Transport Ministers decided on December 5 to bring forward the phasing out of ETS allowances by one year from 2027 to 2026. They also agreed on the establishment of a system of SAF allowances that should stimulate the deployment of sustainable aviation fuels. No concrete steps have been made on the Single European Sky, although the Council supports its introduction. 
In a statement, A4E said that it is "extremely disappointed about the decision to phase out free ETS allowances currently granted to airlines by 2026. This is well before truly effective decarbonization solutions will be available at the scale needed for them to be effective."
Airlines for Europe welcome the Council's initiative for SAF allowances: "They will help lower the cost of the energy transition for airlines and give Europe a unique opportunity to become the leader in green aviation." A4E notes that "the future competitiveness of European aviation and the European SAF industry is clearly at stake. In a globally competitive environment where countries, such as the US through the Inflation Reduction Act (IRA), are willing to use public funds to incentivize the use and production of clean energies, it is essential that Europe finds the optimum level of incentives in order to maintain a level playing field. It is therefore crucial that the review of the Carbon Border Adjustment Mechanism (CBAM) in 2027 considers the impact of policies such as the EU ETS on air transport services."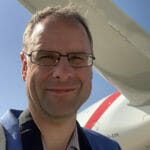 Active as a journalist since 1987, with a background in newspapers, magazines, and a regional news station, Richard has been covering commercial aviation on a freelance basis since late 2016.
Richard is contributing to AirInsight since December 2018. He also writes for Airliner World, Aviation News, Piloot & Vliegtuig, and Luchtvaartnieuws Magazine. Twitter: @rschuur_aero.