Lessor AerCap has agreed with OEMs to defer deliveries of over 100 aircraft to 2023 and beyond, it announced on May 26.
"We have taken these steps to better align our delivery schedule with the needs of our airline customers and our OEM partners during this period of market dislocation", CEO Aengus Kelly said. He didn't specify what aircraft models have been deferred.
In its Q1-results presentation on May 5, AerCap reported it had rescheduled near term deliveries of over 60 airliners to reduce Capex this year by $2.3 billion. These aircraft were to be delivered from this year until 2022. On May 26, it said an additonale 37 aircraft up for delivery in 2021 and 2022 have been deferred until 2023 and later. The combined effect on Capex is a reduction of $4.7 billion.
The Dublin-based lessor has taken delivery of seven aircraft in Q1, which include five Airbus A320neo-family aircraft, one Boeing 787-9, and one Embraer E2.
AerCap has another 182 A320neo-family aircraft on order with Airbus which – once delivered – would bring the number of owned neo's to 326. Until yesterday, the delivery schedule included 22 neo's this year, 44 in 2021, 34 in 2022, 30 in 2025, 27 in 2024, and 30 thereafter.
AerCap has another 182 A320neo-family aircraft on order (AerCap)
Also on order are 95 Boeing MAX, of which five have been delivered but are sitting idle until the type can return to service. The tentative delivery schedule included three this year, 15 in 2021, 16 in 2022, 17 in 2023, 18 in 2024, and 26 thereafter. Another 25 787s are in the order book to bolster its owned fleet to 115. Two were due this year, seven in 2021, one in 2022, nine in 2023, and six in 2026.
The lessor has another forty Embraer E190-E2s and E195-E2s out of fifty on order. Five deliveries were due in 2020, 16 in 2021, 14 in 2022, and five in 2023.
AerCap said on May 5 that all aircraft up for deliveries in 2021 have been placed with airlines. At the same time, the lessor had agreed on some $350 million in payment deferrals from airlines that requested this during the current Covid-19 crisis. It was in negotiations about another $250 million.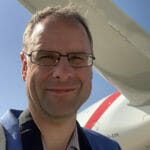 Active as a journalist since 1987, with a background in newspapers, magazines, and a regional news station, Richard has been covering commercial aviation on a freelance basis since late 2016.
Richard is contributing to AirInsight since December 2018. He also writes for Airliner World, Aviation News, Piloot & Vliegtuig, and Luchtvaartnieuws Magazine. Twitter: @rschuur_aero.