Air Cairo and Green Africa Airways take delivery of two aircraft. While Air Cairo today took delivery of its first Airbus A320neo, Green Africa that is scheduled to begin domestic operations in Nigeria at the weekend in Lagos took delivery of one of three ATR72-600 airplanes ordered.
The new A320neo aircraft will join Air Cairo's all-Airbus fleet of seven aircraft. The aircraft is on lease from ICBC Leasing and is equipped with CFM LEAP-1A engines.
With improved levels of efficiency, the new aircraft will be deployed on Air Cairo's regional and international network to serve countries across Europe, Africa, and the Middle East – demonstrating the operational flexibility of the A320neo.
Air Cairo's fleet expansion and modernization strategy coincide with the airline's decision to open more routes, fostering closer links with other countries. Air Cairo's A320neo is configured with 186 seats in an all-economy class cabin. Passengers onboard the aircraft will benefit from the widest cabin of any single-aisle aircraft and the latest generation in-flight entertainment system.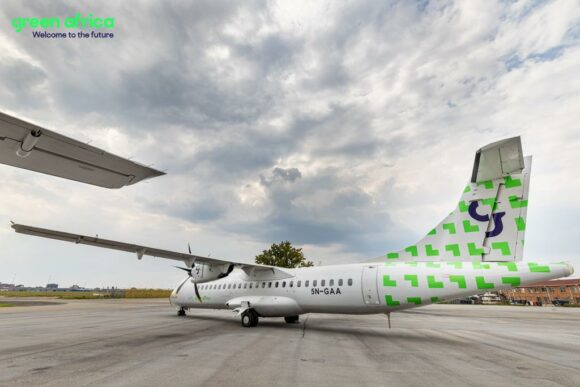 First of three for Green Africa
Like Air Cairo, Green Africa also received new aircraft. In a statement by its Senior Manager, Marketing and Communications, Oyinade Osobajo said this is the first of the three aircraft leased from ACIA Aero Leasing. The airline recently unveiled the livery of two aircraft (5N-GAE and 5N-GAA) while the third aircraft (5N-GAD) is also now wrapped in the Green Africa livery in preparation for the final lap of the AOC process.
The first aircraft arrived at the Murtala Muhammed International airport on April 23 and present to receive the aircraft were the highly elated Founder and Chief Executive Officer – Babawande Afolabi, President and Chief Operating Officer – Neil Mills, the Founding gTeam (comprising the Director of Talent & Culture – Princesse Likayi, Chief Pilot – Folu Oladipo, Director of Maintenance & Engineering – Nathan Smith, Director of Cabin Services – Jasmine Dhillon and Director of Legal and Regulatory Affairs – Rebecca Bolarinwa), Board Member – Gbenga Oyebode, MFR and Green Africa's anchor institutional investor – KuramoCapital.
Founder & Chief Executive Officer of Green Africa, Babawande Afolabi,  said "This is a great day for all of us at Green Africa and the beginning of what we all hope is a new era in Nigerian aviation. ACIA Aero Leasing has been a very supportive partner and we are proud of this new relationship. The arrival of our first aircraft is a precursor to the completion of our AOC process and very soon, customers from across Nigeria will be able to make bookings on our website and take their first flight with Green Africa."
Chief Executive Officer of ACIA Aero Leasing, Mick Mooney, also said "Whilst the industry is going through a period of significant disruption, there are a few carriers with a strategic roadmap, such as Green Africa, that are looking to provide effective solutions that the current market opportunity brings. We at ACIA are pleased to provide Green Africa with the first set of aircraft to launch its commercial operations, starting with Nigeria and eventually, the broader African continent."