How's the 737 MAX doing in the US? The FAA cleared Boeing 737 MAX for commercial flights late last year.  Operators had to undertake quite a bit of work to bring the parked aircraft into the newly approved specifications. We are using a timeline starting January 1 2021 for the charts below.  What we are showing is how the US MAX fleet is coming back online.  The colors are faded for the 737 NG and bright for the MAX.
First up, Alaska Airlines. Alaska flies the MAX9 and January 24th was when the first flight took to the skies. But it took until early April for the aircraft to start showing up in a frequency to be noticed. Since April 10th, Alaska's MAX9s have not been flying through April 23, our most recent data point.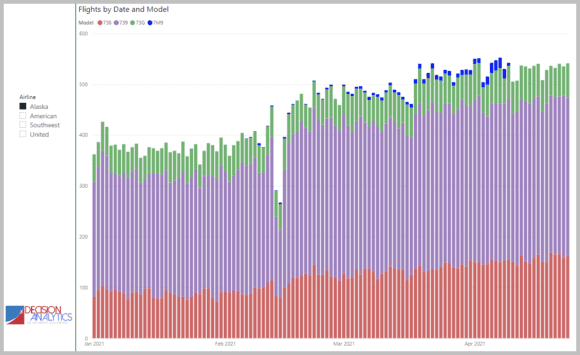 Next, American Airlines. On January 1st, there were to MAX8 flights.  American was a quick start with returning their aircraft with the first MAX8 showing up on December 1st, 2020. American has been adding MAXs to its schedule and they have stayed in service despite the recent concern with the electrical issue.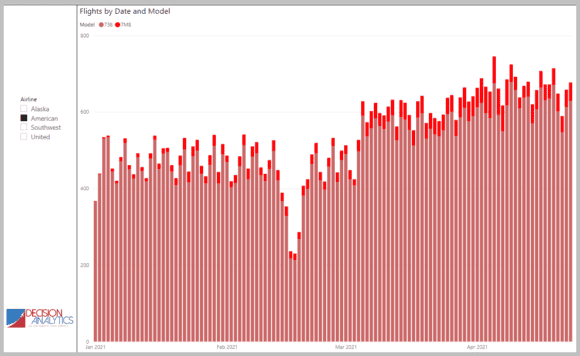 Next Southwest Airlines. Like American, Southwest had a sizable fleet of MAXs and wanted them back in-flight ASAP.  In fact, Southwest has the largest MAX fleet delivered to date. January 8th is when we track their first MAX8 flight.  Notice that in April their MAX8s came on strong and their 73G (737-700s) saw a drop in utilization.  Southwest also has kept its MAXs in service despite the MAX electrical issue.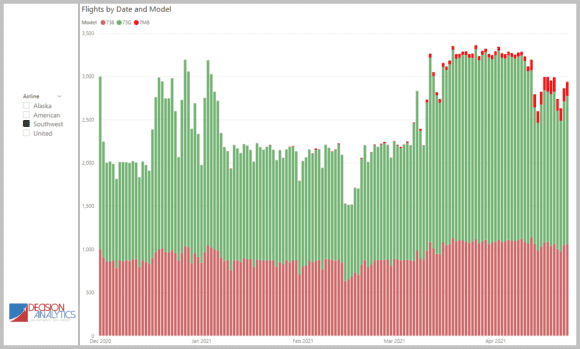 Finally United Airlines. Like Alaska, United flies the MAX9. January 5th saw the first MAX9 flights at United.  We can see that among United's 737 fleet, the airline has been growing its MAX schedule.  Its MAX fleet has not been parked because of the electrical issue and remains busy.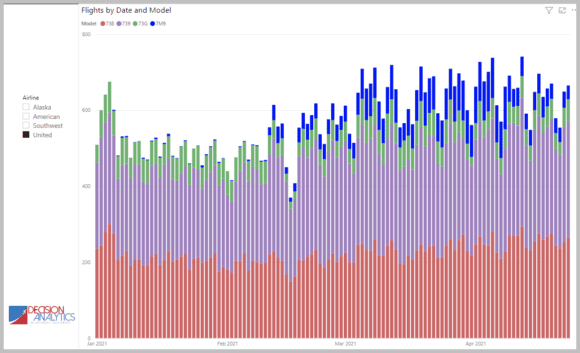 In summary, among the US operators of the MAX, the fleet is seeing a steady increase in scheduled deployment.  The following chart illustrates this. Our most recent date, April 23rd, shows the MAX felt undertaking 5.15% of all 737 flights for these airlines. (Delta as a non-MAX operator is excluded) That 5.15% was 248 flights.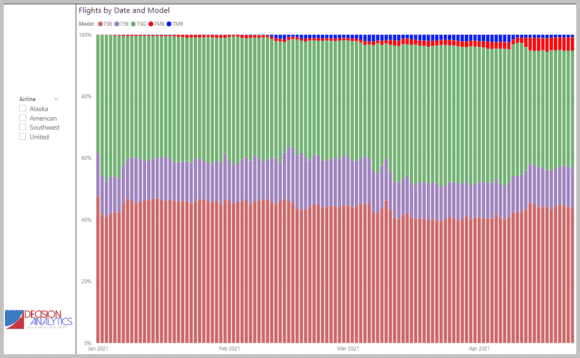 As Southwest starts to retire older 737-700s, and perhaps American retires some of its 20+-year-old 737-800s, we can expect to see the MAX share of schedule grow rapidly. After the MAX was grounded, many older 737s were kept flying to support the cutback schedules.  But rather than undergoing expensive MRO checks, the older aircraft are likely to be retired from passenger service.  Many may have a future with Amazon Prime or some other freighter firm. The 737 MAX is doing much better than a year ago.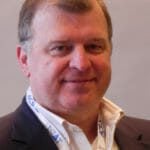 Co-Founder AirInsight. My previous life includes stints at Shell South Africa, CIC Research, and PA Consulting. Got bitten by the aviation bug and ended up an Avgeek. Then the data bug got me, making me a curious Avgeek seeking data-driven logic. Also, I appreciate conversations with smart people from whom I learn so much. Summary: I am very fortunate to work with and converse with great people.