Air Canada reported improved Q1 results on April 26, building on a strong recovery in March after the Omicron dip in the first two months. The airline reduced the operating loss to CS$550 million from CS$1.049 billion. Air Canada reduces Q1 loss and buys more A321XLRs.
The net loss was CS$974 million from CS$1.304 billion. EBITDA excluding special items improved to CS$-143 million from CS$-763 million, with the operating margin to -6 percent from -105 percent.
Total revenues were up to CS$2.573 billion from CS$729 million, of which CS$1.917 billion was from passengers and CS$398 million from cargo (plus 42 percent). Air Canada operated 45 percent down on 2019 capacity, in line with previous guidance and despite the effects of Omicron on travel in January and February. There was a strong rebound in March, with passenger volumes exceeding those of December and ticket sales at ninety percent of March 2019 levels. Strict cost discipline reduced adjusted costs per available seat mile (CASM) excluding fuel by six percent.
Operating expenses were up 76 percent over Q1 2021 at CS$3.123 billion. This reflects higher fuel prices, higher capacity, as well as higher wage expenses as the carrier brought its workforce back from 16.000 to 27.000 FTE since Q1 last year. Free cash flow improved to CS$59 million from CS$-1.162 billion. Net debt stood at CS$7 billion, with unrestricted liquidity at CS$10.2 billion.
Air Canada expects to operate at eighty percent capacity of 2019 this summer, with numbers not expected to exceed this level until early 2023. The carrier plans to operate to 51 Canadian airports and 46 in the US, launching four transborder and three new domestic routes. The international network will see the relaunch of 34 routes to Asia and the Pacific as travel restrictions are eased. Business travel is still down by some fifty percent but should recover to seventy percent. A factor that might influence demand is higher ticket prices in response to increased fuel prices, but pricing is dynamic and will change all the time.
No labor shortages expected
The airline doesn't see any labor barriers to getting back to 2019 levels. It has sufficient pilots, as it kept all of them on the payroll during the pandemic. Some positions might be more difficult to staff as the Canadian labor market is strained too, but CEO Michael Rousseau is positive that Air Canada is fully ready and staffed this summer.  
For the full year, Air Canada plans to grow capacity by 150 percent of 2021 levels, which translates into 75 percent of 2019. Adjusted CASM will be between thirteen and fifteen percent over 2019 levels. The annual EBITDA margin is expected between eight and eleven percent. In its assumptions, the fuel price should be $1.24 per liter.
Cargo yields are expected to be up by thirty percent as demand remains strong. The airline has purchased two more Boeing 767-300s for conversion into full freighters that will join the fleet in 2023. The cargo fleet should grow to seven in the next twelve to eighteen months.
Four more A321XLRs purchases outright
As reported elsewhere, Air Canada selected the Pratt & Whitney Geared Turbofan to power its Airbus A321XLRs it ordered on March 22. Today, it said that it has added four more aircraft to the backlog, bringing firm orders to thirty and purchase rights to fifteen. The four will be directly purchased, bringing the number on direct order from Airbus to ten. Fifteen will be leased from Air Lease Corporation (ALC) and five from AerCap. Deliveries are scheduled from 2024 through 2027. The purchase rights are for deliveries between 2027 and 2030.
Air Canada took delivery this quarter of three Boeing MAX 8s with another six to join later this year plus five Airbus A220s. This brings the MAX fleet to forty and the A220 fleet to 43 by the end of the year.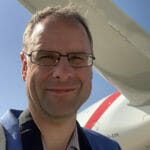 Active as a journalist since 1987, with a background in newspapers, magazines, and a regional news station, Richard has been covering commercial aviation on a freelance basis since late 2016.
Richard is contributing to AirInsight since December 2018. He also writes for Airliner World, Aviation News, Piloot & Vliegtuig, and Luchtvaartnieuws Magazine. Twitter: @rschuur_aero.