Air France-KLM is getting back to profitability, thanks to what it describes as "a good summer season." In Q3, the carrier recorded its first operating profit since the start of the Covid-crisis at €72 million, although the net result was still €-191 million. KLM performed better (again) than Air France. Air France-KLM on track to profitability.
The group benefitted from the reopening of the US for European citizens from November, with many bookings immediately coming in after the announcement in September. Bookings for Mexico are also strong. Bookings for Christmas look also good. The reopening of Canada in September and Singapore in October also contributed to the improved results.
The short and medium-haul segments in Europe performed strongly thanks to "over-performing local leisure flows."
Passengers carried improved by 87.1 percent to 12.7 million in Q3. Unit revenues were still lower compared to 2019 due to lower load factors. Air France-KLM expects to grow capacity in Q4 to 70-75 percent, up from 66 percent in Q3. However, the Covid crisis isn't over yet and large parts of Asia remain closed. Business travel is also still very low.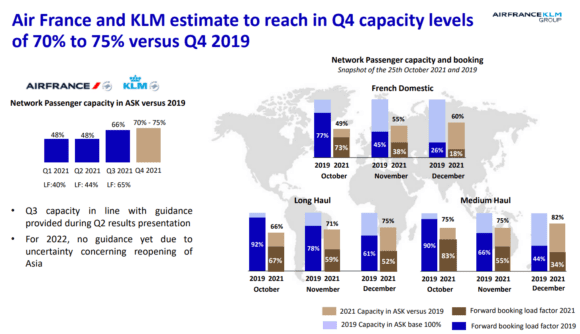 In Q3, Air France-KLM recorded a net loss of €191 million for Q3 compared to €1.665 billion last year. The operating result was a positive €72 million versus a negative €1.635 billion in 2020. Total revenues were €4.567 billion, up from €2.524 billion.
For the nine-month period to September, the group recorded a net loss of €3.164 billion compared to €-6.082 billion last year. The operating result was €-2.726 billion (€-4.835 billion), with total revenues up by 8.6 percent to €9.477 billion. By comparison: the airline lost €1.492 billion in the second quarter.
KLM profitable again in Q3
By airline, KLM performed better than its French sister company. KLM produced a Q3 net profit of €168 million compared to a €234 million loss last year. The January-September period is still loss-making at €-354 million versus €-1.002 billion.
Air France reported a €45 million net loss in Q3 compared to €-807 million last year, while the nine-month results ended at €-1.451 billion compared to €-2.401 billion.
Cargo revenues in Q3 improved by 23.1 percent to €729 million and tons carried by 12.5 percent to 247 million tons. For the nine-month period, cargo revenues were up by 53.3 percent to €2.272 billion. Tons carried ended at 789 million, up 28.9 percent.
Transavia and Transavia France also have a strong quarter, benefitting from a surge in leisure traffic in Europe. Capacity was almost back at 85 percent of 2019 levels and passengers carried grew by 110.8 percent to 4.2 million in Q3. To put this into context: between January and September, the leisure subsidiaries carried 5.772 million passengers, which confirms most activities happened in Q3.
Transavia produced a €105 million Q3 profit compared to a €13 million loss last year. The nine monthly results were a €113 million net loss compared to €-206 million last year.
Transavia France added ten Boeing 737-800s to its fleet this year and will grow to 61 aircraft by the summer of 2022 as it starts flying new routes and takes over domestic services from Air France.
Unit costs down by 24.4 percent
Air France-KLM reduced its unit costs by 24.4 percent in Q3, although employee costs were up by 8.7 percent as the group benefitted less from government support schemes. The operating free cash flow was a positive €499 million but €-202 million for the nine months period. The adjusted free cash flow was €278 million in Q3 thanks to a positive EBITDA or €-856 million in January-September.
The French-Dutch airline group reduced its net debt to €8.1 billion from €11 billion in December. Net liquidity stood at €10.4 billion by the end of September. It is considering the next step of its recapitalization measures to repair the balance sheet. French loans have been reprofiled and the airline is about to finalize an ESG rating tool to improve its ratings.
Discussions are still ongoing on how to improve the equity position of KLM through a recapitalization program that could include a rights issue or a quasi-rights issue.
Air France-KLM expects to end 2021 with a positive EBITDA in Q4 and slightly positive for the full year. Rising fuel costs will have a negative effect. Capital expenditures will end at around €1.5 billion.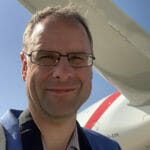 Active as a journalist since 1987, with a background in newspapers, magazines, and a regional news station, Richard has been covering commercial aviation on a freelance basis since late 2016.
Richard is contributing to AirInsight since December 2018. He also writes for Airliner World, Aviation News, Piloot & Vliegtuig, and Luchtvaartnieuws Magazine. Twitter: @rschuur_aero.