Air France-KLM is following in the footsteps of Lufthansa by repaying its loans and reducing net debt. The airline has redeemed €500 million of the €4.0 billion that was provided earlier this year by a syndicate of nine banks and guaranteed by the French state or so-called PGE (Pret Garanti par l'Etat). Air France-KLM redeems 500 million from state aid package.
The redemption follows "early signs of a recovery of worldwide traffic, combined with an improved access to capital markets", the carrier said in a media statement on December 13. The intention to redeem €500 million doesn't come unexpectedly, as Air France-KLM CFO Steven Zaat shared the plan already on October 29 at the Q3-results presentation. The plan was then to redeem in November, but this has been delayed by a month.
The redemption leaves Air France-KLM with €3.5 billion in outstanding loans. In a revised redemption plan, the airline group plans to repay another €800 million in May 2023, €1.35 billion in May 2024, and the final €1.35 billion no later than May 6, 2025. This leaves Air France-KLM 3,5 years behind Lufthansa in fully redeeming government loans. After a successful capital increase in October, the German airline has repaid €3.8 billion in state-guaranteed loans in drew down it received in June 2020.
'New milestone on restructuring plan'
"This partial redemption combined with the now amortized redemption profile of the PGE is a new milestone on the restructuring path of the debt profile and of the balance sheet of the Group Air France-KLM", the airline says. In April, it secured €1.0 billion as part of a capital increase and converted €3.0 billion of a French state loan into three perpetual, quasi-equity bonds. In July, it issued €800 million in dual tranches senior bonds, plus EMTN (Euro Medium Term Notes) in September. In October, the French-Dutch airline group solicited to get an ESG rating from Standard and Poor's, which should help it get easier access to more funding on the capital markets.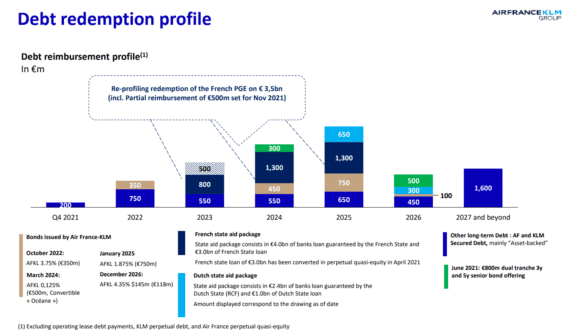 Air France-KLM's debt redemption plan as outlined in October. (Air France-KLM)
As Steven Zaat and Group CEO Ben Smith said in October during the Q3 results presentation, Air France-KLM continues exploring options for a further capital increase at group level, like new equity or quasi-equity measures like the French bonds in April. Reuters reported earlier in December that the group has delayed a capital increase of €1.0 billion over the uncertainties of the Omicron virus mutation and its effects on air travel. Since the outbreak of Omicron, shares of airlines have entered a downward trend.
While performing better than Air France, it is believed that a capital increase should mainly benefit KLM but this will depend on how the airline has been able to recover in the current fourth quarter. In June 2020, the Dutch government supported KLM with a €1.0 billion loan, while a group of banks provided €2,4 billion in loans that were also guaranteed by the state. Negotiations on the conditions for a further capital increase have been hindered by the absence of a new government since the general elections in March, with the outgoing one not entitled to decide on these matters. A new government is expected to be completed this week and enter office in early January.
Significant reduction of aircraft movements threathens Schiphol
A key topic for the new government will be an extensive plan on how to reduce nitrogen oxide emissions from industry, the agricultural sector, and transportation, including aviation. An advisory commission concluded in late 2020 that urgent steps are needed to reduce emissions as they adversely affect biodiversity in various natural areas across the country. Without measures, it will be impossible to build some one million new houses that are urgently needed to meet housing requirements. The problem resulted in serious conflicts with the agricultural sector, with farmers angry that they are seen as the culprit while other sectors like aviation are allowed to grow.
That the NOx issue is serious one was confirmed last week, when media reported that the government is seriously considering reducing the number of aircraft movements at Amsterdam Schiphol from almost 500.000 in 2019 to at least 400.000 to meet emission rules. If implemented, this will have a huge impact on KLM and its leisure subsidiary Transavia, which accounted for 50.4 and 6.9 percent respectively of all movements at Schiphol in 2019.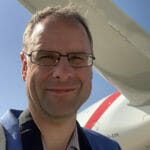 Active as a journalist since 1987, with a background in newspapers, magazines, and a regional news station, Richard has been covering commercial aviation on a freelance basis since late 2016.
Richard is contributing to AirInsight since December 2018. He also writes for Airliner World, Aviation News, Piloot & Vliegtuig, and Luchtvaartnieuws Magazine. Twitter: @rschuur_aero.