Lufthansa Group is set to become the first European airline to have fully repaid all Covid-related state aid. The German carrier announced a €2.1 billion capital increase on September 19, with the aim of bolstering its equity position, repay debts, and offload the participation of the German state. If successful, the airline will have regained full control no later than by October 2023. Lufthansa on track to shed off state aid debt.
The timing of the capital increase is no coincidence. Lufthansa started preparations in June, with the aim of completing the increase before the general elections on September 26. CEO Carsten Spohr confirmed that he preferred to complete negotiations with the current Merkel Administration as Chancellor Angela Merkel (CDU) will leave office after sixteen years. Socialist Minister of Finance Olaf Scholz (SPD), who has been involved in the negotiations on Lufthansa's stabilization package, is doing strongly in recent polls.
In the early weeks of the Covid-crisis, Spohr looked optimistic that Lufthansa was financially strong enough to weather the crisis. But as the pandemic got worse and longer, the airline was in urgent need of fresh capital. With the state-controlled Economic Stabilization Fund or Wirtschaftsstabilisierungsfonds (WSF), Lufthansa agreed on €9.0 billion in stabilization measures in May 2020. It included €4.7 billion in a package called Silent Participation I and another €1.0 billion in Silent Participation IIA and IIB. For €300 million, WSF took a 20.05 percent share in the airline. KfW Bankengruppe and other investors contributed with a €300 million credit facility.
The package received approval from the European Commission on the condition that Lufthansa would surrender 24 slots at its major hubs in Frankfurt and Munich. Initially, this condition met strong opposition from the Supervisory Board.
Repaying state aid key priority
From the outset, Spohr made it clear that he wished to repay the aid as quickly as possible, preferably no later than 2023. Since June 2020, Lufthansa has drawn down €4.0 billion from the aid package, it said in August, including €1.5 billion in June under Silent Participation I. But the group also repaid €2.672 billion in financial liabilities, including a €1.0 billion loan to KfW. In July, the company raised €1.0 billion through a bond issue in two tranches of €500 million each to strengthen liquidity. In August, WSF announced that it reduced its stake in Lufthansa by a quarter to 15.94 percent.
With the latest capital increase, Lufthansa continues on its roadmap to terminate the WSF aid package. It is offering 597.7 million shares for €3.58 from September 22 until October 5 to its current shareholders, of which Heinz Hermann Thiele has the biggest share at 12.42 percent. US investors own 9.8 percent of the airline group, with a combined 2.4 percent owned by shareholders in Ireland and Luxemburg. 83.8 percent of Lufthansa shares are with German investors.
Divesting WSF to be completed no later than October 2023
The capital increase is expected to raise €2.14 billion and the transaction is fully underwritten by a syndicate of fourteen banks. A number of funds under the management of BlackRock support a €300 million sub-underwriting agreement. The net proceeds will be used to repay €1.5 billion of Silent Participation I and fully repay €1.0 billion of Silent Participation II before the end of this year. Lufthansa will also cancel the drawn down of any remaining funds under SP I.
Not earlier than six months after completion of the capital increase, or in April 2022, WSF will start divesting its equity interest in Lufthansa. This must be completed within 24 months after the capital increase, which means October 2023. This is conditional on WSF subscribing to its rights and Lufthansa repaying the outstanding proceeds of SP I and SP II.
The increase and repayment of debts are the first steps towards returning to pre-crisis debt levels. Lufthansa expects its pro forma debt level to be €8.380 billion by the end of this year or €1.6 billion below that of December 2020 when it was at the highest level. Including pension provisions, total debt will be some €15.7 billion.
A major contributor to the return to a healthier financial position is the current transformation program, which targets €3.5 billion in structural savings in 2024. CFO Remco Steenbergen said in August that already €1.8 billion has been realized thanks to 5.000 redundancies in Germany and 2.000 in Switzerland. Another 5.000 jobs will be cut in Germany until 2023.
Lufthansa targets an Adjusted EBIT margin of at least eight percent in 2024 and Adjusted free cash flow of €2.0 billion in 2023 and 2024 excluding fleet renewal, for which €2.5 billion in capital expenditures is planned. Liquidity should be between €6.0 and 8.0 billion, in line with the current pro forma liquidity of €7.7 billion.
The group plans to take delivery of up to thirty aircraft per year. As Spohr said in August, Lufthansa will take on more leased aircraft in the future. About half of the new aircraft will be leased with lease contracts for nine aircraft currently in progress.
Offloading debt frees Lufthansa up to look for new investments
With Lufthansa on track to shed off state aid debt, it will free the Group from any restrictions on future investments in other airlines. While it continues plans to divest caterer LSG, Airplus, and potentially part of Lufthansa Technik, the group is keen on any opportunities that may arise in Europe post-pandemic. Carsten Spohr himself and other airline executives have said recently that they expect the pandemic to result in further airline consolidation within Europe. It's no secret that Lufthansa is monitoring its options in Italy, where it has been in discussions about a potential partnership with Alitalia's successor ITA. The new carrier, which will launch services on October 15, is open to foreign investors only from 2024.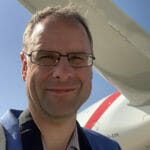 Active as a journalist since 1987, with a background in newspapers, magazines, and a regional news station, Richard has been covering commercial aviation on a freelance basis since late 2016.
Richard is contributing to AirInsight since December 2018. He also writes for Airliner World, Aviation News, Piloot & Vliegtuig, and Luchtvaartnieuws Magazine. Twitter: @rschuur_aero.