Air France-KLM has successfully completed the rights issue and raised the planned €2.256 billion, of which €1.611 billion in cash. The capital increase was even oversubscribed at €2.6 billion, the airline group said on June 14. Air France-KLM successfully completes capital increase.
Air France-KLM announced the rights issue on May 24. The proceeds will be used to repay €1.7 billion in deeply subordinated bonds as French state aid, while the remainder will reduce the group's indebtedness and strengthen its equity position.
When the subscription period closed on June 9, total demand amounted to some 2.240 million shares at €2.6 billion, which corresponds to a take-up rate of 116 percent. The airline planned to issue 1.928 million, with new shares priced at €1.17 with a ratio of three new shares for each existing one. After the rights issue, the total share capital amounts to 2.570 million shares with a nominal value of €1 each. 
Both the French and Dutch states participated in the rights issue to the full extent of their rights so maintain their share in Air France-KLM. France subscribed to 551.000 new shares and continues to have 28.6 percent of the share capital. The Netherlands still has a share of 9.3 percent after subscribing to 180.000 new shares.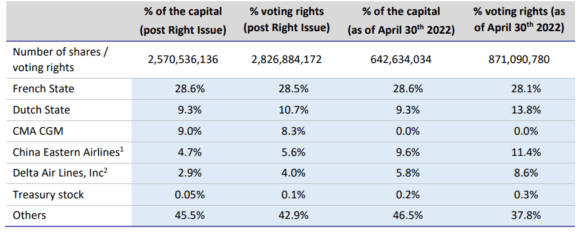 As planned, logistics company CMA CGM acquired nine percent of the share capital for €400 million. China Eastern and Delta Airlines participated on a cash-neutral basis of €110.7 million while selling part of their shares to CMA CGM. China Eastern now keeps a 4.7 percent share of Air France-KLM compared to 9.6 percent before the rights issue. Delta halved its share to 2.9 percent for 5.8 percent. Treasury stock went to 0.05 percent from 2.0 percent. Others now have a 45.8 percent share versus 46.5 percent.
In a media statement, Group CEO Ben Smith says: "The success of our capital increase is a strong demonstration of the confidence that our existing shareholders and new investors have in the prospects of Air France-KLM. This operation, which is part of a broader strategy to transform and streamline our Group, will allow us to emerge with a stronger balance sheet and increased strategic flexibility."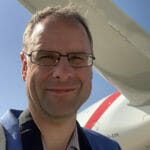 Active as a journalist since 1987, with a background in newspapers, magazines, and a regional news station, Richard has been covering commercial aviation on a freelance basis since late 2016.
Richard is contributing to AirInsight since December 2018. He also writes for Airliner World, Aviation News, Piloot & Vliegtuig, and Luchtvaartnieuws Magazine. Twitter: @rschuur_aero.