Air New Zealand has upped its first half-year guidance, expecting higher earnings thanks to the continued strong demand on both its domestic and international network. A helping factor is a decline in fuel prices, the airline said in a trading update on December 8. Air New Zealand ups guidance as strong demand continues.
In September, ANZ said it expected HY1 earnings in the financial year 2023 before special items of between $200 and $275 million. This has now been revised up to between $295 and $325 million, based on the airline operating at on average 75 percent capacity compared to 2019 and a fuel price of US$127/bbl for December. In recent weeks, the fuel price has come down to US$102/bbl.
Domestic capacity is already at 100 percent of pre-pandemic levels, with the short-haul network at 85 percent. The international network is at seventy percent but is catching up quickly as New Zealanders continue to book overseas journeys. Until November, Air New Zealand carried 5.1 million passengers, up from 2.2 million in the same period of FY22. The load factor was 87.7 percent, up from 62.2 percent.
But like its competitor Qantas, Air New Zealand is taking a careful approach toward capacity and is building resilience, in case it hits operational difficulties. Thanks to the recruitment of 2.000 new employees since February, the carrier should be adequately staffed. The recent introduction of two Airbus A321neo aircraft will add 200.000 seats per year. Three more aircraft are due in 2023 and another two in 2026.
In a disclaimer, ANZ says: "There are many factors that have the potential to slow the airline's recovery and significantly impact earnings. These include ongoing fuel price volatility, global recessionary risks, continued inflationary pressures, and increased costs. Consequently, the airline is not providing full-year guidance at this time."
In late November, Air New Zealand redeemed the final $200 million of the $600 million in redeemable shares that it issued to the Crown earlier this year. This was part of the recapitalization plan for the airline to help it through the crisis. It redeemed $400 million in June, so the facility has now been terminated.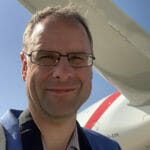 Active as a journalist since 1987, with a background in newspapers, magazines, and a regional news station, Richard has been covering commercial aviation on a freelance basis since late 2016.
Richard is contributing to AirInsight since December 2018. He also writes for Airliner World, Aviation News, Piloot & Vliegtuig, and Luchtvaartnieuws Magazine. Twitter: @rschuur_aero.