After the fiscal year 2022 with "ongoing twists and turns", Air New Zealand expects to produce "a significant improvement" of its financial performance in FY23. But this will depend in large part on the impact of jet fuel prices, the risk of a global recession, and inflation, the airline said on August 25 in its FY22 earnings release. For once, ANZ doesn't include Covid as a potential new risk. FY23 can only get better for Air New Zealand.
Air New Zealand had a tough year, with ongoing lockdowns and travel restrictions as the government tried to keep the Covid virus out of the country by restricting air travel. Only since August 1, has the country been fully open again after restrictions were gradually lifted, first in February, then in April, and finally in August. Domestic bookings have fully recovered since April and forward sales even exceed pre-Covid levels, while international bookings are at 65-70 percent. North America is leading the international recovery. By Q4 (April-June), capacity stood at 56 percent of 2019.
The low levels of flying are evident in the financial results. Air New Zealand ended FY22 with a $-591 million net loss attributable to shareholders compared to $-292 million in FY21. The statutory loss before taxation was $-810 million versus $-415 million or $-725 million if special items are also excluded (2021: $-444 million). This is in line with the guidance provided in June.
Total revenues were $2.734 billion compared to $2.517 billion in FY21. While passenger revenues were almost flat at $1.476 billion versus $1.470 billion, cargo revenues grew to a record-high $1.016 billion from $769 million. This includes $403 million from the Australian and New Zealand governments under air freight schemes, which generated $333 million last year. The airline carried 7.7 million compared to 8.6 million last year at an average load factor of 67.1 percent. International contributed to that with just 175.000 passengers, up from 72.000 in FY21.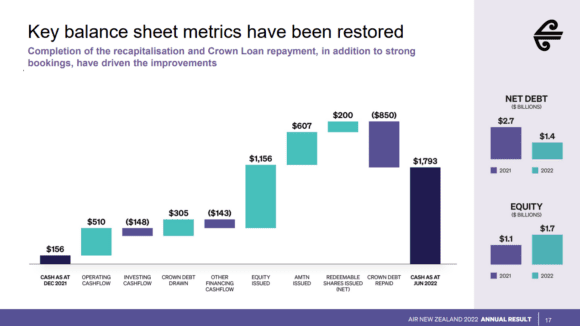 Total expenses increased to $2.738 billion from $2.183 billion, with fuel costs up to $560 million from $311 million due to higher prices offset by $101 million from a hedging benefit. Costs per available seat kilometer (CASK) were up 9.1 percent to $0.1368. ANZ was cash flow positive in Q4 at $482 million, which compared to $-513 million in the same quarter last year.
Following the successful recapitalization in May, the airline has now $2.3 billion in liquidity, of which $1.9 billion in cash and $400 million as an unsecured standby loan facility with the Crown. Net debt stood at $1.4 billion, down from $2.7 billion.
Revive phase
With the reopening of air travel to and from New Zealand, the airline now has entered what it calls the 'revive'-phase of restarting the network and re-introducing aircraft that have been in storage since 2020, including three Boeing 777-300ERs. It has also rehired 1.500 new staff. Air New Zealand expects domestic travel to recover to 95 percent or even full capacity of 2019 levels in FY23, with traffic to the Tasman and Pacific Island back to 80-85 percent. International traffic will lag behind at 65 to 70 percent. It will return to New York in September. The widebody fleet should be back in full force by June 2023.
Following the highest sickness levels caused by Covid and flu in July, the carrier is taking a careful approach to its recovery and has reduced seat capacity until March 2023 by 1.5 percent. "As we've been seeing overseas, travel demand is much stronger than anyone anticipated. But we're operating in a very tight labor market with high fuel prices, tough economic conditions and the highest levels of employee sickness in more than a decade", CEO Greg Foran says in a media statement. "Our rehiring efforts and training capability have been excellent, as has work to get our Boeing 777-300ER aircraft back flying again, but the experience for some of our customers and the impact on our front-line staff this winter has been unacceptable, so we've adapted yet again."
Part of the solution to labor shortages is offering staff better collective contracts. Air New Zealand says it will be raising minimum wages and settling twelve new collective labor agreements. To cover itself for high fuel prices, ANZ has hedged 56 percent of fuel costs for HY1 and 25 percent for HY2 of FY23.
Dreamliner deferrals
Air New Zealand has revised its future fleet plans, pushing deliveries of the first two Boeing 787-10s out from FY24 to FY25. Two more will follow in FY26 and another two from FY27. The airline says it has delivery flexibility for a substantial portion of its future Dreamliner fleet.
ANZ expects to take delivery of four Airbus A320neo/A321neo aircraft in FY23, which will be introduced on the domestic network in the second half of the year. One aircraft will join the airline in FY24 plus two A321neo's in FY27.
Not planned until mid-2024 is the cabin update of the existing fourteen 787-9s at an estimated cost of $450 million. This is part of the investment plans that also include engine maintenance, digitalization, and property.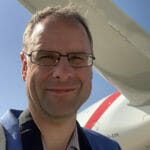 Active as a journalist since 1987, with a background in newspapers, magazines, and a regional news station, Richard has been covering commercial aviation on a freelance basis since late 2016.
Richard is contributing to AirInsight since December 2018. He also writes for Airliner World, Aviation News, Piloot & Vliegtuig, and Luchtvaartnieuws Magazine. Twitter: @rschuur_aero.