Airbus and Boeing published their YTD numbers and here's how they look.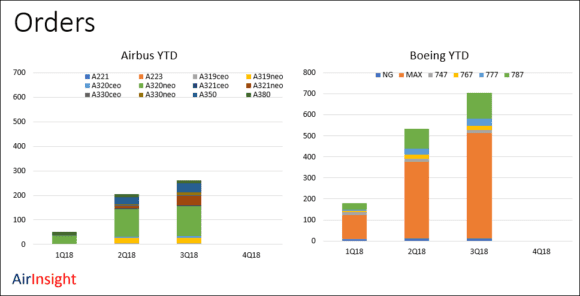 In terms of orders, Airbus is getting a thrashing. No other way to describe it.  And, crucially, this is focused in MAX vs neo.  Airbus has had a comfortable lead in this race so far.  But Boeing is eating into that rapidly.  As we have pointed out before, the order race becomes frantic in December.  Airbus is unlikely to catch Boeing this year.
Now the more important chart.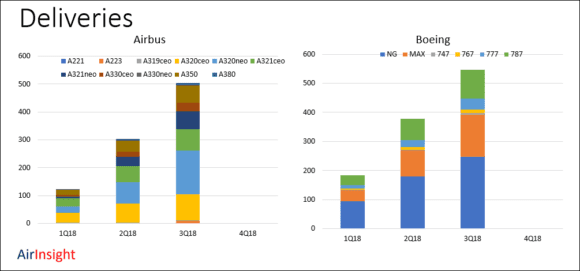 Here the race is much closer.  Airbus was at 503 deliveries and Boeing was at 547.  Note in the Airbus chart how they have managed to accelerate deliveries in the 3Q.  This was because of better engine deliveries that whittled down the number of gliders.  Comparing output, Airbus increased YTD deliveries by 3Q18 +66% over 2Q18 while Boeing managed +45%.  Both OEMs are working at amazing rates.  No wonder the supply chain is as tight as a drum.
The delivery race is far closer than it looks.  As of 3Y18, Airbus delivered 403 single-aisles compared to Boeing's 392.  This is the single most important market.  Moreover, Airbus delivered 140 A321s and Boeing won't break down the MAX numbers because it's so biased towards the MAX8.  In the upper segment of single-aisles, Airbus is thrashing Boeing.  When we compare deliveries for neo vs MAX for the period, Airbus delivered 222 neos compared to Boeing's 145 MAXs.  Consider that of the 222, just under a third were A321s.  Boeing is not near that ratio.
Moving to the twin-aisles, Boeing is handily ahead – 100 for Airbus to 155 for Boeing.  Of the 155, 100 were 787s.  Of the 100 at Airbus, 61 were A350s.  Which underscores where this market is focused.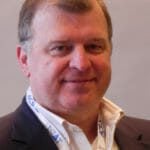 Co-Founder AirInsight. My previous life includes stints at Shell South Africa, CIC Research, and PA Consulting. Got bitten by the aviation bug and ended up an Avgeek. Then the data bug got me, making me a curious Avgeek seeking data-driven logic. Also, I appreciate conversations with smart people from whom I learn so much. Summary: I am very fortunate to work with and converse with great people.