Airbus has announced some improved results for Q1 on April 29, but not all is looking as great as the number reveal at first glance.
Group revenues grew an impressive 24 percent to EUR 12.549bln from 10.119bln. Group EBIT adjusted also improved to EUR 549mln from 14mln last year, but net income decreased by 86 percent from EUR283mln to 40mln.
Looking at Commercial Aircraft, this is where the biggest improvement is visible. Revenues increased 34 percent to EUR9.697bln from 7.222bln and EBIT adjusted to EUR392mln from -2mln.
These improved numbers reflect the higher deliveries: 162 compared to 121 last year. And the main contributor here is the A320-family, increasing to 126 (96 neo's) from 95. Remember last year had a very slow start of neo-deliveries as both Airbus and its engine suppliers Pratt & Whitney and CFM were struggling to meet output targets.
Airbus says now that ramp-up is on-track to meet rate 60 by mid-2019 and rate 63 in 2021.
The airframer still has difficulties in taming production issues related to the A321neo Cabin Flex version, specifically in Hamburg. Things have improved, but the situation "remains challenging", but ramp-up of this version is priority.
Guillaume Faury hinted at news on the A321XLR and other versions at June's Paris Air Show, which could only mean a formal launch of the LR version with additional range.
Engine deliveries are on time and they are even an inventory of GTFs and LEAPs. This should allow Airbus to re-balance the year long-term in 2020 and 2021, after 2017 and 2018 have been back-loaded on deliveries. Faury confessed although 2019 will be back-loaded again. Q2 should be stronger compared to the first three months.
The A330neo has its supplier issues too, with Airbus saying it is working closely with Rolls-Royce and other suppliers "to deliver in line with customer commitments". Targeted deliveries for the year are at 50.
The A350 has been showing promising results all year at rate 10 per month and an increase in deliveries of 30 percent, but improving margins still is a key priority for 2019.
After announcing the end of production of the A380, Airbus has taken a EUR 61mln charge on winding down this program.
The A220 reached 8 deliveries in Q1 and should total 45 for the year.
On the order intake, Airbus recorded a weak Q1, especially after the much-publicized cancelation by Emirates of a major part of its A380 follow-on order plus renegotiating an order with Etihad. Gross orders for Q1 stand at 62, but including cancelations are at -58.
Group results were negatively impacted by the prolonged suspension of defense licenses to Saudi Arabia by Germany. Its net cash position worsened to EUR7.5bln from 13.3bln in Q4.
Based on 880-890 commercial aircraft deliveries, Airbus' new CFO Dominik Asam expects to deliver a 15 percent increase on EBIT adjusted for the whole of 2019.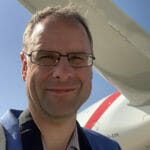 Active as a journalist since 1987, with a background in newspapers, magazines, and a regional news station, Richard has been covering commercial aviation on a freelance basis since late 2016.
Richard is contributing to AirInsight since December 2018. He also writes for Airliner World, Aviation News, Piloot & Vliegtuig, and Luchtvaartnieuws Magazine. Twitter: @rschuur_aero.