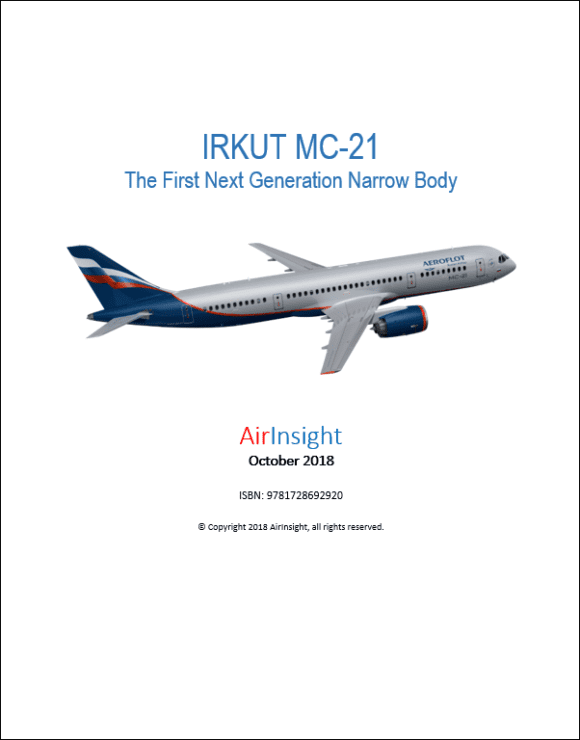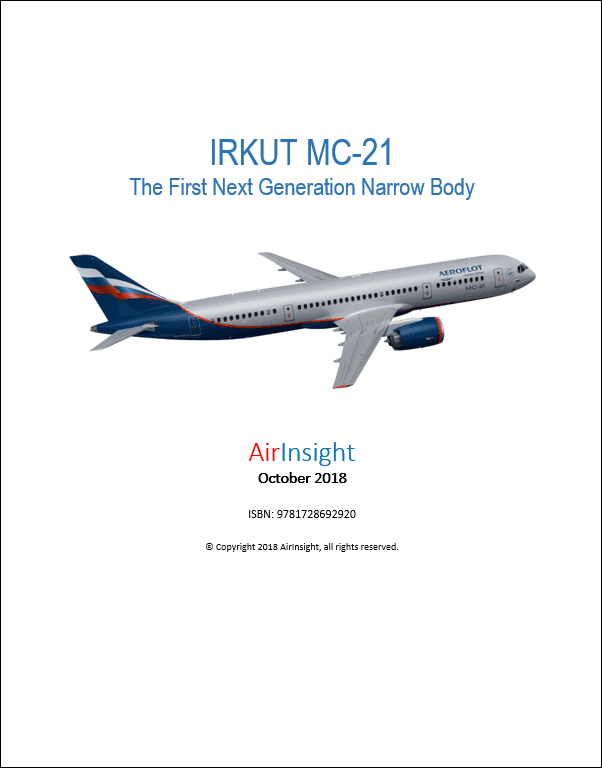 AirInsight has published its latest aircraft program analysis, this one covers the IRKUT MC-21 program. Several months in development, the 51-page report covers the two models proposed by IRKUT.  These models are compared against their competitors.  We also provide a view of the MC-21-400 which is under consideration.
Our analysis is based on a proprietary economic model as well as using data from the OEMs and other sources.  The following table is an example of the data we derived for our analysis.
.
Our Executive Summary reads:
The IRKUT MC-21 is a clean-sheet design narrow-body aircraft family that seats between 132-175 passengers in two-class configurations.  As an all-new design, the aircraft competes favorably in operating economics with the re-engined narrow-body models from Airbus and Boeing.
The MC-21-300 has superior seat-mile economics to the Boeing 737 MAX8 and Airbus A320neo.  While the MC-21 does not match the range of its competitors from Airbus and Boeing, it offers full North American trans-continental range and well suited for short-to long-haul narrow-body operations.
The aircraft features advanced technology, including the latest generation engines, the latest generation of materials, including an all-composite wing and aluminum-lithium fuselage, the latest in systems, including active side-stick controls, and advanced avionics.  The MC-21 is the first of the next generation of narrow-body aircraft, competing primarily with re-engined models of aircraft that first entered service 51 and 29 years ago.
The MC-21 program has been delayed numerous times, and timing has slipped to the right with entry into service now planned for 2020.  With both western and Russian built engines available to operators, the MC-21 will be geared towards both export and domestic markets.  The Pratt & Whitney GTF engines, combined with new materials, advanced aerodynamics, and major systems supplied by western vendors make the MC-21-300 a strong potential competitor to Airbus and Boeing.
A key element to export sales will be overcoming a relatively poor reputation for Russian aircraft with respect to service and support, exacerbated by UAC's Sukhoi Superjet 100.  That aircraft has run into difficulties keeping international customers operating, and IRKUT will need a stronger service and support network to ensure the availability of spares and technical expertise.  Geopolitics may also negatively impact sales of the MC-21 in western markets, and while we hope tensions ease, the current disputes over Ukraine and Syria continue without resolution.
The MC-21 will be a strong performer, and our independent economic analysis confirms that this aircraft will have compelling economics if the aircraft meets its projected performance.  With flight tests underway and confirming fuel burn and other performance factors, we expect the MC-21 to be the most competitive civil aircraft ever produced in Russia, with compelling economics and low capital costs.  If the aircraft performs reliably and can be readily maintained, we expect it to be a market success, projecting more than 1,000 deliveries over the next 20 years.
The report sells for $500. Subscribers get a 20% discount, please contact us for your copy. Or buy it online.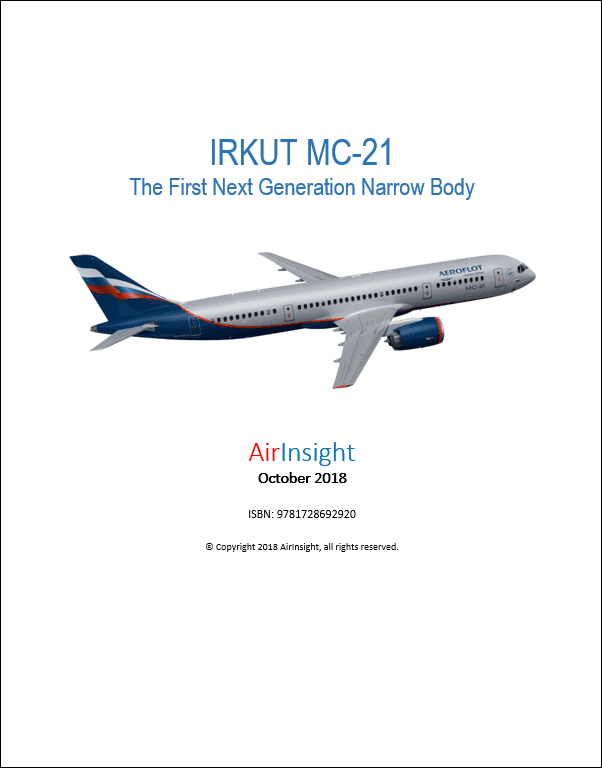 MC-21 Report