Airlink and Qatar sign code share
Qatar Airways and Airlink of South Africa signed a comprehensive codeshare agreement to offer travelers more choices, enhanced services and greater connectivity between 45 destinations in 13 countries across southern Africa and the rest of the world. Qatar Airways Group Chief Executive HE Akbar al Baker said "We have boosted our presence in the African market by adding eight new destinations since the start of the pandemic and fostering partnerships such as this dynamic agreement with Airlink which will greatly enhance our offering to our customers and support travel and trade" . 
Since Comair/Kulula have gone out of business a few weeks ago, Airlink has seen a sharp increase in demand, Airlink Chief Executive Rodger Foster told AirInsight in Doha last week at the IATA AGM. "We are benefitting from that situation, but we have to see what happens. It's not clear if Comair isn't coming back, there seem to be some initiatives going on. If they are out definitely, that would offer opportunities for us, but let's not forget that there has been overcapacity in South Africa for some time from which we all suffered."
Airlink is in a very interesting situation.  It is not an LCC like its remaining major competitor Safair.  Airlink flies smaller gauge E190s.  But take a look at the number of codeshare agreements this airline has.  There are 18!  Note also that it has agreements with Emirates (probably the largest international airline serving South Africa by seat count) and Qatar. That might be a bit awkward. 
With the potential to tap into traffic from 18 feed sources one has to wonder how long before Airlink has to upgauge.  To E2s at the very least.  Bear in mind that Comair flew for British Airways in the South African domestic market with 737-800s.  Moreover, until recently the biggest local route, Johannesburg-Cape Town was listed as the 11th most frequent city pair in the world.  The loss of Comair removed about 40% of the seats in the market.  Clearly opportunity knocks, loudly. 
This knocking has been heard at Safair, which announced expansion plans.  With each passing day it looks less likely Comair will come back.  Safair has decided to make its move to win market share and benefit from economies of scale.  Airlink cannot but respond. This opportunity must not be missed. Those 18 partners no doubt want it, too.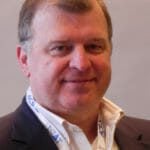 Co-Founder AirInsight. My previous life includes stints at Shell South Africa, CIC Research, and PA Consulting. Got bitten by the aviation bug and ended up an Avgeek. Then the data bug got me, making me a curious Avgeek seeking data-driven logic. Also, I appreciate conversations with smart people from whom I learn so much. Summary: I am very fortunate to work with and converse with great people.