UPDATE – Embraer reduced its third-quarter net loss attributable to shareholders to $45 million, in part thanks to more deliveries of the E195-E2 that generated higher revenues. While its guidance for Q4 is mostly unchanged, better sales activities at Commercial and Executive Aviation are expected to produce even higher free cash flow. Embraer reduces Q3 losses but Q2 looked better.
The $45 million loss compares to $121 million in Q3 2020. The Adjusted net loss was $33.9 million compared to $-148.3 million. Adjusted EBITDA improved to $79.2 million from $-8.2 million. Revenues were up to $958.1 million from $758.7 million. The results include $5.7 million in restructuring costs as special items. Embraer's second quarter was better when it reported an Adjusted profit of $43.6 million.
In the first nine months, the net loss was $46.8 million compared to $-728.6 million in January-September 2020. Adjusted EBIT improved to $257.9 million from $-63.7 million, with revenues growing to $2.896 billion from $1.930 billion.
Adjusted free cash flow in Q3 was a positive $21.3 million compared to $-566.5 million, thanks to higher income and a strict discipline on inventories, which were the lowest since 2018. Again, Q2 was better at $45.1 million. Based on an accumulated free cash flow of $160.2 million ($-1.715 billion) and favorable income in Q4, Embraer revised its FY21 free cash flow guidance to $100 million or better from $-150 to 0 million in August. The number of deliveries remains unchanged at 45-50 E-jets and 90-95 executive aircraft, as will be consolidated revenues of $4.0-4.5 billion.
Commercial revenues higher thanks to E195-E2 deliveries
By business segment, all produced better results in Q3 and benefitted from better operational efficiencies and reduced production lead times. Net revenues at Commercial Aviation improved to $242 million from 177.2 million, or a 25.3 percent share of all revenues. This is mainly thanks to the deliveries of three E195-E2 which generate more income than the smaller models. For the first nine months, the revenues of Commercial were $902.7 million versus $424.9 million last year.
Embraer delivered six E175s in Q3, identical to the number last year when one E190 was also delivered. Until October, fifteen E175s, fifteen E195-E2s, and two E190-E2s were delivered to make 32 aircraft in total. This compares to eleven E175s, three E190-E2s, and one E190 between January and September 2020, or sixteen in total. As has been the case in previous years, deliveries will be backloaded, so the number will be higher in Q4.
In Q3, SkyWest ordered sixteen E175s for delivery from mid-2022. In the first nine months, Embraer won 64 commercial aircraft orders. This brings the backlog to 313 E-jets, including 154 E195-E2s, 151 E175s, five E190-E2s, and three E190s. The net backlog is only six more than in September last year, but Embraer has various campaigns underway to push sales that should generate orders for another sixty aircraft next year. It recently demonstrated the E190-E2 to Air Croatia and Macedonia. The new turboprop is expected to be launched in the second half of 2022, with various carriers showing strong interest in the type.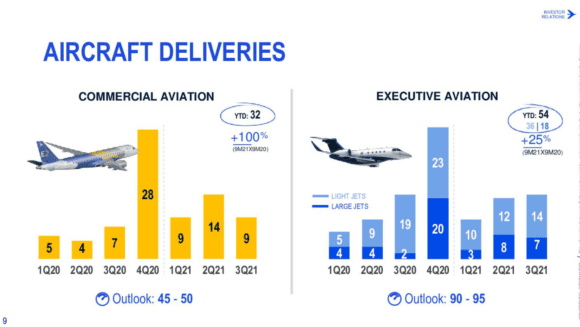 Revenues at Executive Aviation outpaced Commercial at $256.4 million, up from $212.3 million in Q3 last year. For the year to date, they stand at $674.7 million versus $491.6 million in 2020. Embraer is sold out until the first quarter of 2023, with the Praetor 500 and 600 performing better than anticipated. Growth should be double-digit next year. Deliveries were flat at 21 aircraft, of which fourteen light jets (nineteen in Q3 2020) and seven larger jets (two last year.) Until September, Executive deliveries are up to 54 from 43 last year.
Services and Support saw revenues grow to $276.2 million ($212.9 million) thanks in part to a significant after-market support package from Porter Airlines. KLM Cityhopper, Alliance, CommutAir, Jasmin Airways, and Petro Air also signed long-term service contracts. Defense & Security also completed new service contracts. This brings total revenues for the segment to $824.8 million compared to $666.5 million in 2020.
Defense & Security improved Q3 revenues to $176.5 million from $154.7 million or to $479.9 million, thanks to deliveries of ten Tucano trainers to Nigeria.
Backlog back at pre-pandemic level
Total backlog for all segments grew to $16.8 billion from $15.9 billion, a level that was last seen in Q4 2019. After a (Covid)year of reduced R&D spending of $19.3 million until September last year, they were up again this year to $28 million. Embraer reported higher operating expenses which are in part related to the ongoing arbitration against Boeing over the joint-venture that the Americans terminated early last year. Arbitration could take another two years to be completed.
Embraer says it has the confirmation of its suppliers that they can deliver, although some delays can't be fully ruled out. The OEM will continuously monitor the situation as it is aware of shortages in various industries. Where it sees some risks, it will cautiously build up some inventory. 
The Brazilian OEM ended September with $1.803 billion in net debt, slightly down on the $1.840 billion by the end of June but a big step over the $2.365 billion in December. Total debt stands at $4.307 billion. Total cash grew to $2.503 billion, of which $1.8 billion in net cash. So yes, Embraer reduced its Q3 losses but Q2 looked better in some aspects.
Coming Monday, November 8, Embraer will present four concept aircraft with innovative propulsion systems for smaller aircraft market segments.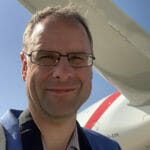 Active as a journalist since 1987, with a background in newspapers, magazines, and a regional news station, Richard has been covering commercial aviation on a freelance basis since late 2016.
Richard is contributing to AirInsight since December 2018. He also writes for Airliner World, Aviation News, Piloot & Vliegtuig, and Luchtvaartnieuws Magazine. Twitter: @rschuur_aero.