Lessor Avolon is giving a boost to the market of surplus Airbus A330-300 passenger aircraft. It has announced an order for thirty Passenger 2 Freighter (P2F) conversions with IAE Aerospace Industries. It makes Avolon the launch customer of IAI's A330-300P2F program. Avolon launches IAI's A330-300P2F conversion program.
Avolon has booked conversion slots for the A330s between 2025 and 2028. It says it anticipates a surge in cargo capacity as e-commerce will double over the next twenty years. Cargo revenues are expected to be around $150 billion this year, a combination of high yields and low capacity following the Covid-crisis.
For Avolon, entering the cargo market opens up a new chapter. CEO Domhnal Slattery says that the agreement with IAI "signals Avolon's intention to be a leading player in that expansion." It has every interest to extend the future of its A330-200s and -300s, of which it owns 44 and manages ten. Airbus data show that there are 597 -200s 'in fleet' out of 662 delivered and 739 -300s out of 780. This excludes the 38 A300-200Fs that have been built. During the pandemic, many A330s have been phased out or entered temporary storage and it is very unlikely that all will be needed for passenger services. The current market value of an A330-300 is around $30 million and the current base value is around $36 million but older aircraft face pressure, IBA consultancy said this summer.
Payload capacity of 61 tons
IAI's A330-300P2F will have a maximum payload of 61 tons, thanks to 27 main deck pallet positions or one more than the competition, says the Israeli company. It has a range of 3.600 nautical miles. This compares to 60 tons/23 pallets and 4.250 nm mentioned for the -200P2F on the Airbus website and offered since 2012 through ST Aerospace and Elbe Flugzeugwerke in Dresden. In 2017, DHL was the first airline to take delivery of an -300P2F. An A330-200F has a capacity of 65 tons/23 pallets and a 4.000 nm range.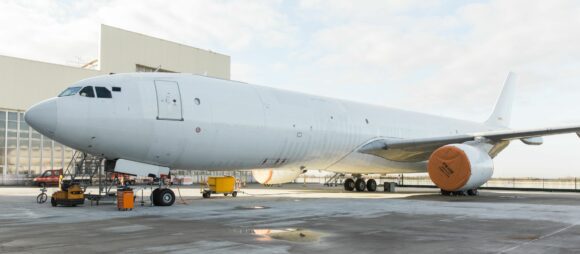 The first A330-300P2F was delivered by ST Aerospace and EFW back in 2017, to DHL. (Airbus)
While the A330-200F has been commercially eclipsed by the Boeing 777F as it lacked the latter's capacity and range, Avolon believes "the IAI A330-300 P2F will be the wide-body freighter of choice this decade and beyond, replacing retiring aircraft and providing the volume capacity required to meet market needs. In partnering with IAI we have identified the most efficient operator in the freight conversion market, guaranteeing more cargo pallet capacity and crucially, faster turn-around times, in a market where every inch and second count."
IAI Aerospace Industries is thriving on freighter conversions. It launched a P2F program for the Boeing 777-300ERSF in 2019 and started work on the first aircraft sourced from GECAS in August. Delivery is scheduled for early 2022. Conversion work will take some 130 days. In late August, IAI signed a partnership with Etihad Engineering to open an extra conversion in Abu Dhabi. The 777 is additional to IAI's 767 conversion program, for which all slots at its Ben Gurion Airport and Mexico sites have been booked until 2023. As a result, IAI and Ethiopian Airlines announced a new 767 conversion site in Addis Ababa in August. Ethiopian will convert three 767-300ERs here. Avolon's launch of the A330-300P2F conversion program builds on this success.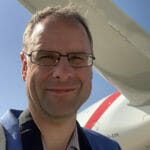 Active as a journalist since 1987, with a background in newspapers, magazines, and a regional news station, Richard has been covering commercial aviation on a freelance basis since late 2016.
Richard is contributing to AirInsight since December 2018. He also writes for Airliner World, Aviation News, Piloot & Vliegtuig, and Luchtvaartnieuws Magazine. Twitter: @rschuur_aero.