Despite a "challenging environment", lessor BOC Aviation is pleased with the outcome of 2020. In a weak market in which the Covid-crisis dictated events, the subsidiary of Bank of China still succeeded in arranging more lease commitments for the whole year compared to 2019 while the number of delivered aircraft remained identical, it reported on January 6.
BOC is happy about its robust operational performance. Despite the crisis, owned aircraft utilization stood at 99.6 percent for the full year and has been around this percentage almost all year. At the end of June, cash collection stood at 88.8 percent but BOC hasn't yet provided an update on the full year.
During the year, it signed lease agreements and extensions for 102 aircraft compared to 87 in 2019. Most of them (76) was agreed in the first half of 2020. The third quarter saw a significant drop to thirteen commitments, albeit two more compared to the eleven in 2019. In Q4, BOC agreed on twelve commitments versus 37 in the same period of the previous year.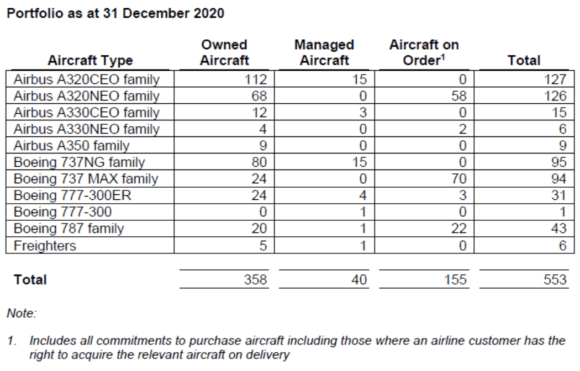 During the year, BOC's owned fleet grew from 317 to 358 aircraft. It added eighteen Airbus A320neo-family aircraft to its owned portfolio, two A330neo's, eighteen Boeing MAX, six 777-300ERs, and nine 787s. Its managed fleet remained static at forty aircraft, bringing the total fleet to 398.
New deliveries totaled 54 aircraft, including sixteen in December. BOC sold twelve aircraft, including four A320ceo's and eight 737NGs. It agreed on sale and leasebacks with Southwest for ten MAX8s, with Wizz Air for six A321neo's and Cathay Pacific for six 777-300ERs. The Chinese lessor ended 2020 with a backlog of 155 aircraft, including aircraft that will be acquired by an airline but leased by BOC. Quarterly reports confirm some twists and turns in the backlog, which at the end of March stood at 204.
Airbus:
BOC data show is has another 58 A320neo-family on order, but Airbus' Orders and Deliveries sheet show 53 undelivered aircraft on December 31, 2020, including 38 A320neo's and fifteen A321neo's. In January last year, BOC ordered twenty A320neo's but canceled thirteen A320neo's and five A321neo's again in July, according to Airbus data. Total commitments for the A320neo stand at 126, says BOC, while Airbus reports total orders for 89 A320neo's and 22 A321neo's.
The backlog for the A330neo stands at two, bringing total commitments to six, two less compared to September data. In November, Airbus data showed BOC to have two -900s on order and already delivered but in December this has doubled to four ordered and delivered. The extra two must have come from Airbus' 'undisclosed' backlog.
The lessor has no further A350s on order. Currently, it has nine in its portfolio, of which two -900s have been directly purchased by the Chinese company. Lacking from its portfolio are the A220 and A380.
Boeing:
BOC is committed to 94 Boeing MAX, of which seventy are backlog or to be acquired by an airline. The latest available data from Boeing from November confirm 55 undelivered MAX. In June, the company drastically cut its backlog by canceling orders for thirty MAX.
The lessor has three more 777-300ERs on order, bringing total commitments to 31. For the 787, this number stands at 43, with 22 Dreamliners in the backlog that are all for American Airlines. Boeing data show BOC has three 787s as unfilled orders.
BOC bolstered its liquidity position to $6 billion, of which $5 billion was available by the end of the year. It secured another $1.5 billion revolving credit facility with the parent Bank of China in early December, bringing the total facility to $3.5 billion with maturity on December 31, 2026.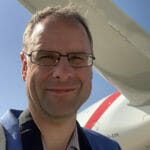 Active as a journalist since 1987, with a background in newspapers, magazines, and a regional news station, Richard has been covering commercial aviation on a freelance basis since late 2016.
Richard is contributing to AirInsight since December 2018. He also writes for Airliner World, Aviation News, Piloot & Vliegtuig, and Luchtvaartnieuws Magazine. Twitter: @rschuur_aero.