Lessor BOC Aviation is optimistic about the recovery of the airline industry for the rest of 2021. Airlines in the US have reported second-quarter profits and are expected to build on this, while in North Asia airlines are close to reporting profitability. More liquidity is becoming available from capital markets and other sources. However, the pace of recovery could be uneven by region while lessors are also confronted by delivery delays from Airbus and Boeing. BOC Aviation pleased with support from capital markets.
BOC, which is 70 percent owned by the Bank of China, ranks seventh in the list of aircraft lessors. It grew its owned fleet to 377 (five freighters) and managed fleet to 37 by the end of June and has 122 aircraft on order, which makes 536. This compares to 553 by December 2020. Its portfolio is valued at $19.6 billion.
The lessor reported a $254 million HY1-profit, which compares to $323 million in the same period of 2020 that was less impacted by the pandemic. Revenues were up to $1.107 billion from $1.035 billion. Profit before tax and impairment was $434 million, up from $412 million.
BOC recorded an $84 million asset impairment related to the carrying value of 28 aircraft delivered in prior years compared to $12 million last year as "the appraised value of each affected aircraft was assessed to be lower than its net book value."
Impairment losses on financial assets of $63 million were up from $47 million "stemming from increased receivables from lessees exceeding the security deposits held by us under those leases as a result of financial difficulties faced by some lessees arising from the Covid-19 pandemic." Still, the cash collection rate was 95.9 percent compared to 88.8 percent last year. Fleet utilization was 99.6 percent.
During HY1, BOC Aviation delivered 34 aircraft to airlines, of which six were purchased by the airline directly from the airframer. This makes 28 net deliveries, of which ten were from BOC's manufacturer order book and eighteen purchase and leasebacks (PLB) with airlines. They include eleven Airbus A320neo-family aircraft, sixteen Boeing MAX, and one 787. They were delivered to Singapore Airlines subsidiary Scoot, Air China, United Airlines, TUI, and Wizz Air. It signed 26 lease commitments for delivery before 2024.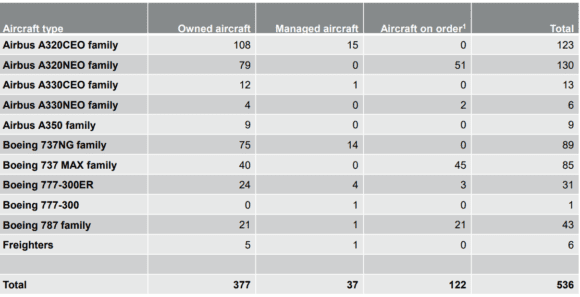 BOC Aviation's portfolio as of June 30, 2021. (BOC)
During HY2, another 43 aircraft will be delivered, including 21 from the manufacturer order book and 22 via purchase and leasebacks, making 77 for the year. This number is subject to confirmation as BOC expects delays to continue. Its 787 deliveries were ten down on schedule. Like Air Lease Corporation (ALC), BOC has also seen lower A320neo-family deliveries. For 2022, the lessor expects fifteen deliveries (two PLBs), 37 in 2023 (5), and 33 in 2024. The lessor has 51 A320neo-family aircraft on order, two A330neo's, 45 MAX, 21 787s, and 3 777-300ERs. In HY1, it ordered eight A320neo's.
While ALC has stopped selling aircraft to compensate for the delays of new deliveries and wishes to grow its assets, BOC Aviation sold nine owned and three managed aircraft in HY1. Four used aircraft went to a new customer, including two A330-300s.  
BOC's fleet is on average 3.7 years old and has an average remaining lease term of 8.1 years, which it says is one of the longest in the industry. Of its fleet, 29.4 percent is placed with airlines in China, Hong Kong, Macau, and Taiwan (Air China 5.3 percent, Cathay 5.0, EVA 4.5 percent), followed by 21.5 percent in Europe, 21.1 percent in Asia Pacific, 16.6 percent in the Americas, and 11.4 percent in the Middle East and Africa. At 8.5 percent, Qatar Airways is one of the biggest lessees.
Capital markets are open to the aviation sector
As mentioned, BOC is pleased with the support from capital markets and the availability of liquidity to the aviation sector, "especially for investment-grade aircraft lessors and airlines in China, Europe, and the USA with access to the capital markets." While airlines have received well over $225 billion in loans, grants, and payroll support since the start of the Covid-crisis, bank financing to airlines and lessors recovered more slowly.
BOC stresses that lessors play an important role in supporting the aviation sector on its path to recovery. They "accounted for fifty percent of new aircraft deliveries in the first half of 2021. Competition remains high in the aircraft leasing sector where investment-grade lessors continue to enjoy competitively priced liquidity. More than sixty percent of all aircraft delivered to lessors in the twelve months to 30 June 2021 were financed by aircraft lessors owned by Asian financial institutions."
The Singapore-based lessor expects the merger between AerCap and GECAS, already the two biggest in the market, to result in "pressure in the market for sales of aircraft with leases attached when the merger has closed as the combined entity looks to re-optimize its fleet."
BOC has $460 million in cash and cash equivalents available, plus $5.4 billion in undrawn revolving credit facilities. Net debt is $16.6 billion.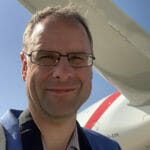 Active as a journalist since 1987, with a background in newspapers, magazines, and a regional news station, Richard has been covering commercial aviation on a freelance basis since late 2016.
Richard is contributing to AirInsight since December 2018. He also writes for Airliner World, Aviation News, Piloot & Vliegtuig, and Luchtvaartnieuws Magazine. Twitter: @rschuur_aero.